Home

›
Lists
› All
Wedding Anniversary Gifts By Year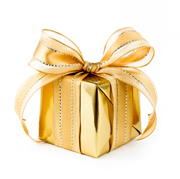 This has to be our most comprehensive wedding anniversary gift list yet! We have the traditional, modern, flower and even the gemstone anniversary list all in one place.
Don't feel you have to stick to each list completely, there are no rules when it comes to celebrating your anniversary.
However choosing an anniversary list to use as a guide will add lots of fun to your gift. It is like a challenge!
Finding something that fits with the list and that they like... thankfully we have done most of the hard work for you, well apart from wrapping it, we are not very good at that.
All The Anniversary Gift Lists
Traditional

Modern

Flowers

Gemstone

Linen/Silk

Wool or Copper

Pottery

Steel

Silk

Lace

Ivory

China

Crystal/Glass

Appliances

Fashion Jewellery

Pearls

Textiles

Watches

Silver

Furniture

Porcelain

Pansy

Cosmos

Fuschia

Geranium

Daisy

Calla Lilly

Jack in the Pulpit

Clematis

Poppy

Daffodil

Morning Glory

Peony

Hollyhock

Dahlia

Rose

Tourmaline

Lapiz Lazuli

Jade

Aquamarine

22nd

23rd

24th

Brass

Silver Plate

Musical Instruments

Day Lilly

Emerald

Iolite

Blue Zircon

Yellow Topaz

Tanzanite

26th

27th

28th

Sterling Silver

Pictures

Sculptures

Orchids

Furniture

Iris

Tsavorite

31st

32nd

33rd

34th

Timepiece

Cars

Sweet Pea

Pearl

36th

37th

38th

39th

Bone China

Alabaster

Beryl

Lace

Emerald

42nd

43rd

44th

Ruby

Land

Real Estate

Travel

Groceries

Nasturtium

Ruby

46th

47th

48th

49th 

Sapphire

Poetry

Books

Optical

Luxuries

Sapphire

Emerald

Emerald

Violet

Gold

Alexandrite

Diamond
---
Contact Us | Privacy Policy | Affiliate Disclosure|Anniversary Blog
Terms & Conditions | About | Advertise With Us | Site Map