16th Anniversary - 19th Anniversary
Modern Wedding Anniversary Gift Ideas
16th -19th Wedding Anniversaries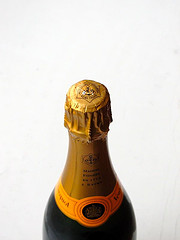 Check out the complete modern wedding anniversary gift list and you will find some great suggestions for your 16th to 19th anniversaries, which is a good thing as these years are not on the traditional list!
Thankfully in modern times we celebrate more!
Your...
Plus there is also the gemstone list too, all of the symbols and gift ideas are below...
Your 16th anniversary is celebrated from the modern list with silver, something that you might normally associate with a 25th. We have put together some ideas for this young silver anniversary to help you find the perfect gift.

And your 16th anniversary is also celebrated on the gemstone anniversary list with Peridot.
Peridot has been popular for thousands of years and even Cleopatra is thought to have worn them. Napolean also bought Josephine Peridot as a symbol of undying love.
It is thought that wearing the stone will bring the wearer success, peace, good luck, lightness and beauty. Not bad for a yellow-green stone!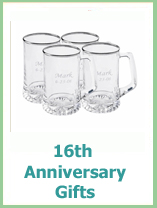 If you are celebrating your 17th wedding anniversary the modern gift list suggests furniture! Whether you are looking for a new table or not we have put some alternative ideas for your 17th that still fit the theme.
There is also the gemstone anniversary list where your 17th anniversary is celebrated with Carnelian.
It is a reddish, orange stone and it has been used for thousands of years.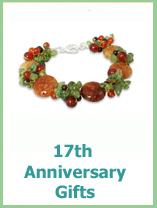 The Ancient Egyptians believed it protected in the afterlife it was known as Thet, Buddhists from China, India and Nepal made it into amulets as they believed it had powers of protection. It also appears in Hebrew and Hindu history. Folklore believe it gives your energy a boost and helps with a sense of humor - good qualities when it comes to 17 years of marriage!
Your 18th wedding anniversary is celebrated with porcelain, this doesn't have to be an old fashioned ornament, there are some great porcelain gifts.
Practical and decorative, plus ideas to suit all budgets, have a look at our suggestions.
Your 18th is also celebrated on the gemstone list with Chrysoprase.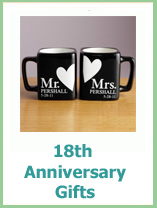 Chrysoprase is a lovely deep apple green color and has been mistaken for imperial Jade in the past.

It's history dates back to the Romans, Ancient Greeks and Egyptians where it was used for jewelry.

It is said to bring hope and joy and quite a few other pleasures too.
Your 19th wedding anniversary is celebrated with Bronze, we have put together ideas from the traditional bronze garden statues to bronze colored gifts to help you find the best gift for you. 
Your 19th is also on the gemstone list with Aquamarine, a beautiful turquoise stone that is thought to protect you on water. Sailors would sleep with aquarmarine whilst at sea, and folklore believes that mermaids tails were made from Aquamarine. If you are planning on travelling over sea or a cruise for this anniversary you may want to take some with you!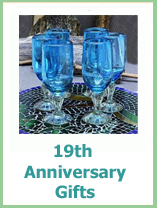 Have a great teenager anniversary, don't forget to let us know what you got up to via our contact page!

Origins of the Modern Wedding Anniversary Gift List
The Modern Anniversary Gift list was introduced to fill in the years that the traditional list had left out.
Traditionally there is a symbol for each year up to your 10th Anniversary and then after that it is every five years, so the modern list took over and stands alone from your 11th Anniversary all the way through.
Interestingly the modern symbols for the big milestone Anniversary gifts are the same as the traditional list.
Modern Anniversary Gift List By Year
Every year you are married has a modern gift symbol which we have listed below, along with links for gift ideas to help you find the perfect gift to fit with the theme.
Your Modern 1st Anniversary Gift is clocks
The Modern 2nd Anniversary Gift is china
The Modern 3rd Anniversary Gift is crystal
The Modern 4th Anniversary Gift is appliances 
The Modern 5th Anniversary Gift is silverware
The Modern 6th Anniversary Gift is wood
The Modern 7th Anniversary Gift is a desk set
The Modern 8th Anniversary Gift is linen or lace
The Modern 9th Anniversary Gift is leather

The Modern 10th Anniversary Gift is Diamonds

The Modern 11th Anniversary Gift is fashion jewelry
The Modern 12th Anniversary Gift is pearls

The Modern 13th Anniversary Gift is textiles

The Modern 14th Anniversary Gift is gold

The Modern 15th Anniversary Gift is a watch

The Modern 16th Anniversary Gift is silver

The Modern 17th Anniversary Gift is Furniture

The Modern 18th Anniversary Gift is porcelain

The Modern 19th Anniversary Gift is bronze

The Modern 20th Anniversary Gift is platinum

The Modern 21st Anniversary Gift is brass

The Modern 22nd Anniversary Gift is copper

The Modern 23rd Anniversary Gift is silver plated gifts

The Modern 24th Anniversary Gift is musical instruments

The Modern 25th Anniversary Gift is silver

The Modern 26th Anniversary Gift is pictures

The Modern 27th Anniversary Gift is sculptures

The Modern 28th Anniversary Gift is orchids

The Modern 29th Anniversary Gift is Furniture

The Modern 30th Anniversary Gift is Diamonds

The Modern 31st Anniversary Gift is a Timepiece

The Modern 32nd Anniversary Gift is a Car and Accessories

The Modern 33rd Anniversary Gift is Amethyst

The Modern 34th Anniversary Gift is Opal

The Modern 35th Anniversary Gift is Jade

The Modern 36th Anniversary Gift is Bone China

The Modern 37th Anniversary Gift is Alabaster

The Modern 38th Anniversary Gift is Tourmaline

The Modern 39th Anniversary Gift is Lace

The Modern 40th Anniversary Gift is Ruby

The Modern 41st Anniversary Gift is Land

The Modern 42nd Anniversary Gift is Home Gifts

The Modern 43rd Anniversary Gift is Travel

The Modern 44th Anniversary Gift is Gourmet

The Modern 45th Anniversary Gift is Sapphires

The Modern 46th Anniversary Gift is Poetry

The Modern 47th Anniversary Gift is Books

The Modern 48th Anniversary Gift is Optical Gifts

The Modern 49th Anniversary Gift is Luxury Goods

The Modern 50th Anniversary Gift is Gold


---
We deliver Anniversary Gifts to USA & UK, Europe, Australia

Contact Us | Privacy Policy | Affiliate Disclosure|Anniversary Blog
Terms & Conditions | About | Site Map