The Best 27th Anniversary Gift Ideas
If you are looking for help and inspiration for your 27th Anniversary gift ideas that fit with this year's theme then you are in the right place.
Here you will discover
27th Anniversary Gift Symbol
You will find your 27th Anniversary Gift symbol on the modern gift list where this year the theme is Sculptures.
Plus the Anniversary Gemstone for your 27th Anniversary is Jet, which is where the term Jet Black comes from, as it is a black stone that can be carved into beautiful pieces of jewelry. 
There isn't a traditional gift symbol for this year as the traditional list goes from your 25th to your 30th. However, it's a popular Anniversary to celebrate as it is half way between the two big milestone Anniversaries, silver and pearl.
27th Anniversary Gift Meanings
The meaning behind giving a sculpture as a gift for 27 years of marriage is that it symbolises what you have created together. Plus the idea of gifting a fabulous sculpture makes it a wonderful gift to mark 27 years of marriage.
And from the gemstone list the Jet Stone is believed to bring calm energy and protects you from negative energy.
27th Anniversary Gift Ideas
Sculpture Gift Ideas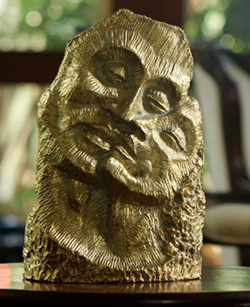 The most obvious gift is of course a sculpture which by definition is a 3 dimensional shape which has been crafted either
by carving wood or stone 
or by pouring metal or plaster 
and it can also be an item that has been moulded by hand.
It doesn't have to be large, it could be a mini sculpture that can have pride of place in your favorite room or it could be an epic piece that you have had commissioned from your favorite artist. Quite often local artists will also have smaller pieces that they produce to sell at local craft markets.
Local Arts and Crafts markets are fantastic places to discover new artists and if you choose your gift there you will be able to chat to the person who made it. You may even be able to visit their studio and see how they make it.
If you do get to visit an Artist in their studio be prepared to be there a while as they will want to share with you their work and chat to you about what you want.
If you can't find a local craft market you could look at 
local facebook selling pages
novica.com - who champion local Artisans from around the world
You can choose a sculpture just because you love it or because you know it would fit perfectly in to what they love or because it is beautifully romantic and therefore perfect for your Anniversary.
If you are looking to choose a sculpture for a couple you could find one that symbolizes their love but also think about how they live and what they love. It may take some detective work looking around their home and seeing what they collect already, although don't take that as gospel as they may have a lot of frogs around the home but that was something that one of them loved when they were 13 and still their friends think they love them. If in doubt ask them!
Gemstone 27th Anniversary Gifts
The Jet Stone is carved to make stunning pieces, it was used by the Romans to create beautiful jewelry and by Native Americans to decorate their weapons.
In more modern times it was very fashionable in the Victorian era in Britain where Queen Victoria made it fashionable as mourning jewelry.
Artists today still use Jet Stone and it can be found in North America, England, France, Germany and Asia. In England it is often referred to as Whitby Jet which is a town where it is found.
You could buy Jet Black necklaces, pendants, earrings and cufflinks as your 27th Anniversary gift to fit with the theme.
As an Amazon Associate Top Anniversary earns from qualifying purchases, these items do not cost you anymore.
Full details on our Affiliate policy can be read here

Homemade 27th Anniversary Gift Ideas
As well as buying your gift you could also look at making your own 27th Anniversary Gift by creating a sculpture.
Have a look at night classes run by local colleges for pottery, metalwork or woodwork and use your new skills to create something fabulous. Obviously this only really works if you are super organized and have given yourself enough time to learn a new skill and then master it to make a gift, but hold on to the fact that it doesn't have to be perfect! The love and thought that has gone into this gift would be huge!
If you don't fancy learning a new skill by yourself you could look at both of you having a go together on an experience day.
This could be an organized one with a big company or have a look at what you could do locally. I contacted a local blacksmith and he was really helpful giving lots of suggestions on what we could make rather than the standard metal poker.
There might also be a local pottery that you could either have a go at making a sculpture together or painting one.
27th Anniversary Vacation Ideas
For some couples travelling and going on vacation together is the ultimate gift.
You can use the sculpture or gemstone theme to create a great trip, here are some ideas for you to include
The Statue of David by Michaelangelo in Florence, Italy. You will be blown away if you get the chance to see it as it is so much bigger than you expect.
The Statue of Liberty, New York, United States. Everyone needs a weekend in this fantastic city and if you need an excuse this is it!
The Statue of Christ the Redeemer in Rio, Brazil. Another amazing place to visit.
The sleeping Buddha Statue, Bangkok, Thailand. Another epically stunning and large statue which when we went was covered in scaffolding so that has to go back on the list of places to visit.
The Angel of the North, Gateshead, England. This is a fantastic statue which I have only seen from the motorway and to be honest it suddenly surprised me that it was there! If you are planning a trip to England there are probably other places that you would have on your list but it's still a good one.
The Little Mermaid Statue, Copenhagen, Denmark. The most famous mermaid statue in the world based on the fairy tale by Hans Christan Andersson and a wonderful country to explore.
There are probably lots more places that you could add to the list! 
---
We deliver Anniversary Gifts to USA & UK, Europe, Australia

Contact Us | Privacy Policy | Affiliate Disclosure|Anniversary Blog
Terms & Conditions | About | Site Map