Second Wedding Anniversary Gift Ideas
Your second wedding anniversary has lots of gift ideas;

Or you may like to have a look at 2nd anniversary gift ideas for ...
Here are lots of ideas to help you choose your perfect gift.

Cotton Roses

One of the more unusual cotton gifts is a bouquet made from Cotton roses.

Love the idea that your flowers will last for ages and a sweet reminder of your 2 years as husband and wife.

You could choose to send a single rose or go for the wow factor and send a bouquet of cotton roses with your own special message.
Cotton Anniversary Gifts To Buy From Our Store
See All Of Our Cotton Anniversary Gifts here ...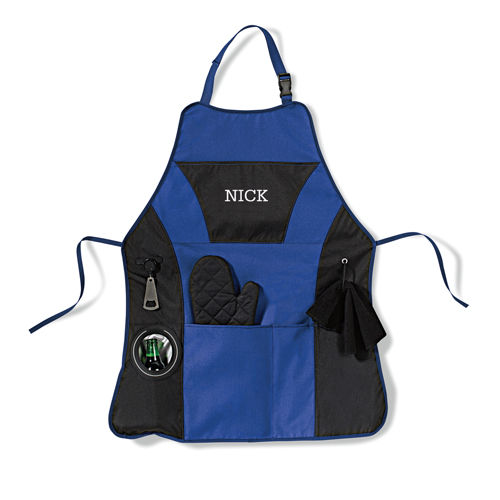 Personalized BBQ Apron
$42.99

My Side Your Side
$29.95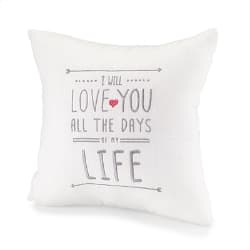 I Will Love You
$29.95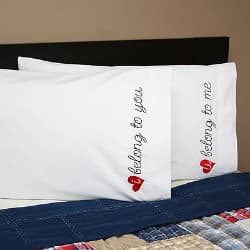 My Heart Belongs To You
$29.95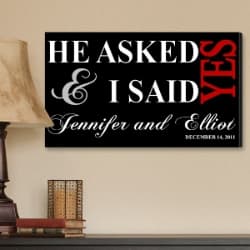 Wedding Anniversary Canvas
$64.99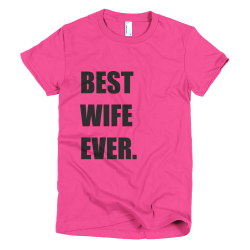 Best Wife T Shirt
$23.95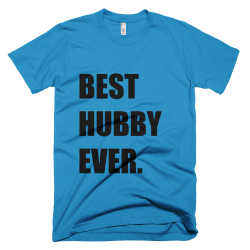 Best Hubby T Shirt
$23.95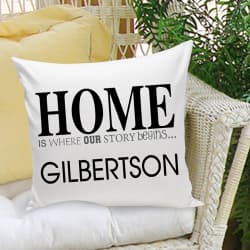 Home Pillow
$29.99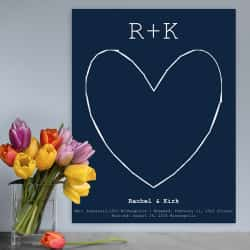 Your Love Story Canvas Art
$79.99
Your Two States
$69.99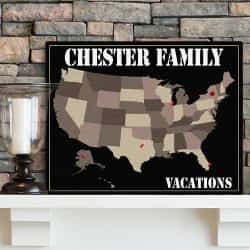 Your Vacations Map
$59.99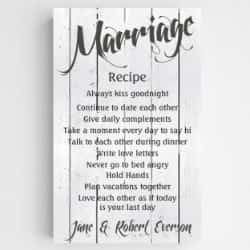 Good Marriage Recipe
$69.99

Couple T-Shirts

These very cute t-shirts are from Bold Loft and they are just gorgeous. For the full effect you need to make sure you are both standing in the right order!

They may not be what you usually wear out but they would be fun to wear around the house and even in bed.
Fun Pillow Cases

There are some very fun pillowcases from Bold Loft. These would be great to put on your bed for your anniversary or any day!

This one shown is called A Big Kiss! Just what you need on your day :)
Cotton Jewelry

Love the idea that you can keep your anniversary gift with you all the time and this is a really beautiful way to do just that.

There are lots of pieces of stunning jewelry handcrafted in cotton.



More Second Anniversary Gift Ideas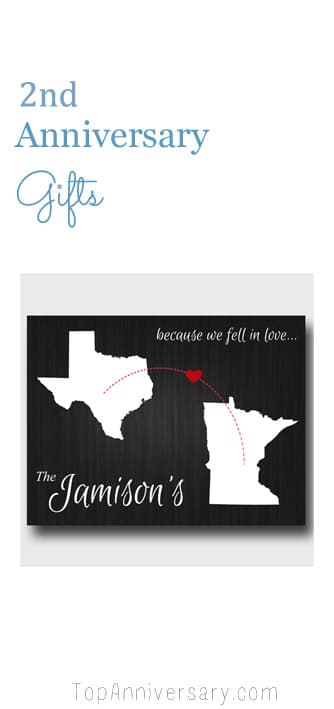 Cotton gifts are mainly going to be something to wear;
a shirt, 
trousers, 
dress 
or handkerchief to name a few. 
Or something practical for the house;
sheets, 
tablecloth, 
tea towels (yes, we have received those!) you can get some great tea towels and aprons with witty comments on some are more obvious than others but anything to make you grin when drying up is a bonus! 
Men also seem to be drawn to the barbeque, a great apron and the latest gas powered burner and they will be in their idea of domestic heaven.
Straw Gifts
You are probably going to have more luck finding a gift of cotton unless you live in the countryside where straw and straw dollies are available at most local craft shops. You could twist the straw theme to have a weekend away in the countryside - we stayed at a guest house in Yorkshire near our 2nd anniversary and that was in a perfect location for walks and finding great local pubs.
Strawberries could also fit with your theme, I can hear your groans from here! It may be a bad pun but you could have a cosy night in with strawberries dipped in chocolate or in your Champagne to celebrate ;o) You can even get Chocolate Covered Strawberries delivered to you! Yum! Or you could have them delivered as a surprise!
You could always incorporate the strawberries with a wicker hamper (more straw) and a cotton picnic blanket and disappear off for a romantic day with lots of yummy treats.
Modern List - China Gifts

For those that are following the modern list then your second wedding anniversary gift idea will be in china. By now you will know which bits you are missing from your wedding list and here is a great excuse to add to your collection. Or have a look at modernising your kitchen with a set of funky mugs or plates.
For those that love to go out then a trip to your best local Chinese restaurant is a twist on the china theme or if that is not possible then a take-away and a cosy night in is just as nice.
If you are wanting to celebrate in style then a trip to China is a big wow or you could have a city break at one of the many great China towns. Mmmm the honey buns at the Chinese bakers in Manchester or the duck at London's China Town are wonderful.
For those who love to travel you could tease your partner with a new holiday outfit - a gorgeouse new t-shirt wrapped in a holiday brochure!
Gemstone List - Garnets

Garnets are a beautiful red stone and have been a popular for many years as a gift of love. They are meant to attract love and soul mates and enhance your creativity. Sounds like a great gift for your 2nd anniversary!
---
Contact Us | Privacy Policy | Affiliate Disclosure|Anniversary Blog
Terms & Conditions | About | Advertise With Us | Site Map