22nd Anniversary (Copper)
Unique 22nd Anniversary Gift Ideas
Your 22nd Anniversary is the perfect time to celebrate 22 years of marriage, because not only is it a milestone in your time together the number 22 represents the two of you together.
The two of you together can accomplish great things helped by your love and dedication to each other.
22nd Anniversary Symbols
Your 22nd Anniversary Gift is traditionally celebrated on the modern list with copper gifts
Some gift lists also have stainless steel 
And on the gemstone list with Blue Zircon.
22nd Wedding Anniversary Gemstone
Blue Zircon seriously sounds like something out of a Sci-Fi movie! It is however a really gorgeous blue.

It looks like this…
Blue Zircon Gift Ideas
Blue Zircon is stunning and a beautiful intense, clear blue stone.
It is believed to repel negativity and encourage love and happiness in to your lives which makes it a pretty awesome gift to celebrate 22 years together.
And one that you know your wife will love.
Check out Amazon as they have lots of Blue Zircon Jewelry.
There are also lots of gorgeous handmade Blue Zircon pieces at novica.
Copper Gift Ideas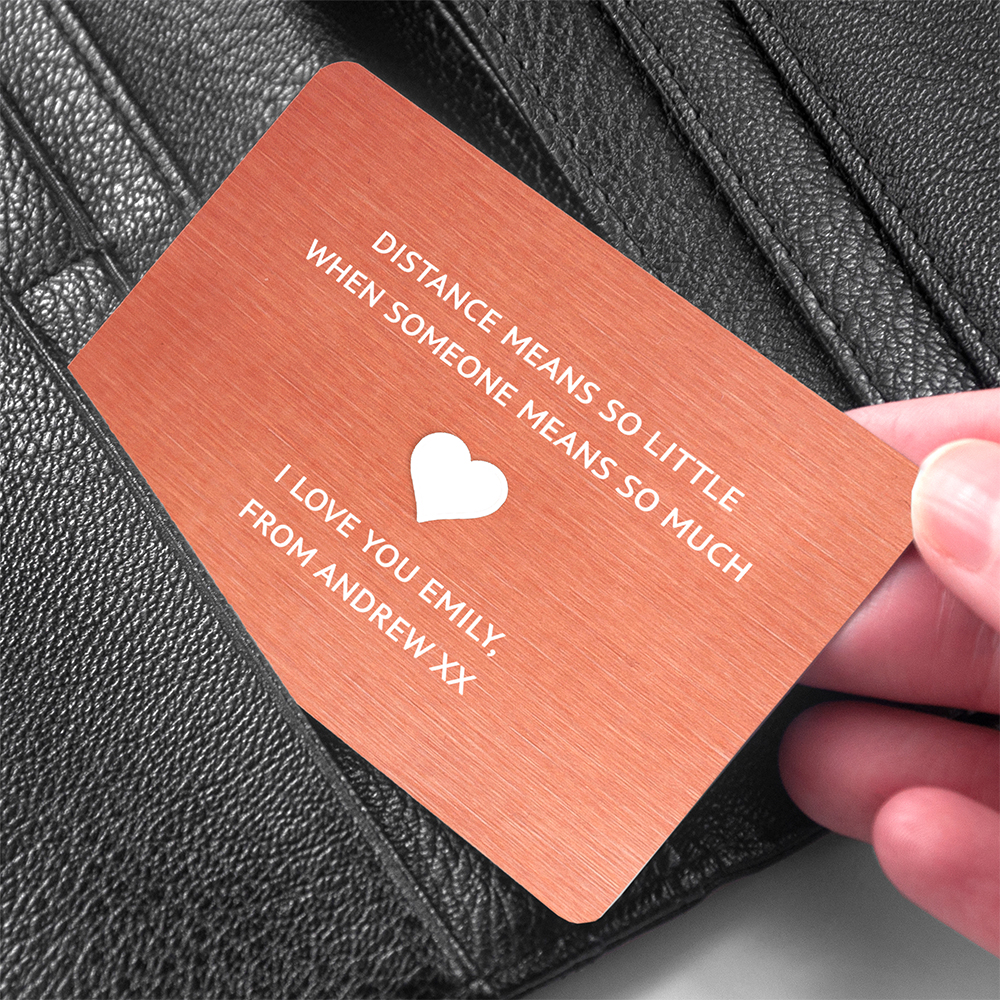 Copper Love Note
$27.95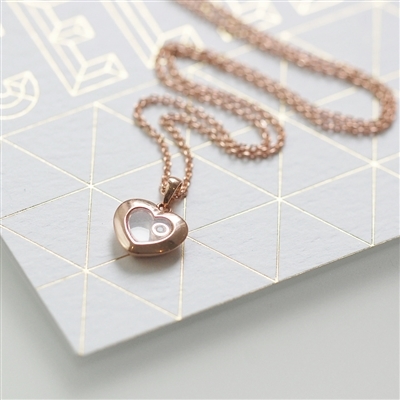 Rose Gold & Diamond Necklace
$269.95
Personalized Copper Growler
$64.99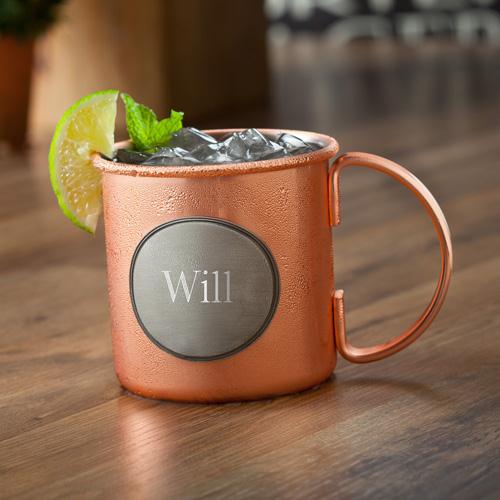 Copper is a very Hot trend at the moment and one that you will see in many home stores.
We also have lots of gorgeous copper gift ideas too.
You could celebrate with Moscow Mules in your very own personalized Copper Moscow Mule cups.
These are available in our Anniversary Store...
Copper photo frame with a photo of the two of you
Copper picture frame with a personalized print
Copper tealight holders for a romantic night in, or even dotted around the edge of a relaxing bubble bath
Copper kettle - for all those cups of coffee or tea you enjoy together
Set of Copper pans - perfect for your very own personal chef to create wonderful romantic meals.
Copper plates - with their favorite cake or meal cooked lovingly by you
Copper and Stainless Steel cocktail kit - with all of the bar supplies needed to make their favorite drink. That would be a fun way to start your 22 years celebration!
Personalized Copper keychain
Engraved Copper Pocket watch
Decorative copper cufflinks
A jar filled with copper coins so they can treat themselves.
Gorgeous copper wall art
Copper jewelry (which doesn't have to mean an arthritic pain bangle) there are stunning bracelets and necklaces.
Copper Hammock, for those relaxing weekends when all you want to do is to chill out together.
And the color of Rose Gold has a lovely copper glow to it
If they love to garden there are lots of copper gifts that would be perfect and when copper is left outside it gets a beautiful verdigris color. 
Copper birdbath
Copper sundial
Copper pot
Copper weathervain
Copper statue
Decorative garden stakes in copper - perfect if they love to grow plants from seed
22nd Anniversary Gift Ideas For Your Husband
Copper Hammock for two from Novica
Copper Waterbottle to keep your husband happy and healthy
1oz Copper Bar $5 National Bank Note - not circulated
22nd Anniversary Gifts For Your Wife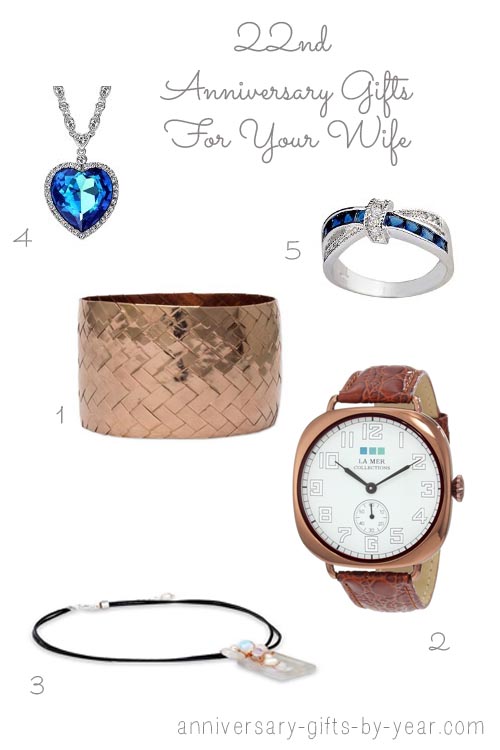 22nd Anniversary Gift Meanings
Copper is a really beautiful and powerful metal and it is used to promote healing. Gemstones set into copper are believed to be even more powerful due to the copper energy.
Blue Zircon's for your 22nd Anniversary promotes happiness and love

(source:

Gemstone meaning

)

, such a powerful gift for the love of your life.
The Beauty of Copper
Copper has been an essential metal throughout human history, and its use dates back to ancient times. It is a versatile and durable metal that is known for its unique reddish-brown color.
Copper has been used by humans for over 10,000 years. It was first discovered in the Middle East and was initially used for making tools and weapons. Copper was also used in ancient Egypt for making decorative objects, including jewelry and sculptures. The use of copper spread throughout the world, and it became an essential metal in many cultures, including the Greeks, Romans, and Chinese.
If you are looking for inspiration for a 22nd Anniversary vacation you could look for trips to the Middle East, Greece, Italy and the Far East to wonder at the beauty of Ancient crafts.
The traditional gift list doesn't cover the 22nd anniversary but on the modern list the gift is copper. This has now become the gift that is traditionally given for 22 years of marriage.
The modern gift for a 22nd anniversary is copper but as this is now mainly used for the traditional gift a number of gift lists now have brass and nickel as the modern gift for 22 years of marriage.
There is no flower associated with the 22nd anniversary but you can use the colors of copper and blue zircon to create a stunning bouquet of blue and copper flowers. Roses and Chrysanthemums are classic copper colored flowers.
---
We deliver Anniversary Gifts to USA & UK, Europe, Australia

Contact Us | Privacy Policy | Affiliate Disclosure|Anniversary Blog
Terms & Conditions | About | Site Map