14th Wedding Anniversary Gift Ideas

Congratulations on reaching your 14th wedding anniversary!
This special milestone is a testament to the love and commitment you have shared over the years.
It's definitely a time to celebrate your journey together and reflect on the beautiful memories you have created.
In this article, we will explore the significance of the 14th wedding anniversary and provide ideas to make this occasion memorable.
As well as lots of 14th Wedding Anniversary Gift inspiration to help you find the perfect gift that fits with the theme.
14th Wedding Anniversary Traditional & Modern Ideas
Your 14th wedding anniversary can be celebrated from the modern anniversary list with gold.
 - No longer do you have to wait for 50 years!
Which is pretty awesome when you think it's about time for a bit of bling in your life.
Traditionally the 14th anniversary symbol is ivory, meaning the rarity and highly prized value of marriage.
Here are lots of traditional 14th Anniversary Gift Inspiration to help you find a more traditional gift that is ethical.
14th Wedding Anniversary Gift Ideas
When most people think Golden anniversary they do think 50 and so most gift shops will have older couples in mind when they design their gold anniversary gifts, so we have been on the hunt for you and found the best 14th wedding anniversary gifts you can buy the love of your life.

Here are more affordable gold anniversary gifts;

Gold Sculptures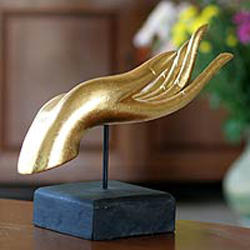 Now don't panic we are not talking the real thing! That would cost a fortune!! There are instead some fantastic sculptures that are gold in color with lots of gold leaf.
One of our favorites is this lovely gold Buddah hand sculpture welcoming you into your 14th year of marriage, which is available from Amazon.
There are also lots of other stunning hand crafted designs on novica.
14th Anniversary Gifts For Her
What is a good gift to buy my wife for our 14th Wedding Anniversary?
Help is here to inspire you.
Personalized Gold Jewelry

A gold gift to treasure forever and one that is made even more special with a message from you.
There is lots of gold jewelry to choose from and you can also add both your birthstones to a piece to make it even more personal.
Your wife will be surprised and delighted by your choice of gift and how personal it is to both of you.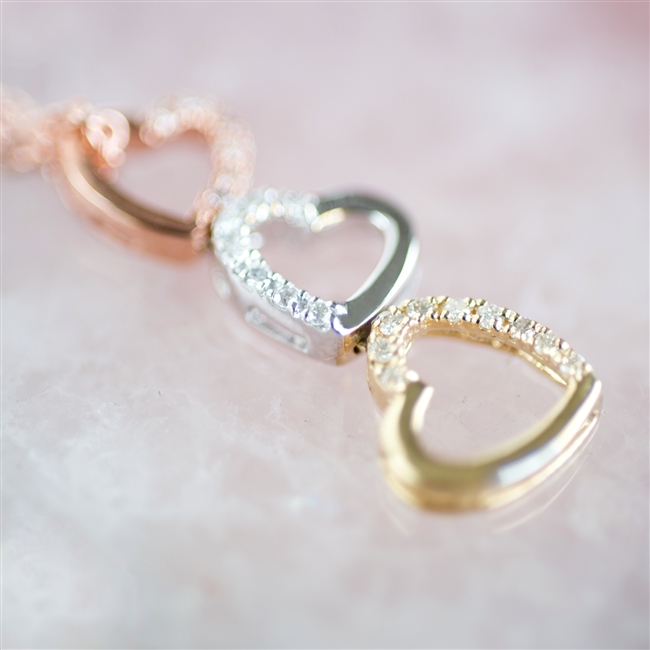 Three Gold & Diamond Necklace
$405.95
White Gold Infinity Necklace
$219.95
Couple's Gold Heart Necklace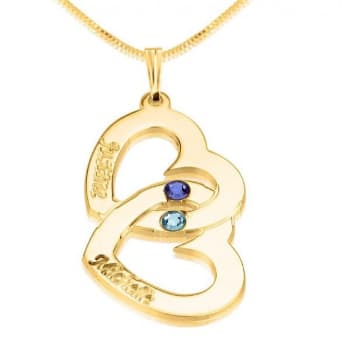 Both of your hearts will entwined together forever.
This lovely gold two heart necklace is engraved with both of your names and has both of your birthstones.
"Wife was surprised" Alan M
"This made my wife very happy" Donald M
Couple's Gold Name Necklace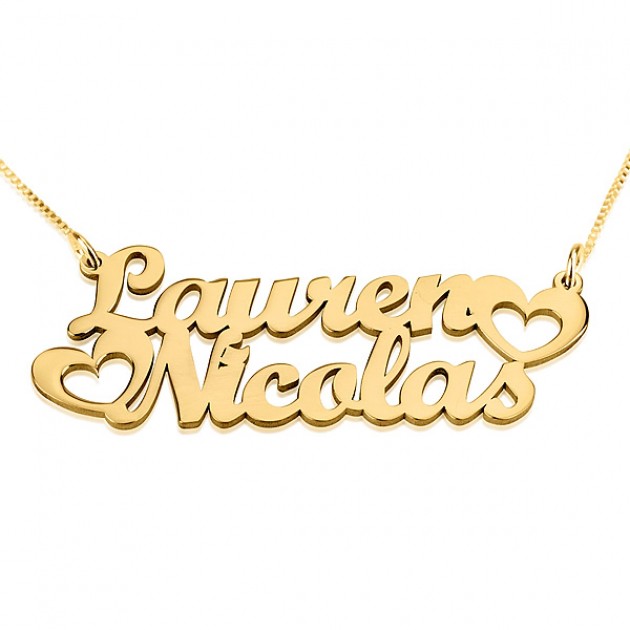 This is such a sweet gold necklace with both of your name's joined together with hearts.
And will make her smile every time she sees it.
Buy It Now at our Anniversary Store 
Lots more Gold Necklaces to personalize here
14th Anniversary Gifts For Him
What can I buy my husband for our 14th Anniversary?
Something that will fit with the theme and that is fun and different would be perfect.
And a personalized gift will always be different as it is unique to you, because you really can put anything you would like on your gift.
Gold Gifts For Him
Gold Cufflinks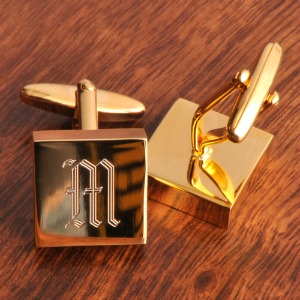 Every man needs a pair of smart cufflinks and these are very stylish, personalized with their initial.
Personalized Pen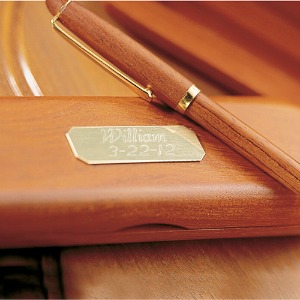 This stylish rosewood pen has a gold colored plaque that you can personalize with his name and your Anniversary Date.
It will look great on his desk and a daily reminder (not that he needs one) of you and your anniversary.
14th Wedding Anniversary Gifts For Couples
Struggling to think what you can buy a couple celebrating their 14th Wedding Anniversary that fits with the theme?
The best ideas are to look for gifts that show their love and have splashes of gold to fit with the modern theme of gold.
Here are ideas to inspire you!
Anniversary Journal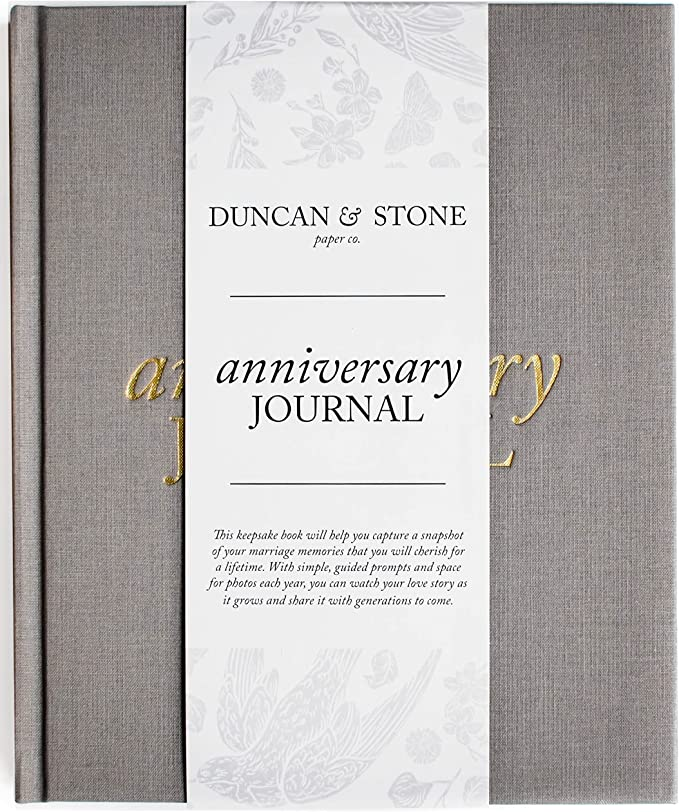 This lovely hard-bound Anniversary Journal is such a thoughtful gift.
There are spaces to add photos and to write down their favorite memories from each year. 
It is a gift that will last for years and one that they will look back at and remember together.
This Anniversary Journal is available on Amazon here.
Personalized Anniversary Frame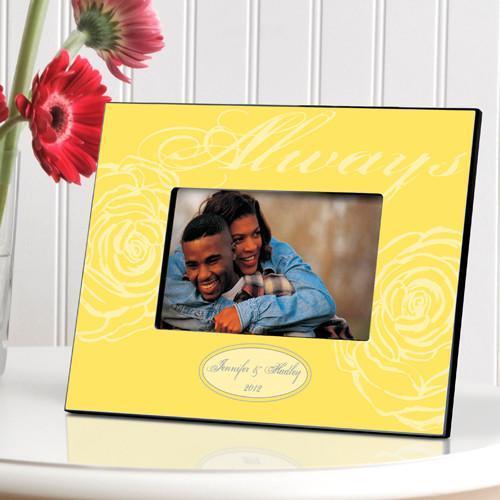 This Gold personalized photo frame is both a classic and modern Anniversary gift at the same time.
Especially as it comes with "Always" on the front of the frame.
Add their names and the year to make it a unique gift for them.
Gold Themed Anniversary Vacation Ideas
If you love to spend your Anniversary on vacation then you can theme your time away to fit with the modern 14th Anniversary symbol of gold.
You could go an adventure and head to the middle east and explore Gold Souks (gold markets). When you first enter a gold souk it can be overwhelming as there is so much gold, it will sparkle everywhere.
Souks are an adventure all on their own with spices, cloth, rugs, jewelry, everything you can always imagine.
Or you can look to a Gold named vacation and take a trip to Iceland with a tour of the Golden Circle, which is where all the volcanoes are. Iceland has the most amazing scenery, the light is beautiful and you can experience bathing in thermal pools and the wonders of the Northern Lights.
Check out the discounts available from Viator for these areas on the banner below.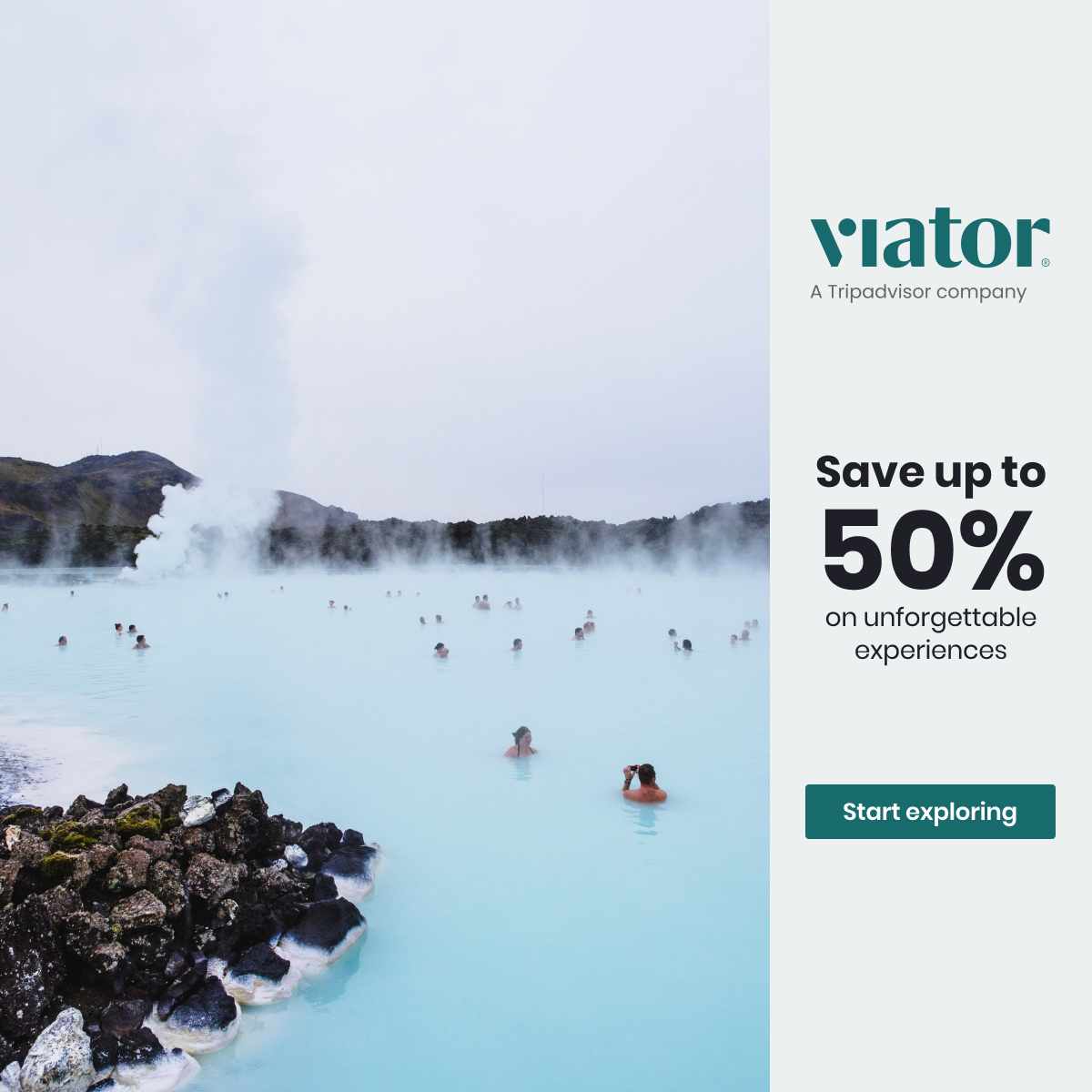 Opal Gifts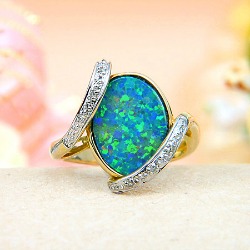 But as you can imagine it is not all about gold, there are other anniversary lists that have ideas for your 14th anniversary.
On the gemstone list, your 14th anniversary is celebrated with opals. Opals are stunning and the meaning of giving a gift with opals is that it is the stone for faithful lovers. How romantic is that and perfect for 14 years together as husband and wife.
Check out these Opal Gift Ideas
As with gold, opals also bring an opportunity for travel.
According to Wikipedia: Australia produces 97% of the worlds Opals, so that has to be the destination of choice!
It is not the only place - Opals are also found in
Idaho, 
USA, 
Czech Republic, 
Slovakia, 
Hungary, 
Turkey, 
Indonesia, 
 Brazil, 
Honduras, 
Guatemala, 
Nicaragua 
and Ethiopia. 
These are cool places to travel and what a great excuse ... not that you need one!
Happy 14th wedding anniversary from all of us too! Just don't forget to send us a postcard.
---
We deliver Anniversary Gifts to USA & UK, Europe, Australia

Contact Us | Privacy Policy | Affiliate Disclosure|Anniversary Blog
Terms & Conditions | About | Site Map