Traditional 14 Year Wedding Anniversary Gift
Traditional 14 Year Wedding Anniversary Gift Ideas
Your 14 Year Wedding Anniversary is celebrated with:
Ivory on the traditional list (don't worry we only have lots of ethical alternatives)
Gold on the modern list
And Opals on the gemstone list (its's the stone for faithful lovers)
The meaning behind Ivory as your 14th Anniversary Gift is that it is the symbol of rarity and is highly sought after.
And although you no longer gift real Ivory the meaning still stands.
Here we have lots of beautiful 14th Anniversary gifts that you can personalize with your own messages of love...
Ethical 14th Wedding Anniversary Gift Ideas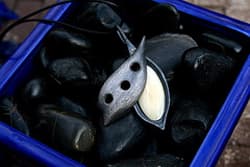 Finding a 14 year wedding anniversary gift can be tricky as traditionally this year is celebrated with ivory. Not something that you can find or want to find as it is banned for import in a number of countries
As alternatives go the most natural is the fruit of the Tagua palm! The nut is so hard and white that it can be carved into beautiful pieces of jewellerey and is fairly widely available to buy online. You could always make a trip to Central and Southern America where the Tagua palm trees grow naturally. Each Tagua palm produces the same amount of 'ivory' in one year as an elephant does in a lifetime and it is a renewable resource. Not only does it protect the elephants, it protects the rainforest as well.
Here are lots of options to help you find an ethical ivory themed gift for your 14th;

Tagua Nut Items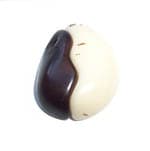 Choosing Tagua nut jewelry and gifts instead of ivory is a great ethical choice. Sadly there is not that much choice in main stream gift stores but thankfully with the power of Ebay you can find some stunning gifts!
Have a look at the tagua nut items available on Ebay at the moment.
Ivory Themed Jewelry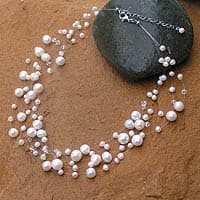 Ivory themed jewelry can be pearls or beads in costume jewelry. The color ivory is a popular choice and there are lots to choose from.
We are loving the handcrafted jewelry available at Novica as there are lots of designs to choose from and they are all gorgeous.
Ivory Anniversary Flowers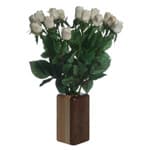 Sending a bouquet of flowers on your anniversary is a nice touch and one way to make it even better on your 14th anniversary is to send ivory flowers. These are made from the tagua nut and look gorgeous. Plus they last for ages too.
These are available from JustPaperRoses.
Ivory Themed Anniversary Gifts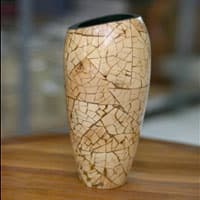 If you use the color ivory there are lots of gift choices. From beautiful vases to a hammock made for the two of you. You could even make a trip to the Ivory Coast for a big wow anniversary vacation, that way you could choose your own gift while you are there.
There are some very special ivory themed gifts at Novica
Here are lots of gorgeous 14th Anniversary themed gifts that will be perfect to buy for your husband or wife...
Alternative 14th Anniversary Gift Ideas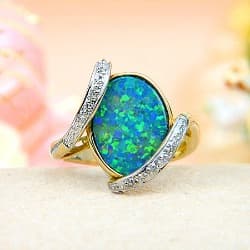 Opals - The Stone For Faithful Lovers
To continue with the protection theme you could take a safari to either India or Africa to see for yourselves ivory worn at its best, by an elephant! Safaris are a great way to visit a country and there is so much choice, you can choose to travel in luxury or more basically.
You can also twist the ivory theme and use the colour ivory for your gift inspiration. Beautiful white roses, white leather handbags, an ivory silk tie or shirt, fluffy ivory towels with tickets to a spa, or ivory coloured bubble bath!
You don't just have to stick with an ivory theme, your 14th wedding anniversary can also be celebrated on the modern list with gold and from the gemstone anniversary list with opals. Opals for hundreds if not thousands of years are believed to hold great powers, one such power is that it helps the wearer find true love. The fact that you are celebrating 14 years of marriage shows that you already have found true love! A lot of the world's opals come from Australia and that would be a great anniversary vacation.
See Opal Anniversary Gifts Here
All of the 14th anniversary gift ideas give you an excuse to travel, and their sources are almost the entire world. You could choose where you want to go and then find if they mine gold, tagua nuts, opals or if you could see elephants. Failing that there is also the anniversary flower list and the gift for 14 years together in flowers is with Dahlias. Maybe see if you can grow some together!
---
We deliver Anniversary Gifts to USA & UK, Europe, Australia

Contact Us | Privacy Policy | Affiliate Disclosure|Anniversary Blog
Terms & Conditions | About | Site Map