Vow Renewal Ideas For Your Wedding Anniversary

Renewing your wedding vows is one of the most romantic things you can do to show the world how much you still love each other.
And the great thing about the second time round is that it can be done your way.
Your Anniversary is a great time to renew your vows as it really is a celebration of your marriage.
Plus this way you still have the same anniversary, can you imagine what it would be like if you had more than one anniversary to celebrate each year?!
Vow Renewal Etiquette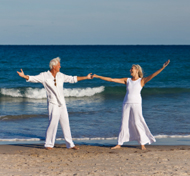 There are no set rules or etiquette when it comes to your vow renewal, this really is about the two of you.
We know that your wedding is meant to be just about the two of you but you will always end up compromising on something to make someone else happy.
If you want to stand under a waterfall in Hawaii, or renew your vows while skydiving then you go for it! We would love to see the pictures if you do!
Start by thinking about the type of ceremony that you both want, it can just be the two of you or you could invite everyone. A number of couples that didn't have the wedding of their dreams first time round make sure they do when they renew their vows.
Traditional Vow Renewal

Traditional could be the wedding that you didn't have, with your ceremony at your local place of worship followed by a reception.
Planning your vow renewal will be just like planning a wedding. You will need a venue for your ceremony and then for your reception.
You will also need
You may be renewing your vows on an anniversary so you could have that as the theme for your reception.
Here are some ideas for the ceremony.
How Do You Renew Your Vows
When it comes to renewing your vows, you choose how you would like to do it.
As it isn't a legally binding ceremony there are no rules.
You can have an officiant, or a friend, or just the two of you.
Some couples choose to say their original Wedding Vows, others like to add extras to make it special for their Anniversary.
Vow Renewal Wording Ideas
"I promise to continue to love you with everything I have, 
To treasure everything we have together,
To celebrate with you all our achievements
And to enjoy our time together.
Thank you for the years we have enjoyed as a married couple, you have been my guiding star and I will forever be yours."
Vow Renewal Unity Candle Ceremony
If you are looking to add a magical moment to your Vow Renewals include a Unity Candle in your Ceremony.
Both of you will light your own candle and then together light the main one.
Showing how marriage brings two individuals together and unites them in love.
It really is very special.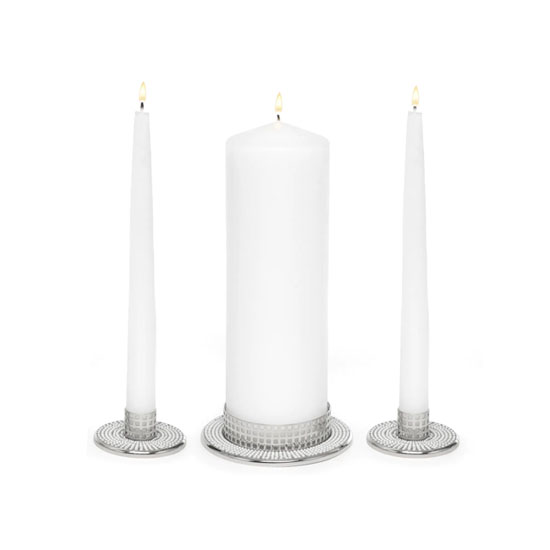 Vow Renewal Anniversary Themes

Every Anniversary Year has a symbol and a color which are a great starting point for ideas for your Vow Renewal.
1st Anniversary - paper. Love the idea of incorporating origami and other paper based crafts into your decorations. You can create funky invitations that are folded into a heart, or have a paper butterfly fly out of the invitation. Paper flowers look great as your bouquet and also your decorations.
5th Anniversary- wood. You could go back to nature with this theme and have your vow renewa ceremony in the woods followed by a picnic. A real rustic look to your decorations would look great, with centerpieces made from branches and then hung with pretty decorations or candles. Your bouquet could be made from evergreen branches. Your invitations could have a silhouette of your favorite tree, or a photograph of the two of you giving a tree a hug!
10th Anniversary-tin. Tin is not the most romantic of materials but it can be fun! Tin cans can be turned into vases and candle holders which give a romantic quirky look to your tables. You could incorporate the color tin into your invitations or have a big number 10 on the front. If you are looking for something a bit more glamorous go with the modern list as diamonds are the 10th anniversary symbol! And then you can have everything sparkly.
15th Anniversary - crystal. Another sparkly anniversary! You can get some great looking crystals from craft stores that you can use on your invitations. Your bouquet can have crystals incorporated into it too. For your decorations you could have sparkly vases and candles everywhere!
20th Anniversary - china. You could go with a Chinese or oriental theme for all of your celebrations and your invitations and decorations. This is not going to work for everyone so instead you might like to look at having a vintage themed reception with lots of vintage china. Vintage teacups and teapots as your centerpieces filled with candles or flowers. Your invitation could have a beautiful vintage print, or you could go with a fun phrase "Join us having a smashing time!"
25th Anniversary - silver. It couldn't be anything else apart from silver! There is quite a lot of silver decorations and invitations that would be perfect for your vow renewal.



30th Anniversary - pearl. Pearl colored invitations would create a classic look and you can use pearls for your decorations too. Pearl colored round balloons look classy and modern, these are not your regular shaped balloons but round ones. Or have a look at paper lanterns to string across the room.
40th Anniversary - ruby. The color ruby is so distinct and a red design on your invitations could be a red rose, a red heart or an abstract red design. Use the red in your decorations - candles, paper lanterns and flowers.



50th Anniversary - gold. This is another anniversary that it can't be any other color. You can get some great invitations and decorations in gold. Gold vases filled with gold colored flowers such as chrysanthemums or roses.
Do You Walk Down The Aisle At A Vow Renewal?
You could have your family be part of your special day with your son maybe walking you down the aisle and have your daughters as your bridesmaids. You can include other family members in readings and don't forget to call on their skills for items you need help with for your wedding.
But you don't have to walk down the aisle if you don't want to.
Do You Need A Vow Renewal Certificate?
As a Vow Renewal isn't a legal ceremony you don't always need a certificate, but there are times when you do. Details on the link below.
Alternative Vow Renewal Ideas

If you had the big traditional wedding originally you may want something a bit different when you renew your vows.
Las Vegas has been a popular destination to renew your vows, it's bright, fun and loud. Plus you may have secretly wanted to do this first time but just didn't get round to it. You don't need a marriage certificate but if you choose to use one of the many cool chapels in Vegas then normal ceremony costs will apply. You will be pleased to know that you can still have Elvis at a renewal ceremony!
You can renew your vows anywhere you want waterfalls, beaches and your own backyard are favorite places. As this is not an official and legal ceremony you don't need to have an officiant present, a friend or family member can perform the ceremony. You could even just have the two of you and say your vows to each other, no witnesses just each other.
---
We deliver Anniversary Gifts to USA & UK, Europe, Australia

Contact Us | Shipping & Returns |Privacy Policy | Affiliate Disclosure|Anniversary Blog
Terms & Conditions | About | Site Map