50th Anniversary Party Ideas
Golden 50th Anniversary Party Ideas
50th anniversary party ideas need to be special and romantic as the golden wedding is one of the most special anniversaries a couple can celebrate.
It is an anniversary celebrating 50 special years of love. And one way to make sure it is special is to pay close attention to the planning of the party.
The most popular theme for your 50th anniversary is gold and it looks gorgeous for a party theme.
Golden Decorations
Luxurious Gold Theme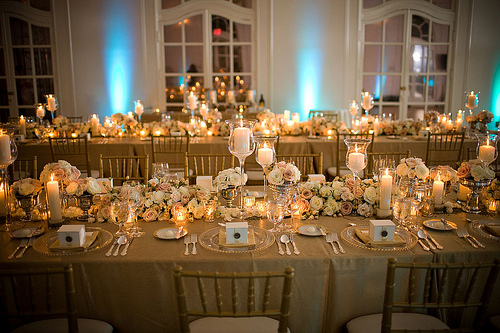 Photo by Zoe Wang
A full on gold themed reception will create a big wow for your guests and your anniversary couple.
The table above definitely has the wow factor but it is not over the top. This is classy gold and can be recreated by yourself. You will need gold tablecloths, glass plate chargers and gold napkins. Candles add the golden glow and the flowers although are not gold add to to the overall look. The roses in the table decorations are creams and blush colors. The roses are in low long displays and also in posy vases creating height.
The candles look more interesting as they are of different heights, there are glass votives, pillar candles and also wine glass candle holders. When it comes to candles you want to mix it up and more is definitely the way to go.
The favor boxes are tied with gold ribbon for an extra splash of color.
Even the chairs in this reception are gold, however this style of chair is often stocked by hire companies so you should be able to rent something similar.
Splashes Of Gold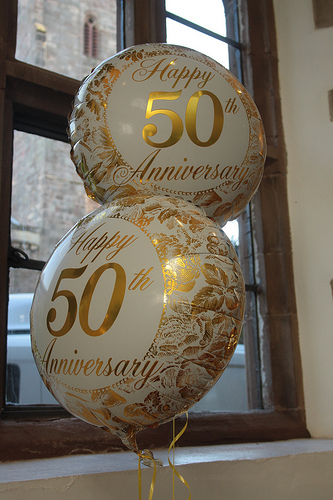 Photo by Daniel Lobo
The above 50th anniversary party room isn't completely ready but you can see how the splashes of gold have been created. Again, you have gold tablecloths, and this time there are chair covers with gold sashes. The gold balloons add extra height to the room which makes the decorations look more interesting.
Golden Years Theme
The main theme is the couple and their 50th wedding anniversary. For this reason, you may want to use their lives as the theme.
You can do this in a unique and touching way, by placing photos of the couple and their family throughout the years (be sure to include as least a few from each decade) as the main decorations. You can even use these photos as centerpieces for the tables, framed in gold.
As for the music that is playing, you should try to find out some of the favorite songs or types of music the couple has enjoyed throughout their marriage.
Finally, if the couple has many video clips from their life together you could have these blended in a digital format and have them play throughout the party or at a single point (after a special toast has been made to the happy couple).
50th Anniversary Party At Home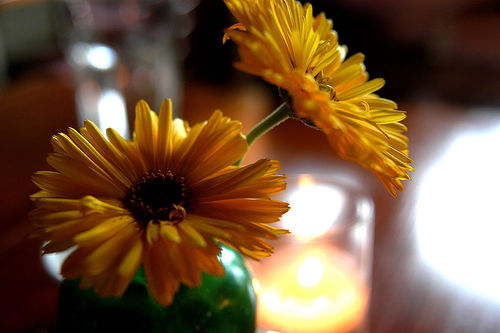 Photo by Arbron
Not every couple will want a big anniversary party, instead you may want to have a more intimate celebration at home.
You can still add the gold theme to your party with gold tablecloths, candles and flowers. Take the elements from the images above to make your own home sparkle!
---
We deliver Anniversary Gifts to USA & UK, Europe, Australia

Contact Us | Privacy Policy | Affiliate Disclosure|Anniversary Blog
Terms & Conditions | About | Site Map