Best 50th Wedding Anniversary Gift Ideas For Parents
The best 50th Wedding Anniversary gifts for your parents are the ones that you know they will love and treasure.
What Is The Symbol For A 50th Wedding Anniversary?
The 50th Wedding Anniversary Gift symbol is Gold, meaning special and showing that your love shines brightly, as nothing shines brighter than gold.

We have lots of 50th wedding anniversary gift ideas for your parents, with lots of ways to include gold as part of their celebrations.
One really easy way to add gold to your gifts is to make sure you wrap everything in gold paper. This works really well if you have put together a gift basket for your Mom and Dad too.
And remember gold gifts don't have to be made from real gold, there are lots of gift ideas that are the color of gold too.
Plus, don't just think gold for your gift, think about what you know your parents will love, we have put together some of our most popular gifts being bought for a 50th Anniversary to give you some ideas.
Personalized 50th Anniversary Gifts
An engraved Vase with their names and their Wedding Date or 50th Anniversary
Personalized 50th anniversary Celebration glasses - perfect to raise a toast to wish them a Happy Golden Anniversary 
A personalized decanter set, filled with their favorite drink
Their Wedding Date will be one of the most important dates in their lives and a gift that takes them back in time to that day will be very special.
An original newspaper from their wedding day - our archives are packed with old newspapers from fifty years ago and it will come with a certificate of authenticity that we will print your Happy Anniversary message on.
A framed copy of the front page of the newspaper from their wedding day, it is framed and ready to be hung on the wall at their home.
A Personalized Newspaper Book with a copy of the newspaper from their Wedding Day and headlines from that year. This is one of our most popular 50th Anniversary gifts for Parents and Grandparents and is personalized with their names and their Wedding Date. Plus your Happy Anniversary message will be printed inside.
If your parent's love to do jigsaw puzzles then these two are a perfect gift, you can choose from 
Where We First Met Jigsaw Puzzle which is a puzzle made from the map of exactly that.
Or you could get them a Jigsaw Puzzle of the front page of the Washington Post from their Wedding Day
If you parent's love to have adventures then they will love a Personalized box where they can store their souvenirs from their trips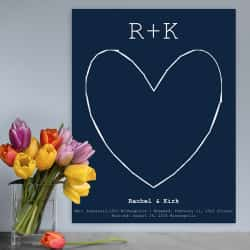 Your Love Story Canvas Art
$79.99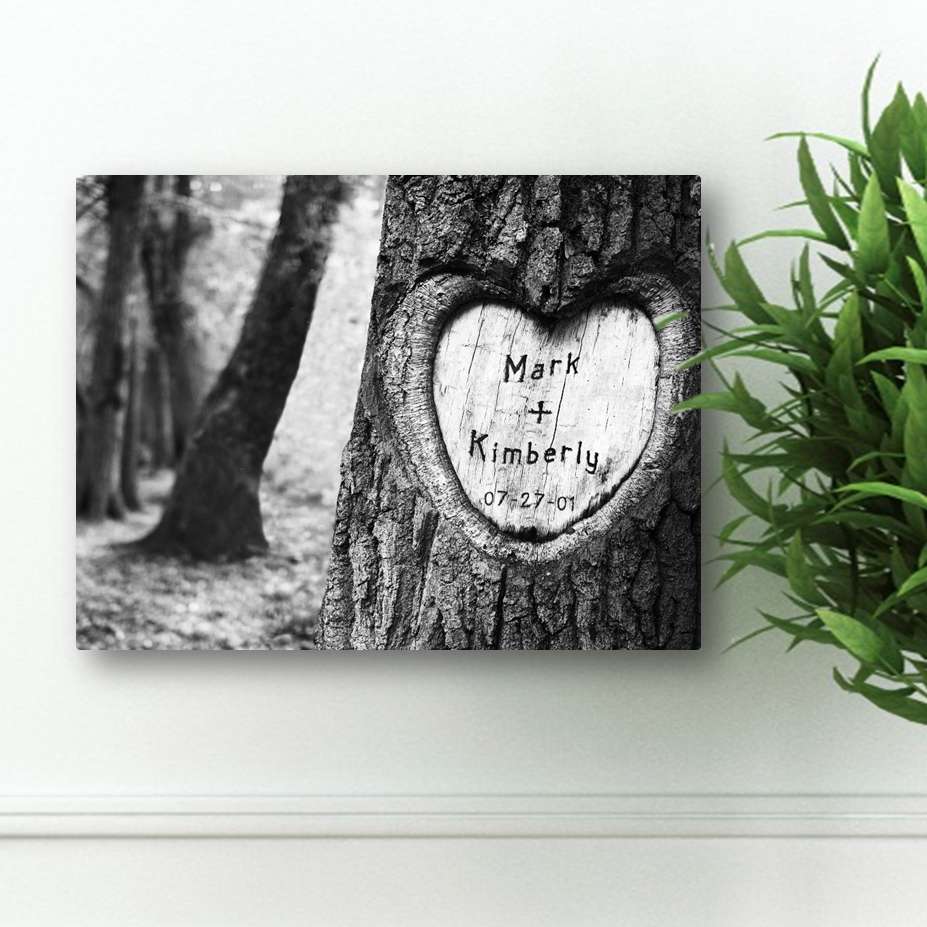 Personalized Love Tree
$64.99
If your parent's love to spend time at home then these personalized Art Prints will make it even more special.

Golden Anniversary Gifts For Parents
1. Golden Flowers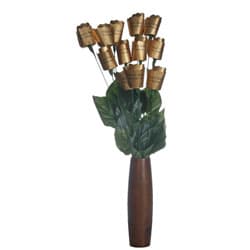 Anniversary flowers are a must but they don't last for very long unless you send these gorgeous roses from JustPapeRoses.
They also have gold roses made in lace too.
Both are equally lovely and the paper roses you can personalize too.
Choose to send a single Golden Rose or a Bouquet of Golden Roses.
2. Gold Jewelry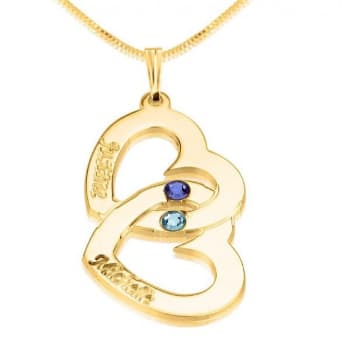 If you want a traditional present, gold is the gift to aim for.
Your mom may want a nice gold necklace or bracelet. Your dad may want to replace his old watch. 
And personalizing these gifts for your Mom and Dad makes them even more special.
Lots of Personalized Gold Anniversary Jewelry in our Anniversary Collection
More inexpensive gifts would be to go for something golden in color, like a gold scarf and necktie.
If your parents are coin collectors, these are great gifts too. Other options for golden things are brooch, cuff links, rings, pendant and earrings.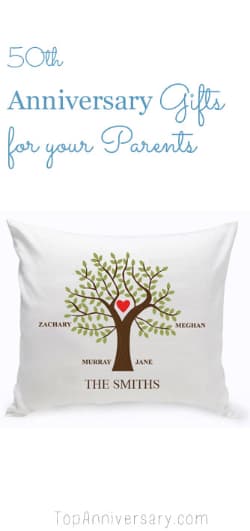 3. Golden Scrapbook

The meaning of golden here simply means special.
You do not have to be limited by gold things for traditional 50th wedding anniversary gift ideas for parents.
You could put together a story of your parents' married life through pictures and notes.
You can make a big scrapbook project for this idea and ask the help of everyone in the family and your parents' friends for pictures of your parents from the time they were dating up to the present. 
The pictures could be old and faded but technology will take care of that. Make small notations on each picture quoting your sources for more authenticity. Write the notes in gold ink. 
Have the scrapbook hardbound in golden special paper. 
Make the scrapbook a labor of love. This could be a perfect traditional 50th wedding anniversary idea for parents.
We have found lots of gold colored scrapbook albums, gold papers and all the lovely extras at
Amazon
4. Personal Canvas

If you are looking for a very personal gift, how about a canvas with key dates from the past 50 years?

You could have dates of when they met, their 1st date, when they were married, when children arrive, right up to their 50th anniversary.

There are some lovely canvas designs to buy in our Anniversary Gift Store.
5. Golden Family Portrait
When was the last time you and the whole family sat down for a portrait?
Why not have an informal family picture taken by a professional. Don't let your parents know that the photographer is a pro and is all set on taking candid pictures of the family to make a photo album. You can pick the most beautiful shot of the family and have it framed in gold. You can help hang the picture in your parents' house. You can also frame smaller family pictures and set them on top of a console or a piano or anywhere convenient.
6. Golden Family Quilt

Call all of your mom's friends who are handy with needles and together make a quilt.
Each patch should be done by family and friends. 
 You can use significant cloths for the patches to make the anniversary quilt meaningful and not just beautiful. 
The patches can tell a story or represent parts of your parents' married life. Make use of technology. 
Have your parents' images transferred into a piece of plain cloth and make that piece the center of the family quilt, you could use images from their wedding day and as they are today.
You can buy photo transfer paper at
Amazon
which you use in your own home printer. Then you use an iron to iron the transfer on.
It just shows that 50th wedding anniversary gift ideas don't have to be made of gold!
More Homemade 50th Wedding Anniversary Ideas
7. Golden Gifts

A couple celebrating their 50 years together is in that state where they don't even want to receive gifts. At their age, they don't want small trinkets that they won't even use.

Why not give a gift of love?

Make little coupons and label them as passes for taking them to the movies, treating them to dinner, cooking their favorite meal and doing errands for them. 
Try to find out what will make their lives a little easier. If you can give it to them, do so.
These personalized love books and coupons are a wonderful way to show your parents how much you love them. Fill each page with reasons why you love them and they will cherish the book forever.
A gift of gold doesn't have to be made from gold, there are also beautiful 50th wedding anniversary flowers that are beautiful and golden!
---
Contact Us | Privacy Policy | Affiliate Disclosure|Anniversary Blog
Terms & Conditions | About | Advertise With Us | Site Map