50th Anniversary Invitations
50th Anniversary Invitations

Wordings, Designs And Making Your Own
Choosing 50th anniversary invitations is an important part of your anniversary party plans, you know that they will be treasured long after the event and they also help set the tone of the party for your guests.
Wording For Your Invitations

If your anniversary party is formal you will want formal invitations with dress code and all of the party details. Quite often formal anniversary party invitations will be sent out by the couple's children who will be the hosts for the evening. There is no written rule that this has to be the case, your invitations could be from you or your best friends.
For a formal anniversary invitation the wording could be,
Mr Bob Taylor and Mrs Jane Smith would be delighted if you would join them in celebrating their parents Mr and Mrs Robert Taylor's 50th wedding anniversary. At The Golf Club, Links Road at 7.30pm on 12th April 2015. Dress code Black Tie. RSVP.
If your 50th anniversary party is to be more informal then anything goes;
Come and join us to celebrate 50 years together as Mr and Mrs, at the River Boat Restaurant 12th July at 19.30.
Make Your Own Invitations

Making your own invitations is so much easier with the kits that are available and all of the beautiful embellishments that you can buy at the craft stores or online.
For your design you could have a classic design with a gold 50 on the front or "Fifty Years Together". If you could find some gold 50 numbers that you could glue to the front that would make your invitation sparkle. Gold ribbon tied around the invitation also looks very smart.
Using your computer you can design a very personal 50th invitation with a photo of the anniversary couple on the front, this could be from their wedding day or from today or both! You could have "Guess Who Is Celebrating 50 Years Together?"
We also have made some simple invitations that you can print for free, just click on the pictures and you will be taken to the pdf for you to print.
Or if you are looking to make your invitations yourself then here are our tips on what to remember in your 50th anniversary invitation.
---
We deliver Anniversary Gifts to USA & UK, Europe, Australia

Printable Golden Anniversary Invitations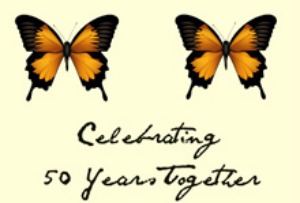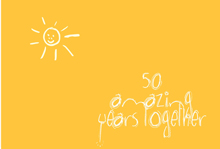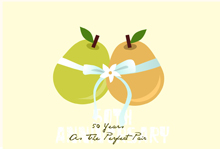 All the free printable 50th Anniversary Invitations are available here...
Contact Us | Privacy Policy | Affiliate Disclosure|Anniversary Blog
Terms & Conditions | About | Site Map