50th Wedding Anniversary Invitations
50th Wedding Anniversary Invitations

Free Printables And Sample Wording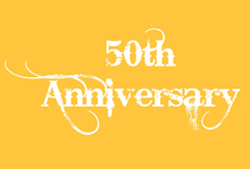 50th wedding anniversary invitations are a necessity if you are planning an anniversary party or a dinner or lunch. It somehow makes the whole occasion special, otherwise your anniversary party would just be like any other lunch or dinner get together.
Your invitations also set the tone and feel of the party, if you are having a more informal party with a bbq and a pool party then your guests will want to know so that they can bring their water wings. And the same is so if you are having a formal black-tie dinner so that they can dress appropriately.
You may also be renewing your wedding vows, this is such a lovely thing to do when you are celebrating 50 years together. You can write the vows that you want to say now rather than the generic vows that you may have felt you needed to say 50 years ago.
To make it easier here are lots of 50th Wedding Anniversary Invitations, ready for you to print out and use for your own 50th anniversary party. Just click on the picture of the invitation that you would like to print and you will see a pdf of the invitation ready for you to print. You will need a pdf reader, most computers have them installed but if yours doesn't then please download one at Adobe.com for free.
There are also a number of invitation companies that have stunning 50th anniversary invitations for you to choose from. Having your invitations printed on good quality paper and card will make your invitation a souvenir of your second Big Day!
Here are some examples that are gorgeous and you can even get 50th anniversary stamps to mail them with!
Wording For Your 50th Anniversary Invitations

Of course no 50th wedding anniversary invitation would be complete without the right wording, here are some examples that you could use;
Sarah and Bob Thompson
Request your presence at a ceremony as we reaffirm the wedding vows we first took 50 years ago
Saturday, November 24, 2021
at 3.00 p.m.
The Inn On The Park
Park View Road
Cheltenham
* * *
Because you have shared in
their lives with your love and friendship
we would like to invite you to join
in the celebration of the
50th Wedding Anniversary
of our parents
Sarah and Jonathan Smith
on Saturday, the first of March
two thousand nineteen
at five o'clock in the evening
Stoke Valley Golf Club,
Links Road
Bournemouth
Julian, Sarah and Simon Smith
* * *
We invite you to share a special moment in our lives
as we celebrate our
50 year Wedding Anniversary
with a Barbecue and Beach Party
on Saturday, July 12, 2019
at 11:30 a.m.
Hayling Beach Hut
The Promenade
Eastbourne
Please R.S.V.P. to
Sarah and Tom by June 10th

---
We deliver Anniversary Gifts to USA & UK, Europe, Australia

Contact Us | Shipping & Returns |Privacy Policy | Affiliate Disclosure|Anniversary Blog
Terms & Conditions | About | Site Map