Traditional 50th Wedding Anniversary Gifts
Traditional 50th Wedding Anniversary Gifts
Traditional 50th Wedding Anniversary gifts are gold, a tradition that goes back hundreds of years when husbands used to gift garlands of gold to their wives on their Anniversary.
Now, we can't promise you garlands of gold but we can promise you lots of gorgeous gift ideas.
Gifts for 50th wedding anniversary have to be special and everyone knows that the gift needs to be golden, gold is expensive so we have put together some ideas to suit all budgets.
Shop Traditional 50th Anniversary Gifts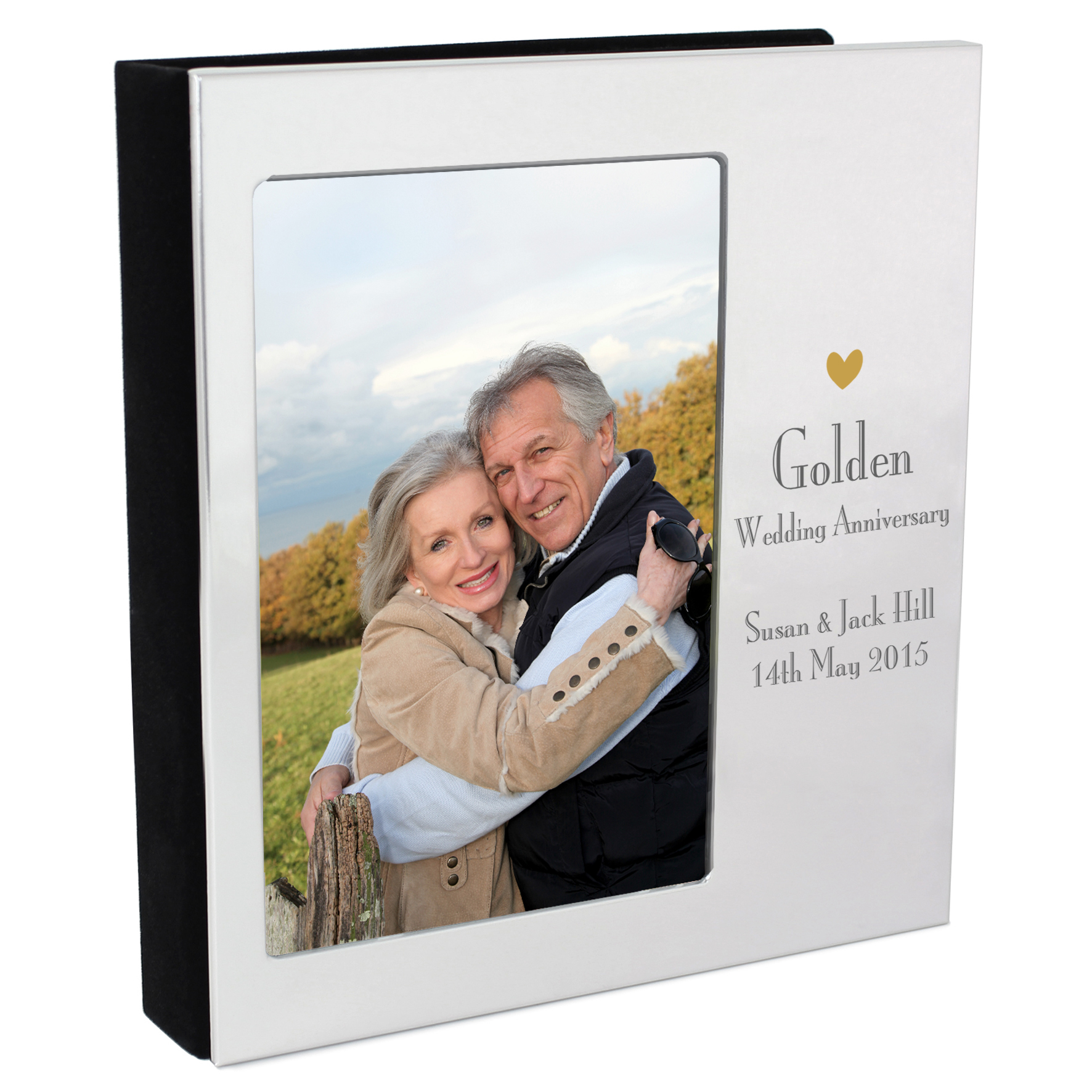 50th Anniversary Photo Frame
$45.95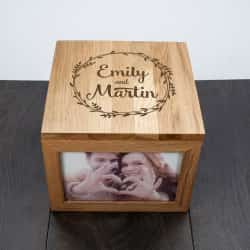 Anniversary Photo Box
$69.99
50th Anniversary Flowers
These gorgeous 50th anniversary roses are perfect. There are golden roses made from lace or paper. The paper roses you can add your names and the date. Plus you can choose to send a single rose or a whole bouquet.

Original Newspaper from 1972
An original newspaper from their wedding day in 1972 is such an amazing piece of history to hold in your hands.
We have access to one of the biggest newspaper archives in the world where we can find you a newspaper to fit with the date that you need.
Plus it comes in a presentation box and personalized certificate to make it even more special.
50th Anniversary Book
This has to be one of the most amazing Anniversary gifts, an Anniversary book full of the front pages of the newspaper from every year since you were married.
Having the chance to look back and remember what else was going on in the world for the past 50 years on your Anniversary is very special.
50th Anniversary Frame

A very traditional 50th Anniversary frame  is a great gift and you could put your favorite photo of the two of them to complete the gift.


You could even arrange a photographer to take photos of all of you to celebrate the family that they have created.
Personalized Gold Gifts

You can get a number of items that are either gold in color or gold leaf; picture frames, coasters, cutlery, pens, scarves, ties, really anything would fit into the gold theme.
Anniversary Vase


This Personalized Anniversary Vase is very personal. With your couple's names, the dates and your own message if you would like to.

This would make a great keepsake gift to keep as a reminder.
Anniversary Champagne Glasses

Personalized Champagne glasses a re a lovely way to make your celebration even more special and these crystal glasses will be treasured for years to come.
Gold jewelry is an obvious choice;
a locket with their photographs is a beautiful thought, 
necklaces, 
rings, 
earrings, 
bracelet 
or maybe a pocket watch for men or cufflinks.
Another piece of memory jewelry is a charm bracelet, you could then personalized with charms of important times.
Gold sovereigns are fun and an investment, or if the budget allows a gold bar!
Lots of very unique and personalized gold jewelry available at Personal Creations. And there is 15% off your order if you use that link.
For the plant lovers have a look at the great Golden Wedding Roses that are available, alternatively there are lots of golden colored plants, flowers and even trees - golden plums or the beauty of golden autumn leaves. There are a number of roses that have been named Golden Anniversary rose that would be perfect. 
Or how about real roses that will last for over a year? Available on Amazon at the moment and it must be magic that keeps them going!
Gold Anniversary Clock

Both clocks are available from Amazon here 
A traditional gift of a golden anniversary clock or his and hers watches can all be engraved with a special message. An anniversary clock is a very traditional gift and became popular in the early 1900s as a wedding gift. The name 'anniversary clock' was copyrighted in 1901 by the Bowler & Burdock Co., Ohio. This was because this style of clock had a mechanism that allowed it to run for 400 days without winding. It became popular as a wedding gift as you only had to wind it up once a year - normally on the couple's anniversary. Today most of the anniversary clocks are battery operated as the mechanism was so delicate in the original clocks they were easily damaged. But the name anniversary clock still remains.
Alternative 50th Anniversary Gift Ideas
For the music lovers you can get replica gold discs of their favourite albums or singles and there are lots of compilation albums that have gold in the title, "Classic Gold" comes to mind.

Your anniversary couple may have a lot of photos that they would like to have displayed in photobooks or a lovely gold frame of a family portrait.

Golden hampers for gifts for 50th wedding anniversary suit most tastes. Fill them with their favourite things? From biscuits to whisky there would be lots to fill it with. At an aunt and uncle's 50th anniversary they received a bottle of Cava that had been written on in gold pen which they still have now. You could have everyone sign your bottle of sparkling as a great souvenir of their special day.

For those with bigger budgets a cruise is a great way to see lots of golden sunsets and nice and relaxing as well, or as friends of ours celebrated their golden wedding anniversary you could get the family together and spend a weekend in a nice hotel.
And that is really what a 50th wedding anniversary is about, family and friends celebrating a great couple.
---
We deliver Anniversary Gifts to USA & UK, Europe, Australia

Contact Us | Privacy Policy | Affiliate Disclosure|Anniversary Blog
Terms & Conditions | About | Site Map