35th Wedding Anniversary Gifts Guide


35 years married is a wonderful achievement and a milestone moment in a marriage. You will be looking for gift ideas that fit with the theme and show them how much you love them.
As with every Anniversary symbol the 35th Anniversary gifts have special meaning that symbolizes how far you have come and how important your marriage is.
35th wedding anniversary gifts are celebrated from the modern list with Jade and traditionally coral.
Both are beautiful gifts and worthy of a special occasion to celebrate 35 years of marriage.
Here you will find 35th Anniversary gift ideas that fit with the theme and to suit all budgets.
Traditional 35th Anniversary Gift Meaning
The traditional gift theme of Coral has been treasured for hundreds of years and in Ancient China coral was believed to be a gift from the gods.
It symbolizes prosperity which is an ideal gift for a couple as we all wish for prosperity in lots of different aspects of our lives together.
However, due to the world's coral reefs under the threat of extinction it is much better to look at safe coral anniversary gifts.
These could be imitation coral or coral-inspired gifts.
Traditional 35th Anniversary Gift Ideas
One way to help preserve the coral reefs is to avoid buying new coral jewelry and instead look at antique pieces. Plus there are many man-made alternatives which cost a fraction of the real thing and still look stunning.
Have a look out for some of the new jewelry designers to see unique new designs.
Alternatively you could look at antique gifts and find a stunning coral necklace or coral earrings that would make the perfect anniversary gift. Just make sure that they are aged pieces.
There is also the practice of using fossil coral to create stunning coral items.
Fossil coral is no longer living and can be collected on land or from coral reefs, using fossil coral protects the reefs but you need to be so careful that the pieces you buy have used ethical coral mining techniques and don't touch marine protected areas. In other words this must be left to the experts.
You could also look to buy an imitation coral gift or 35th wedding anniversary presents that are inspired by coral rather than the real thing.
This could be in the form of
A beautiful painting
Coral colored jewelry and accessories.
        There are lots of coral inspired pieces of jewelry available at Amazon
This stunning coral ring is available at Amazon
Coral rose bush or bouquet of flowers.
A travel book with stunning photographs of reefs
A diving lesson to see coral reefs for yourself
Snorkelling excursions
Or a Seafood dinner
And for those of you who love to travel there are some great Anniversary vacations to coral reef areas where you can see the natural beauty yourselves.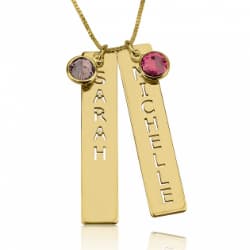 Personalized Couples Pendant
$69.95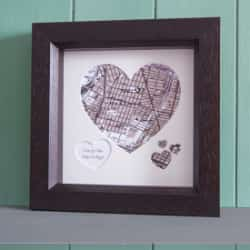 Anniversary Heart Map
$69.95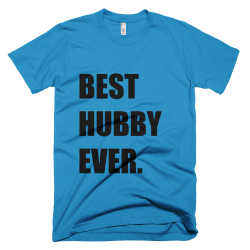 Best Hubby T Shirt
$27.95
Modern 35th Anniversary Gift Meaning
If you are looking for your Anniversary gift to come from the modern list the modern symbol for 35 years of marriage is Jade, which although on the modern list is a very traditional symbol.
Jade has been prized by many Ancient cultures around the world from South America to South East Asia and New Zealand, not only for it's beauty but also for it's musical properties too.
In Eastern cultures it was used to create musical instruments and the sound was believed to be almost heavenly that it was also used for ceremonial ornaments. You could maybe even learn to play their favorite song on a Jade chime.
Jade has often been associated with good luck, strength and good health and there can't be a better way to celebrate a happy couple than by gifting a piece of jade.
Plus the beautiful green jade color is stunning.
The darker the green of the jade the more prescious it is. This was first noticed in Jade from Burma and is also known as the imperial gem. Mainly because this was prized for emperors and the rich.
Jade Anniversary Gifts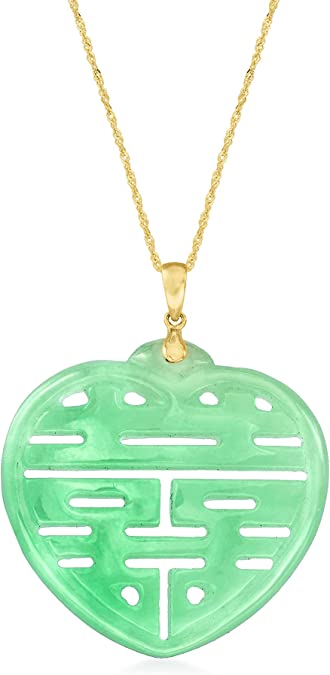 This stunning "Happiness" Jade heart necklace by Ross-Simons is available from Amazon here.

Your 35th Anniversary gift for the love of your life could be in the beauty of Jade as
a Jade pendant,
Jade ring
Jade bangle or bracelet
or earrings.
Jade Cufflinks
The wearer of Jade is believed to attract good luck, wealth, prosperity and manifests dreams.
The good luck of Jade doesn't just stop at the gemstone as the Jade plant, also known as the Money Tree or Lucky Tree would be a perfect 35th Anniversary gift for a couple.
Plus, you can also use Jade and Coral as the theme for your Anniversary Gifts and celebrate your 35 years together with lots of creative gift-giving.
Some of the best ideas come from getting creative with the Anniversary Gift themes.
For those who are looking for more 35th anniversary gifts closer to home, use the color coral to choose your gift. Bouquets of flowers, plants for the garden and beautiful coral color ornaments all add to the theme.

35th Anniversary Flowers

As well as coral and jade as gift ideas you also have the anniversary flower list for inspiration. You couldn't get more romantic for your 35th than with red roses which is this years flower.
It could be a bouquet of 35 red roses or a dozen, or a beautiful red rose bush for their garden.
One supplier that we love as they have so many roses to choose from is Nature Hills and their customer service is fantastic too. We have added a link below.
35th Anniversary Gemstone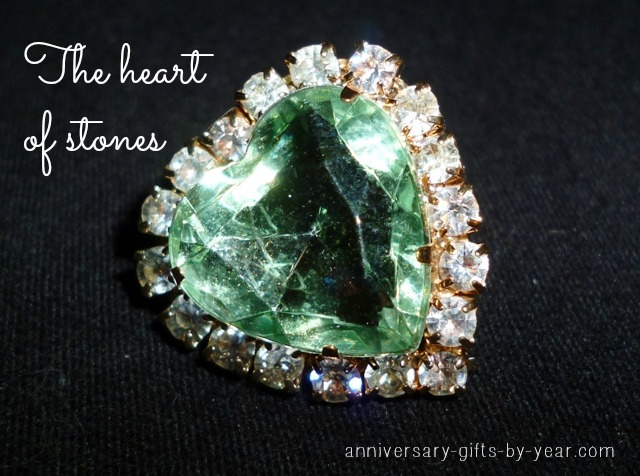 If you are looking for a more sparkly present then take a look at the gemstone list as it is Emeralds for your 35th!
Emeralds are believed to bring good fortune and youth. I think we could all do with some of that!
SuperJeweler's Emerald Collection has lots of stunning pieces.
As an Amazon Associate Top Anniversary earns from qualifying purchases, these items do not cost you anymore.
Full details on our Affiliate policy can be read here

---
We deliver Anniversary Gifts to USA & UK, Europe, Australia

Contact Us | Privacy Policy | Affiliate Disclosure|Anniversary Blog
Terms & Conditions | About | Site Map