35th Wedding Anniversary Themes
35th Wedding Anniversary Themes and Colors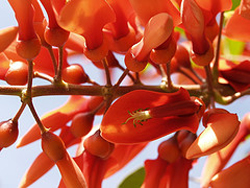 35th wedding anniversary themes and colors are traditionally coral or from the modern list, jade. Both are gorgeous and their colors are stunning.
Sadly the coral around the world needs help to stop it disappearing altogether, so rather than gifting the real thing we have found lots of gifts that are inspired by both coral and jade.
Coral and Jade colors are both fantastic themes for your Anniversary Party and also your gift.
35th Anniversary Themes for your party
Using coral or jade or both as your 35th Anniversary party theme will be great for the overall look of your party.
Coral Themed Anniversary Party Ideas
If you went with coral, you have a beautiful red/ orange pink to use as the accent for your party decorations.

There are lots of flowers in the coral colors;
Roses, 
Gerbera Daisies, 
Iceland Poppies, 
Orchids, 
Tulips, 
Hibiscus.
A very fashionable color combination at the moment is coral and pale blue and gives a very bright look to a room. The look has an oriental flavour which you could use to continue your theme into the food.
As well as using flowers to decorate your party you can also use coral colored linens, candles and balloons too.
Jade Themed Anniversary Party Ideas
If you decided with jade then you have a very clean striking color for your decoration.
For your flower decorations, green flowers are
Jade Roses
 and green Hydrangeas, 
or you could use white flowers with lots of green foliage.
You can also find beautiful jade green glass bowls and candle holders, these look great lit in the evening and would add a lovely green sparkle to your room.
Or you could combine both coral and jade colors for a very bright looking anniversary party and they look amazing together as you can see in the photo below.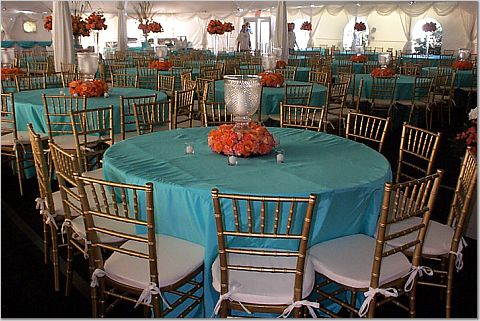 35th Anniversary Flowers
There is also the flower anniversary list where your 35th anniversary flower are red roses, which are probably the most popular romantic flower there is, so having a very romantic red rose themed 35th anniversary would be a big wow.
You could have red rose petals scattered on the tables with candles for added sparkle or big eiffel vases with a single stems in each.
A single red rose is also perfect for a small candlelit dinner for the two of you or if you are planning a surprise party then you could have a bouquet of red roses as the bouquet gift.
Vintage Love Themed 35th Anniversary Party
Transport yourselves and your guests back to the bygone eras that have shaped your love story with a captivating vintage-themed anniversary celebration.
Create an ambiance reminiscent of the era in which you exchanged vows or when you were dating. Luckily for you the 1980s is a fantastic theme for a party and the music was great too!
Decorate with 1980s inspired elements such as
pop posters, 
classic photos of the two of you and your friends and family from the 1980s
retro centerpieces, 
and cassette tapes playing your favorite love songs. 
Relive cherished memories together and have fun on the dance floor with your favorite moves.
Your Adventure Themed Anniversary Party
Celebrate your love for each other and your shared adventures by embracing a wanderlust-inspired anniversary theme.
Each table can represent a different country or city that holds a special place in your hearts.
Incorporate elements from these destinations, such as traditional cuisine, iconic landmarks, and cultural symbols.
Let your imagination take flight as you embark on a romantic journey around the world. Reminisce about the cherished memories you've created together and can share with your friends and family.
35th Anniversary Themed Gifts
As well as using the symbols of Coral and Jade to create a fantastic party you can also use theme your gift too.
Some ideas are
Coral Gifts:
Coral jewelry such as necklaces, bracelets, or earrings.
Coral cufflinks, tie-pins
Coral home decor pieces like coral-inspired sculptures or coral-shaped candle holders.
Coral-colored accessories like scarves, handbags, or hats.
Coral-themed artwork or paintings.
Coral-inspired pottery or ceramic vases.
Coral-shaped paperweights or desk accessories.
Coral reef aquarium decorations.
Coral-inspired clothing or fashion items.
Coral-themed coasters or placemats.
Coral-scented candles or bath products.
Jade Gifts:
Jade jewelry such as rings, pendants, or jade bangles.
Jade cufflinks, rings, pendants
Jade figurines or sculptures.
Jade home decor items like vases, bowls, or decorative boxes.
Jade carvings or statues of animals, such as jade elephants or jade dragons.
Jade bookends or paperweights.
Jade chess sets or game pieces.
Jade tea sets or teapots.
Jade keychains or pendants for good luck.
Jade planters or garden ornaments.
Jade massage tools or facial rollers.
Remember to ensure that the coral and jade gifts you choose are ethically sourced and comply with any legal regulations in your area.
Novica is an ethical company that showcases trained artisans from around the world.
They have lots of coral gifts here
---
We deliver Anniversary Gifts to USA & UK, Europe, Australia

Contact Us | Shipping & Returns |Privacy Policy | Affiliate Disclosure|Anniversary Blog
Terms & Conditions | About | Site Map