65th Anniversary (Diamonds)
65th Wedding Anniversary Gifts

Celebrating a 65th Anniversary is an amazing achievement for a married couple and one that few couples achieve, sixty five years of marriage will involve a lot of love, commitment and luck.
The very traditional list doesn't go up to the 65th anniversary (it stops at the 60th) and so there is quite a difference of opinion on what the 65th symbol is!
Although you feel it must be something amazing.

What Is The 65th Wedding Anniversary Symbol?
Some lists state that your 65th wedding anniversary is celebrated with diamonds, which is also the traditional gift for your 60th, follow the link for lots of ideas for gifts for parents and grandparents.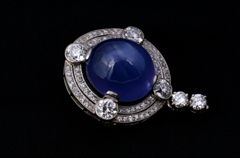 Other lists have Star Sapphire and your 65th Wedding Anniversary is often referred to as your Blue Sapphire Anniversary.
This type of Sapphire is when the gem is displaying aster-ism, in other words it looks like there is a star in the stone, you can see this in the photograph.
They are very prized and wow if you could find one of those for your 65th that would be amazing.
Traditional Gift: Star Sapphire and Diamonds
Flower: Blue Hydrangeas 
Color: Blue
Sapphire is also the 45th Anniversary symbol and there are lots of sapphire gift ideas in our 45th wedding anniversary section.

What Is The Meaning of a Star Sapphire?
Star sapphires are also called the "Stone of Destiny" and they represent loyalty, faithfulness and honesty. Perfect qualities for someone who has helped create a wonderful marriage.
They also represent the blue color of the sky, again a representation for a person's higher self.
65th Anniversary Gifts
With all of the meaning behind the symbol it can be hard to think how this becomes a wonderful and thoughtful gift for your parents or grandparents, afterall not many of us will think of buying sapphires for our parents and grandparents and the key here is to celebrate them both and the 65 years of their marriage.
You can use the symbols and colors of the Star Sapphire and Diamonds to find the best gift for them or look to the other gift lists.
A beautiful Blue Hydrangea for their home or garden would look amazing and will come back every year to flower for them.
Here we have lots of popular gift ideas to help you choose.
Celebration Glasses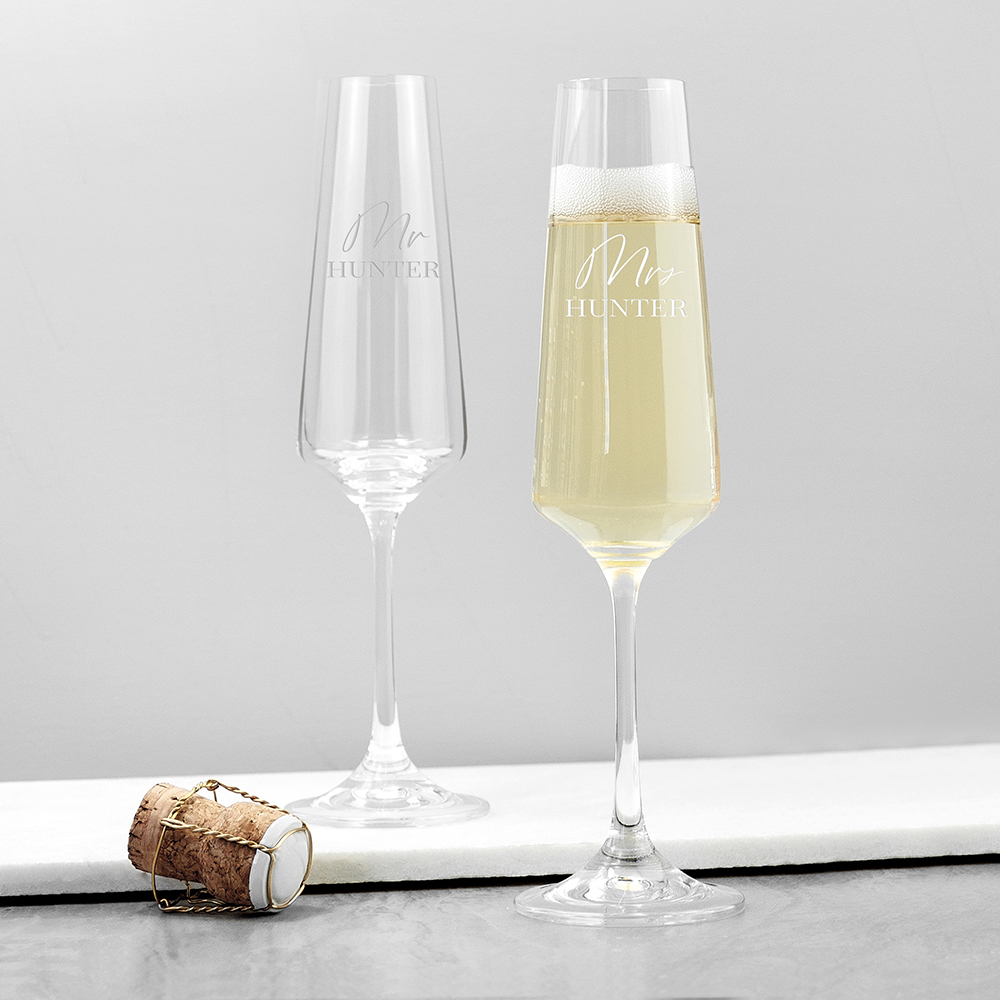 A 65th Anniversary needs a great toast and maybe even a speech!
It definitely needs a great glass of fizz to celebrate with.
These crystal toasting glasses are personalized with their names and are available to buy in our Anniversary Gufts store here.
Engraved Crystal Anniversary Vase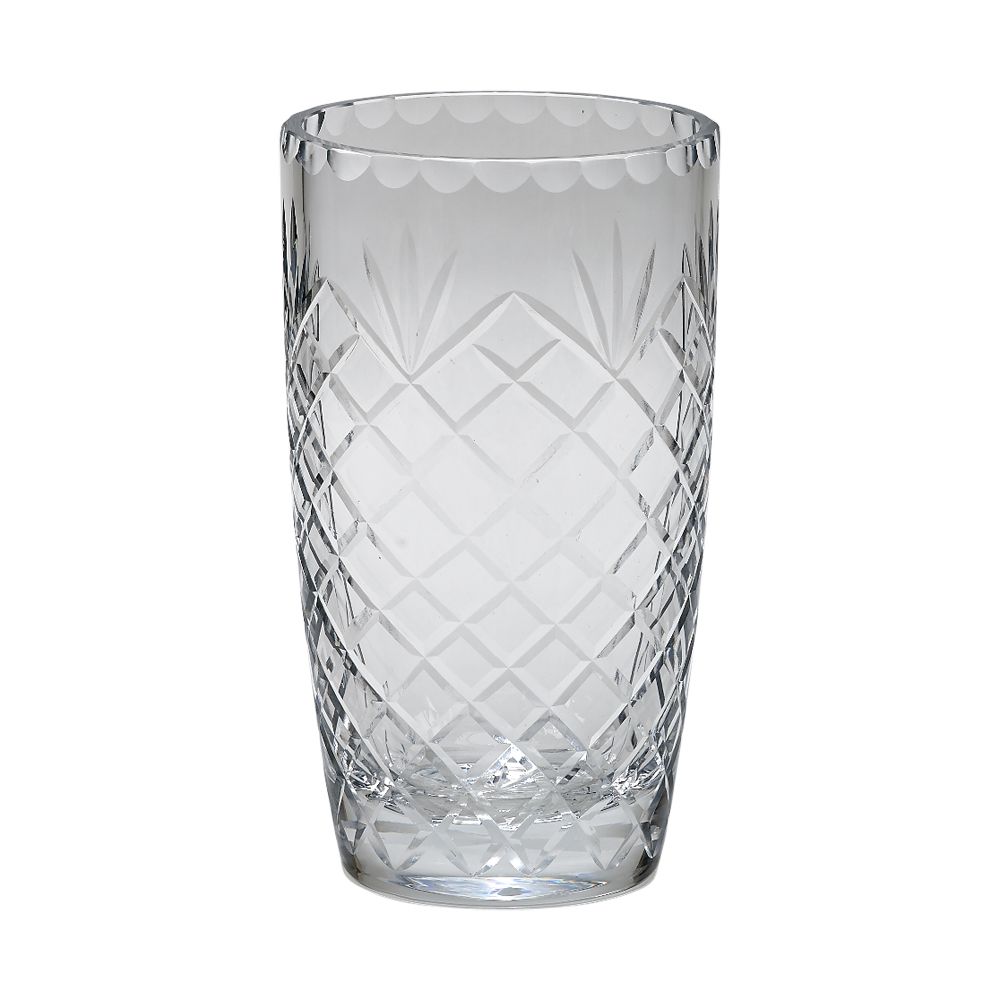 This Traditional Anniversary vase can be engraved with your own congratulatory message and will look wonderful filled with a bouquet of their favorite flowers.
Personalized Sapphire Blue Pillow Cases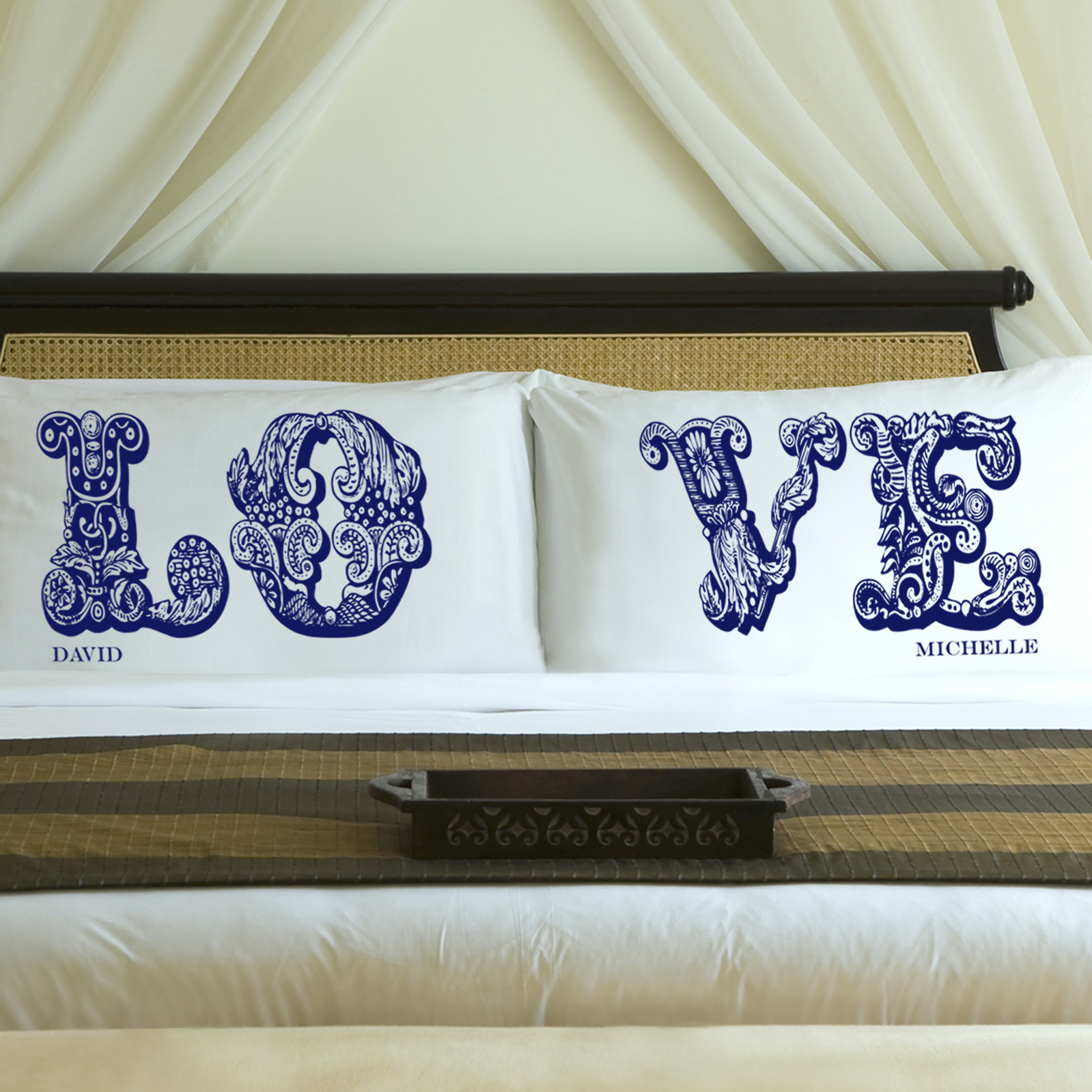 These Sapphire Blue Love pillowcases are a bit of fun and really comfy to sleep on!
They are personalized with their names and are available to buy in our Anniversary Gifts Store here.
Anniversary Love Story on Canvas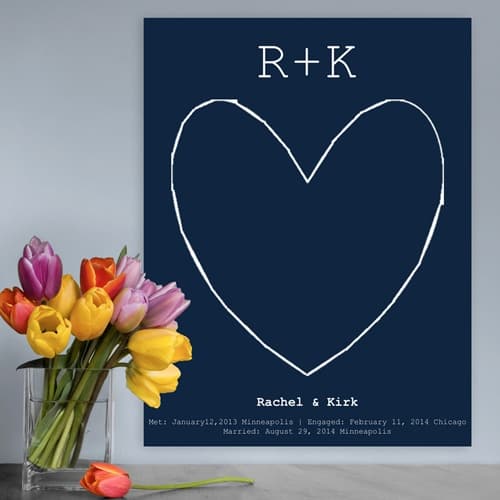 Their love story is wonderful and showcasing all of their important dates is a really thoughtful way to celebrate it.
This sapphire blue canvas is personalized with their names and the important dates for them;
where they met
where they were engaged
where they were married
You can also use this canvas as a guestbook if you are planning a party to celebrate as there is lots of space for everyone to add their Anniversary wishes.
Where We First Met Jigsaw Puzzle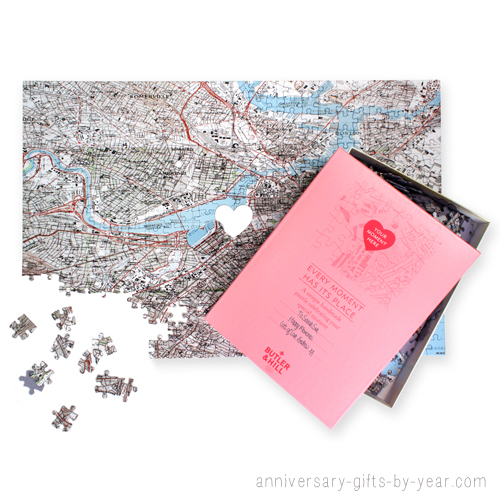 If they love to do a jigsaw puzzle this one would be perfect for their 65th Anniversary as it takes them back to the day they met.
The jigsaw puzzle will be centered on the place that they met, which has a heart shaped piece.
Personalized Photo Box
This lovely wooden photo box makes a great Anniversary gift.
Not only can you show all of the best photos, you can also add a surprise inside the box . There is plenty of space for their favorite candy or a little homemade gift.
The top of the box is personalized with their names,
Personalized Crystal Photo Frame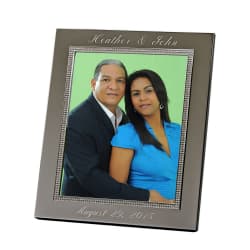 If you are looking for a photo frame that fits with the theme of the 65th Anniversary this photo frame with it's crystal eding does just that.
Engraved with their names and also their Wedding date.
65th Wedding Anniversary Gift Ideas For Your Husband or Wife
The obvious choice of a gift for your own 65th wedding anniversary is to find a stunning Blue Sapphire.
For your wife this could be
A beautiful Blue Sapphire Ring, you could look at eternity rings or there are some very lovely sapphire engagement rings that would also be beautiful.
Or a Sapphire bracelet with beautiful sapphires dotted along.
Or a Sapphie necklace with matching earrings
For your Husband this could be
As an Amazon Associate Top Anniversary earns from qualifying purchases, these items do not cost you anymore.
Full details on our Affiliate policy can be read here

How Do You Celebrate A 65th Anniversary?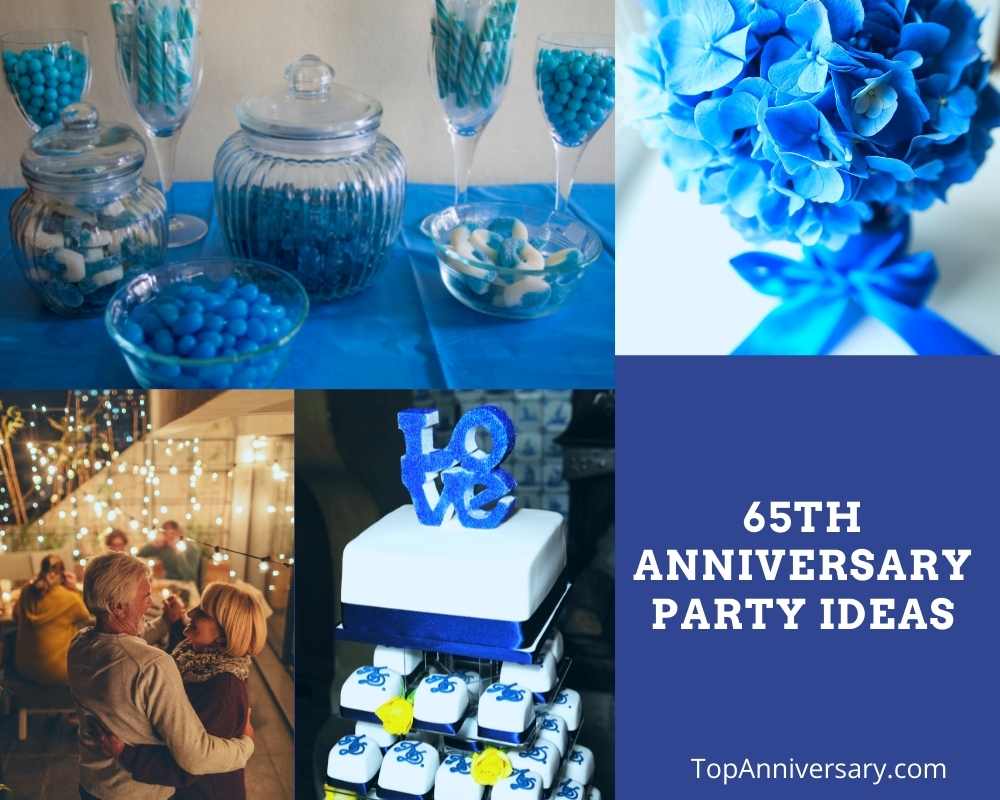 Celebrating a milestone Anniversary like the 65th seems to come with a lot of pressure as you want it to be just right.
It is a huge landmark in a couple's lives and a big memorable celebration for the rest of the family too.
Always start by thinking of the type of celebration or party that your 65th anniversary couple would like.
Do you think they would like to renew their Wedding Vows?
Print off a copy of our Free Anniversary Party Checklist
Find the best venue for the number of people you want to invite
Send out the invitations
Think about baking or buying a fabulous Anniversary Cake
Look to decorate the venue with lots of either blue themed decorations or 65th Anniversary decorations. There are lots to choose from on Amazon here.
How To Receive A 65th Anniversary Card From The King & Queen Consort
Your 65th wedding anniversary is a big celebration, British couples can receive a personal message from the King and Queen Consort and in the States from the president.
Both will need some planning and you will need to complete a form to apply for your letter from the Queen or if you live in Australia, New Zealand or Canada then you will need to apply to the Queen's representative, more information is here.
How To Receive An Anniversary Message From Your Senator
In the United States you can apply via your State Senator, here is a full list of Senators for you to apply to. Be warned there seems to be a bit of a wait as some messages are taking months to come through. They ask that you apply 6 weeks in advance of the date but it might be an idea to start sooner than that.
However long an Anniversary message takes it would still be a big wow, so don't worry if it doesn't get there in time.
What To Write For Your Own Happy 65th Anniversary Message
Your 65th Anniversary couple will be probably even more pleased to receive a card from you than someone important, although I am sure they will love that too.
But what do you write in your own card?
Obviously start with their names or their names to you.
Then 
"Wishing you a very Happy 65th Anniversary"
or "Congratulations on your 65th Wedding Anniversary"
If this was a blank card to start with you could add an Anniversary quote or poem which would add a focus to the card, however you want your message to be personal so have a think about adding your own thoughts on their Happy Marriage
You may not have known the couple for the last sixty five years but you can add your own shared history instead.
Since we met/became friends we have loved spending time with you both and you are an inspiration for what a great marriage is.
or thank you for being the best parents/grandparents we could have wished for and showing us how love can guide you through the good and not so good times. You are an inspiration and we are proud and lucky to call you Mom and Dad.
We have lots of Anniversary Card ideas to have a look at here.
PS. Don't forget to sign the card!
---
We deliver Anniversary Gifts to USA & UK, Europe, Australia

Contact Us | Shipping & Returns |Privacy Policy | Affiliate Disclosure|Anniversary Blog
Terms & Conditions | About | Site Map