Backyard Anniversary Party Ideas
Choosing to celebrate your Anniversary with an outdoor party in your own backyard is genius for a number of reasons...
You will save money on your venue hire
You are in a relaxed outdoor space that you love and obviously feel at home in 
There will be no restrictions on what you can do
You can rope in your family members and close friends to get everything ready
It is the perfect place to have everyone you love together to celebrate your years of marriage on a very special occasion.
It's a great way to have a fabulous back yard especially if you need to do some work on your backyard it is a real motivator to get it done!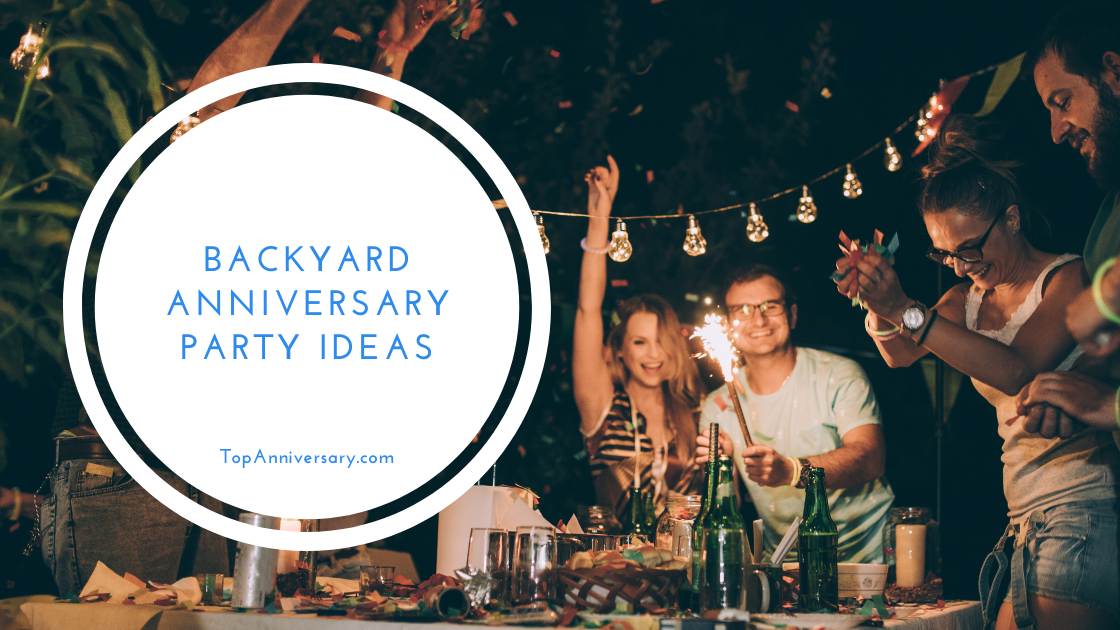 The disadvantages are
You will probably have to do your own tidying up
Your neighbors may not love the idea that you are holding a big party in your own backyard
You will have to organize everything yourself or hire an event company to do it for you.
Your back yard may not be big enough for the number of guests that you want to invite.
Anniversary parties can be hard work!
When you have weighed up the advantages and disadvantages to holding your own Anniversary Party at home you will also need to think about your guest list and whether your back yard can hold your whole family and your closest friends. If your backyard is not big enough you may want to have a look at holding your party at the local park, or beach, or someone else's backyard.
Planning Your Backyard Anniversary Party
Every successful party needs to be planned, that way you will know that you have everything you want and not forgotten stuff.
To help you do this we have put together an Anniversary Party Planning Checklist that you can download and print for Free to keep you on track.
The key to a successful anniversary party lies in the details. Pay attention to every aspect, from the decorations to the menu, from the entertainment to the ambiance. Add personal touches that showcase your unique journey together and create an atmosphere that resonates with your love and commitment.
​You will want to think if you want a formal party or a more relaxed bbq or picnic.
To ensure a smooth planning process, consider hiring a professional event planner who specializes in anniversary parties. They have the expertise and resources to bring your vision to life and handle all the intricate details, allowing you to relax and enjoy the celebration alongside your loved ones.
Here are a few more tips to make your backyard anniversary party truly outstanding:
Invitations and Guest List
Send out beautifully designed invitations that capture the essence of your chosen theme. Include all the necessary details, such as the date, time, location, dress code (if any), and RSVP information. 
Create a guest list that includes your closest family and friends, ensuring a warm and intimate gathering.
Or alternatively just message everyone with the time and date!
It's your Anniversary Party and there are no rules.
Décor and Lighting
Set the mood with carefully chosen decorations and lighting. From table centerpieces to hanging lanterns, every element should contribute to the overall atmosphere. Consider incorporating elements that represent your journey together, such as framed photos, love quotes, or meaningful mementos.
To create a magical atmosphere for your backyard anniversary party, focus on enchanting decorations. Start by adorning your space with string lights, creating a warm and romantic ambiance. Incorporate elegant lanterns and candles for an extra touch of sophistication. Enhance the natural beauty of your backyard with vibrant flower arrangements, strategically placed to add pops of your color scheme. And you can use the Anniversary colors of this year to theme your party. 
For example you could add silver lanterns and silver ribbons tied to trees for 25th anniversary party ideas.
Gold lanterns, ribbons, balloons and golden colored flowers for your 50th wedding anniversary party ideas.
You could use glow sticks for a fun party atmosphere - you may need to replace them through the evening.
If it's your First Anniversary you could take the opportunity to get everyone to bring their photos from your Wedding Day and have them displayed for everyone to see.
Immerse your guests in nostalgia by setting up a photo booth and memory wall. Provide a variety of props and costumes for them to use while capturing fun and candid moments. Create a dedicated area to display photographs from your journey together, showcasing cherished memories. This personal touch will add sentimental value and spark conversations among your guests.
Culinary Delights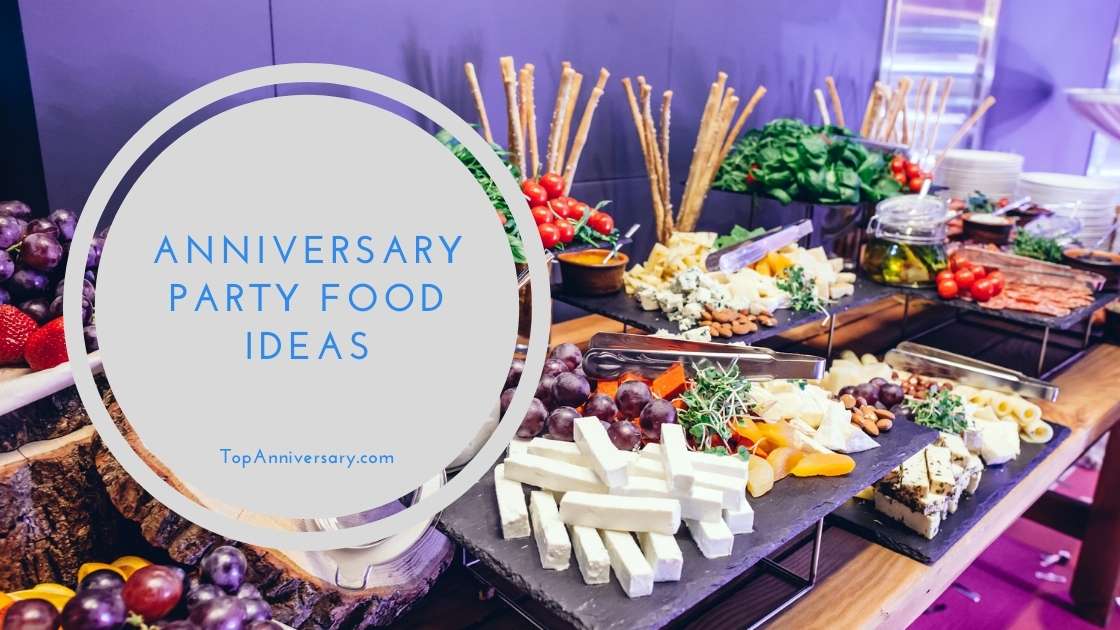 Food plays a vital role in any celebration. Create a menu that tantalizes the taste buds and offers a variety of options to cater to different dietary preferences. Whether you opt for a formal sit-down dinner or a buffet-style spread, ensure that the flavors and presentation are exceptional.
Indulge your guests with a gourmet dining experience and hold an outdoor dinner party that will tantalize their taste buds. Hire a professional chef or catering service to create a customized menu featuring dishes made with the finest ingredients. Consider a themed menu based on your favorite cuisine or a fusion of flavors. Don't forget to include vegetarian, vegan, and gluten-free options to accommodate all dietary preferences.
You could have a long dining table made up of your own dining table with an extra piece of board secured on the top so you can fit more people round the table. Borrow extra tables and chairs from friends and family or rent them from an event company. 
Satisfy everyone's sweet tooth with a mouthwatering selection of desserts. Prepare a dessert table filled with an array of treats, including cupcakes, macarons, mini tarts, and a stunning anniversary cake. Opt for flavors that hold sentimental value or reflect your personalities. For an added touch of elegance, hire a dessert chef to craft custom desserts that will leave your guests in awe. Or you could have a store bought Anniversary Cake.
​If you are having a big party you may need to rent wine glasses and plates.
Entertainment and Activities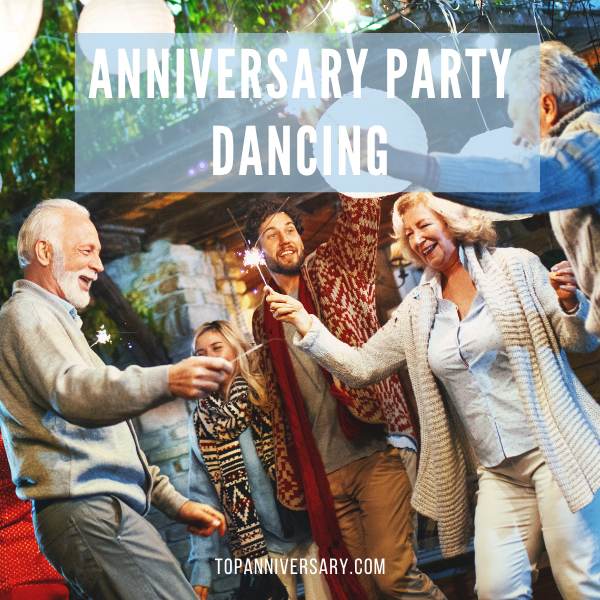 Keep your guests engaged and entertained throughout the event. Hire a talented local band, DJ or musician to perform romantic melodies or upbeat tunes, depending on the mood you want to set. Encourage dancing and create a lively atmosphere that will make your anniversary party unforgettable.
Arrange interactive activities, such as a dance floor, photo booth, or lawn games, to create moments of laughter and joy.
You may want to renew your wedding vows on your special day and in your special place, your very own backyard surrounded by friends and family.
Party Favors
Show appreciation to your guests by offering a thoughtful party favor that aligns with the theme. Consider personalized keepsakes, mini bottles of champagne, or handmade goodies that serve as a memorable token of your celebration.
Sparkling Grand Finale: Fireworks Display
End your backyard anniversary party with a dazzling display of fireworks. Coordinate with professionals to ensure a safe and mesmerizing show. As the night sky lights up with vibrant colors, you and your guests will be left in awe, cherishing the magical memories created during your anniversary celebration.
Outdoor Games
Don't forget to add some games that your guests can play, or you can ask your guests with children to bring some of their favorites if you have room. 
Croquet
Cornhole
Volleyball
Badminton
Hoopla
Having activities and games will ensure everyone has a great time. 
Set up a friendly competition with traditional games such as croquet, cornhole, or giant Jenga. 
Organize entertaining contests like a couples' dance-off or a trivia quiz about your relationship - if you get someone else to write the questions you can both join in too! That would be funny if you don't score as high as some of your guests.
You can see more games ideas here.
Fun Anniversary Party Ideas
1. Enchanting Garden Elegance
Transform your backyard into a whimsical wonderland with an enchanting garden-themed anniversary party. Decorate the space with fairy lights, blooming flowers, and lush greenery to create a romantic ambiance. Set up elegant seating areas with vintage-inspired furniture and accentuate the beauty of nature with delicate floral arrangements. Incorporate personalized touches like monogrammed table linens and customized signs to add a special touch to the celebration.
2. Rustic Chic Celebration
For a charming and relaxed atmosphere, opt for a rustic chic anniversary party. Use wooden accents, burlap table runners, and mason jars filled with wildflowers as centerpieces. Enhance the rustic vibe by incorporating hay bales, string lights, and cozy blankets for your guests to snuggle up with. Consider setting up lawn games such as cornhole or croquet to keep everyone entertained and create lasting memories.
3. Tropical Paradise Escape
Transport your guests to a tropical paradise with a vibrant and lively anniversary party theme. Decorate your backyard with colorful paper lanterns, tiki torches, and tropical foliage. Set up a tiki bar serving refreshing cocktails and mocktails, and offer a diverse menu featuring exotic flavors and fresh fruits. Create a relaxed and joyful atmosphere with lively music, and encourage your guests to dress in their finest tropical attire to embrace the theme fully.
4. Elegant Black-Tie Affair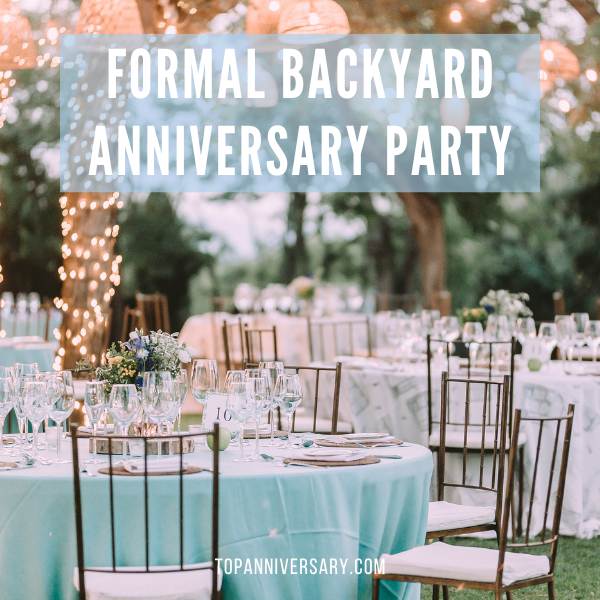 If you desire a sophisticated and glamorous celebration, an elegant black-tie affair is the way to go. Decorate your backyard with luxurious drapery, chandeliers, and exquisite floral arrangements. Set up elegant dining tables adorned with fine china, crystal glasses, and silverware. Hire a live band or a string quartet to serenade your guests with beautiful melodies throughout the evening. Ensure a gourmet dining experience with a carefully crafted menu, including delectable courses and wine pairings.
5. Vintage Retro Soirée
Travel back in time with a vintage retro soirée for your anniversary party. Embrace the charm of a bygone era by using antique décor pieces, vintage furniture, and retro-inspired signage. Set up a nostalgic photo booth with props from the era and encourage your guests to dress up in vintage attire. Serve classic cocktails and dishes reminiscent of the chosen era, creating a delightful sensory experience that will transport your guests to a different time.
6. Cultural Fusion Celebration
Celebrate the diversity of your love story with a cultural fusion anniversary party. Incorporate elements from different cultures that hold significance for you and your partner. Use vibrant colors, traditional textiles, and cultural motifs as part of the decorations. Offer a variety of cuisines, combining dishes from different cultures to create a fusion menu that represents your unique journey together. Include live performances showcasing various cultural traditions, such as dance or music, to create a captivating and immersive experience for your guests.
7. Just The Two Of You
Your back yard is a great place to celebrate your Anniversary with just the two of you. It doesn't have to be a big party, instead you could have a romantic dinner with a mini replica of your Wedding Cake and it's even a good reason to pop on your wedding dress or suit to remind you of the fun you had on your big day.
Practical Anniversary Party Tips For Your Own Backyard
If you find that you don't have enough seating for your party then you could look at using your indoor furniture outside - obviously as long as the weather is ok.
If you want to decorate your backyard with lots of fresh flowers you may want to think about planting them in enough time for them to be in flower for your party. That way you also get to enjoy them before and after your party.
I know that this is not the most glamorous but you may want to think about getting portable toilets for the back yard.
Remember, the success of your anniversary party lies in the love and joy you share with your partner and loved ones. It's a time to reflect on the beautiful moments you've experienced together and look forward to the exciting journey ahead.
So, start planning your backyard anniversary party today and create an unforgettable celebration that will be cherished for years to come!
Start by determining the date, creating a guest list, setting a budget, and deciding on the theme or ambiance you want to create.
It's best to send out invitations at least three to four weeks before the party to give guests ample time to RSVP.
You can consider using string lights, lanterns, balloons, banners, table centerpieces, and themed decorations that reflect the anniversary milestone.
Consider renting extra tables, chairs, linens, a tent for shade or shelter, and sound equipment if needed. It depends on the size of your guest list and the available resources you have.Answer
Prepare a backup plan by renting a tent or marquee to provide shelter. Alternatively, you can move the celebration indoors if you have enough space.
Provide ample seating, access to shade or umbrellas, and consider setting up a designated area with bug repellents, sunscreen, and extra blankets if the evening gets chilly.
---
We deliver Anniversary Gifts to USA & UK, Europe, Australia

Contact Us | Privacy Policy | Affiliate Disclosure|Anniversary Blog
Terms & Conditions | About | Site Map