Anniversary Party Food Ideas
Your anniversary party food is going to be a big part of your celebrations. But where do you begin in making your food choices?
You begin by considering such important aspects as:
the number of guests that will be attending the party,
the types of foods the guests like 
and where the party itself is going to be held.
Once you consider these, you may come to the conclusion that preparing the food and serving it will be more than you can handle. If this is the case, you may want to hire a caterer to help you with the hard work, or all of your family and friends together could put together a great feast.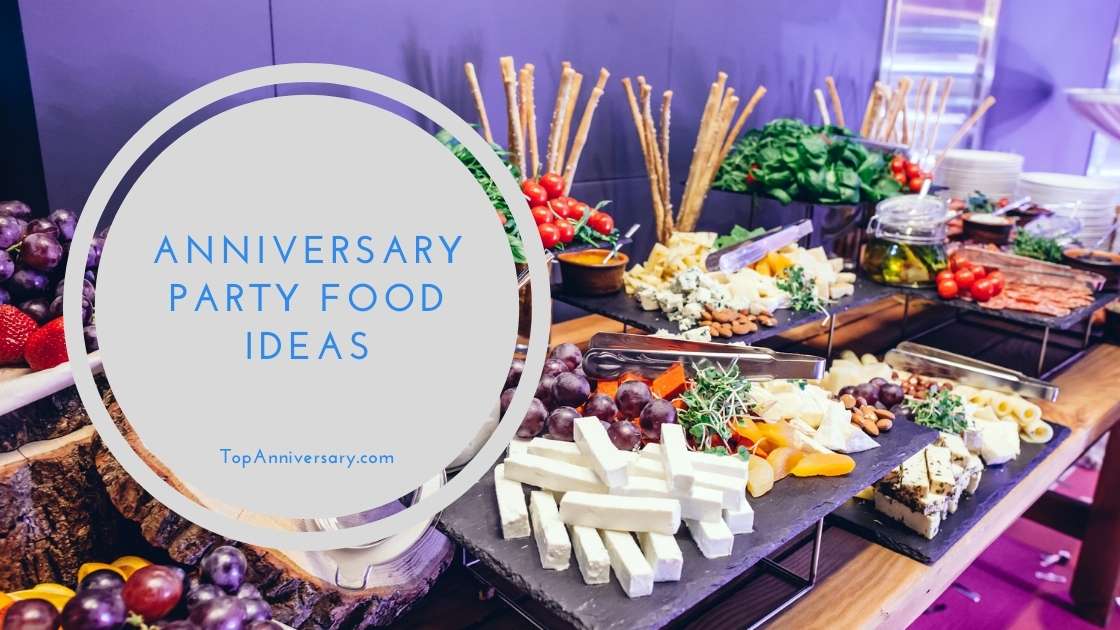 Anniversary Party Buffet
Even with the help of a caterer, you may wish to serve the anniversary party food choices in a buffet style. This way it makes it easier to serve lots of different food choices and tastes. It can make it handier to prepare some food choices in advance, too. Some simple and easy buffet choices that would make any anniversary party celebration a hit could include such popular items as: salads, quiche, sausage rolls, cold meats, fish, dips and rolls.
Many people choose not to serve sandwiches on a buffet because they have a tendency of becoming dry and hard, plus they take ages to prepare in a big quantity. One big hotel I used to work at would buy in the sandwiches ready made rather than have one of the chefs spend the afternoon making them.
If you are not having the event catered, you can make the buffet a little easier to prepare by adding some platters all ready prepared. These are sold at lots of supermarkets. If you wish to spend more money on your buffet, you could add a platter of seafood, platters of cold meats and a hot dish or two.
Themed Anniversary Party Food
Many people love the idea of having a theme that goes along with their anniversary party food choices.
The theme could be food from a certain region such as: Thai, Spanish, Italian, Chinese or Indian. You can even serve these food buffet style, too. If there is a beloved restaurant in your area that serves the theme food you choose, you may even want to pick up a hot dish or two from them to help finish off your buffet.



If you happen to know the types of food choices that were served on the actually wedding day of the couple celebrating, you could bring your guests back in time by serving as many of the same dishes as were served on that day. It would be a fun, especially for the happy couple. Plus, it will be a great way for the couple to reminisce with the party planner.
Finally, if the anniversary couple is known for a favorite dish or dessert, it would be an additional perfect dish to serve. If you could coax the recipe from them to share with their guests, it would be even more special, as long as it isn't a closely guarded 50 year secret.
Yes, the party food is essential to every party, but it doesn't have to be expensive and as long as there is enough and not horrible, then the party is sure to be a hit.
Lots of inexpensive menu ideas that would be perfect for an anniversary party.
Inexpensive Anniversary Party Food Options
BBQ

Picnic

Afternoon tea party

Pasta bar

Jacket potatoes and fillings

Salad bar

Hog Roast

Cocktails and canapes - time your party for after dinner!

Pot luck - where everyone brings a dish.
If you are planning on catering your party yourself then you will want to do to it so you can also enjoy the party.
Having a more relaxed informal party will be less stressful and any of the ideas above will lend themselves to the anniversary theme.
Anniversary Finger Food Options
Finger food is a popular choice for an Anniversary Party as it is easy for your guests to grab while chatting and also means that you can have lots of options to cater for lots of different tastes and also food allergies.
A great place to find lots of platters of party food would be somewhere like Costco.
Hot Finger Food 
Sausage Rolls
Chicken satay or skewers
Cocktail sausages
Breaded prawns
Mini Pizzas 
Mini Beefburgers (Sliders)
Mini Quiches
Chicken Wings - make sure you have somewhere for the bones
Arancini 
Falafel 
Cold Finger Food
Sandwiches - go with bread rolls rather then bread
Pickled Vegetables
Cheese Platter
Cold Meat Platter
Seafood Platter
Mozzarella and Cherry Tomatoes
Crudités and Dips
You can save money on buffet items if you go to costco and buy the party platters. Less work for you too!
Rather than having one big table of finger food you can have platters dotted around the room for your guests to help themselves to.
Don't forget to have napkins and cocktail sticks next to the platters too.
Do You Need A Caterer For Your Anniversary Party?
You don't have to have a caterer for your party but it is a nice thing to have, mainly because you won't have to do all of the clearing up!
Plus they will make sure that you have lots of lovely food and that everyone is ok.
In the main, yes have a caterer if it is in your budget and if you want to reduce your stress levels.
Anniversary Party Meal Ideas
If you have a caterer or are having your Anniversary Party at a hotel or restaurant you may be thinking of having a sit down meal.
One very sweet idea is to have the same menu or a modern equivalent of your original Wedding Day menu with a starter, main course and dessert.
Each venue will have set menus that you can choose from and you will be able to swap items that you don't like or that don't fit with any dietary requirements. 
Small Anniversary Party Food Ideas
Most of our food suggestions so far are if you are inviting a lot of people to your party, if you want a more intimate gathering you could invite close friends and family over for 
a dinner party
a bbq
a picnic on the beach
This way you will have more time to chat to your guests and spend time together.
Dietary Restrictions
It is important when you are sending out your invitations that you ask your guests if they have any allergies or dietary needs.
Allergies and Dietary restrictions can make or break your party, you really don't want to be serving something that any of your guests are allergic to. This is especially important if their allergic reaction is life threatening.
When you receive your guests needs back from them when they reply you will need to make your caterer aware. If you are catering for your party yourself then it may be easier to plate up special plates for guests if they need it or you will need to label items on your buffet table or menu.
In my experience most people with allergies and dietary restrictions will be very careful. Some will even bring their own food to ensure it is ok.
Themed Anniversary Party Ideas
Every Anniversary has a symbol and color associated with it, you can use these colors to make your food themed too.
Use colored platters for the food
Colored table cloths or runners
Colored or themed napkins for the tables too.
Silver for your 25th
Ruby Red for your 40th
Sapphire Blue for your 45th
Gold for your 50th
---
We deliver Anniversary Gifts to USA & UK, Europe, Australia

Contact Us | Privacy Policy | Affiliate Disclosure|Anniversary Blog
Terms & Conditions | About | Site Map