Free 50th Anniversary Speeches
Free 50th Anniversary Speeches
There are lots of free 50th anniversary speeches available for you to use online but they are not going to be personal, to make a 50th anniversary speech worth the occasion you need to gather as much information about your anniversary couple as possible.
The point of your anniversary speech will be to show your admiration, your happiness and how they are an inspiration to you all gathered at the party.
Where do you start?
Start by introducing yourself. 
Where and when they met are always great starters to any speech, was there a great chat up line or funny story?
What was the headline on the local or national paper?
If you like to have fun props when you make a speech then you could make a mock front page of the local paper with the headline of whatever their chat up line was; "Do you come here often?" works for Mr John Smith.
If you are stuck for a gift idea then you could have this framed and give it to them during the speech.
Talk about the fun and love they share, their hobbies that they enjoy together or tolerate!
Talk about the great support they have for each other. Ask family and friends for stories about your anniversary couple that you can share.
You can talk about how they are a role model to you and how much you love them.
If theirs is a story on how they overcame the odds and it is appropriate to mention it then share their inspiring story with their guests.
You can also use song lyrics for inspiration.
There are some beautiful anniversary songs that would be great to introduce to the end of your speech and maybe have the anniversary couple have their first dance or have everyone raise their glasses.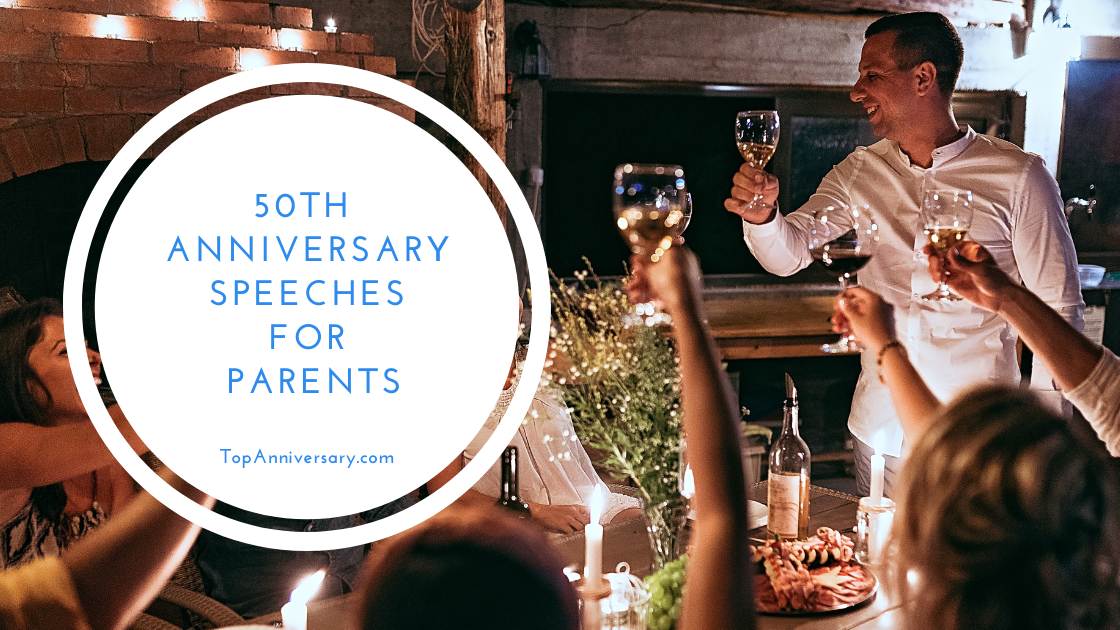 Ideas For 50th Wedding Anniversary Speech For Parents 
When it comes to writing your 50th wedding anniversary speech for your parents there are lots of things to consider. 
Firstly, you are very lucky that you have been given the great honor of talking at your parents anniversary party but equally with that comes a bit of pressure as you also want to show how happy they are and give a glimpse into the love that they share.
As per our original Anniversary Speech guidelines here, you should think of your 50th Anniversary speech as a story or journey that you are going to take your parents and guests on. 
And with every great story, regardless of the length, there is a beginning, a middle and an end.
The beginning - It is always a good idea to start your speech by welcoming all of the guests and family members to the party in the opening lines.
The middle - the funny story or a 50th Anniversary Quote
The end - raising a toast to your Mom and Dad and wishing them a very Happy Golden Anniversary.
Long 50th Anniversary Speech Structure
Beginning - Friends and family, welcome and thank you for joining us on this happy event to celebrate mom and dad's 50th wedding anniversary.
After 50 years of marriage our parents show us all what true love is. Their marriage is a beautiful love story.
They are the happiest of couples and each other's best friend.
Me (or I) and my siblings are lucky enough to call them Mom and Dad and they show us what a great marriage is all about. 
The middle - The Greatest Gift they have given us is their unconditional love and time. The Greatest Gift they have given to each other is a truly wonderful and happy marriage, filled with love, laughter, adventures, mishaps and support for each other.
You could also add a Happy Anniversary quote here that shows how great their love is.
Adding in Stories for a Funny 50th Anniversary Speech
No marriage is perfect, even your Mom and Dad have had their moments…
You can then add in a funny story about when your Dad or Mom maybe did something silly that the other had to help get them out of. This is not the time to share some great big disaster that they overcame but there are bound to be a few moments that will make your guests laugh. They may have even been part of!
Then you can sandwich the funny moment with the greatest love story you know.
Think about how and where they met.
Of course none of us would be here today if it wasn't for the dance at the church hall (replace with where your parents met) and then add in when they first realized they were the one.
It could be your Dad took one look at your Mom and fell in love, or their shared love of Star Wars, or your Mom's cooking or your Dad's fabulous dance moves. Whatever it is add it in here.
You can then talk about their greatest achievements 
How your Mom thinks she has the Best Husband in all the world, when your Dad knows he is the lucky one with the Best Wife.
All of their wonderful children with their favorite child being given the honor of giving their Golden Anniversary speech.
If they have moved around lots you can talk about all the different places and retell a story from each one as there are bound to be friends and family at the party that will love to hear about them.
Add in a bit about their work or their businesses.
Then talk about all the fun they have had on their retirement so far.
The end - Finish your speech with let's raise a glass to my parent's Bob and Joan and wish them best wishes for many more years of love and fun.
Happy 50th Anniversary Mom and Dad!
Short 50th Anniversary Speech Ideas
If you would prefer to have a shorter 50th Anniversary speech for your parents you will still want to stick with the structure of a beginning, middle and end.
The beginning
Good evening everyone and thank you for joining us to celebrate with Mom and Dad their 50th Wedding Anniversary.
The middle
It is so lovely to see you all here and to hear your stories and all about the fun times you have all shared with Mom and Dad. 
Listening to you all we know that they are surrounded with love and that they love that you are part of their lives too. Together Mom and Dad have made all of our lives richer and for that we are all very grateful.
The end
And as a token of our thanks let us all raise our glasses to toast Mom and Dad.
Happy 50th Anniversary!                   
Alternative 50th Anniversary Speech
Good evening everyone.
Unaccustom as I am to public speaking I wanted to keep this short but at the same time I wanted to wish my Mom and Dad a very Happy Anniversary.
In finding the right words I thought I would do this in the form of a spoken letter.
Dear Mom and Dad
On your special day, your Golden Wedding Anniversary, I wanted to thank you for showing us from the start that happy couples do exist.          
That a good marriage takes both of you working together.
That the purest form of love stands the test of time.
And that when you find your special person to spend the rest of your life with, life is better.
You still have many years left of your journey and you share so much love with this world, that our world is a better place because of the two of you.
Thank you for being our pillars of support and for all the good times.
Thank you for your constant encouragement and for being the sweetest parents, I am the luckiest daughter.
You have brought so much joy to all of us which brings us to the perfect moment to wish you a very Happy Wedding Anniversary.
Formal 50th Anniversary Speech Structure Mom and Dad
If your parents are having a more formal 50th Anniversary party you may want your speech to reflect the mood of the party.
The beginning
Good evening/afternoon ladies and gentlemen, I am Paul the son/daughter of Bill and Joan and I have been given the honor to say a few words in celebration of my parent's 50th Anniversary.
The middle
Mom and Dad are an inspiration to us all and are a role model to us all on what a Happy Marriage is. For the past 50 years they have been each other's best friend and have given us a glimpse of the strong bond they have. They have shown us that together they have overcome the difficult times and whatever life throws at them. They are an inspiration.
Their story which you could also have with photos as a slideshow for everyone to enjoy.
Where Did They Meet?
Mom and Dad met over 50 years ago in 1970 at the Church Hall in Audley, Dad says he only had eyes for Mom from the moment they met.
Where Were They Married?
They were married in 1973 at the small church in Audley, with their sisters as bridesmaids and Bert as the Best Man, I have heard that his wedding speech was legendary. Pause between each person you mention so that they can be acknowledged.
And as a young couple they set up home in (add your town).
Family Life
A couple of years later they started their own family and their favorite son was born, followed by my sisters and they gave us the most perfect childhoods. Dad was the coach for my baseball team and Mom was often found helping out and giving advice. Together they created a sweet home for us all to enjoy.
Hobbies
During this time Mom and Dad joined the local bowling team and Dad perfected his now infamous spin!
Work
While all of this was going on Dad was also leading a team at IBM and Mom was the favorite teacher in our local High School. Add their achievements, awards and maybe a funny story of their time at work.
Retirement
Recently Mom and Dad have been able to spend a bit more time together as they both enjoy their retirement. Giving them more time to spend with family and friends and taking up new hobbies. 
As with everything they do, they do it together, enhanced with my Mom's style and my Dad's optimism. They make a great team and have shown us all how to create a strong marriage.
Their Golden Years of togetherness are going to be a great honor to witness.
Closing the Speech
Thank you Mom and Dad for showing us all how to create a strong marriage. Your love and kindness is apparent in the number of 50th wedding anniversary wishes and people that are here today.
Let us all stand and raise our glasses to my Mom and Dad, Bill and Joan. Happy 50th Anniversary, here is to many more years of happiness and love.
(Pause for a moment while everyone stands)
When everyone is ready.
Raise your glass - Bill and Joan
Everyone raises their glasses.
Wishing you a very Happy 50th Anniversary with good health and happiness.
Simple 50th Anniversary Toast
Speeches start with words of pride and pleasure at being asked to toast the happy couple and end with lets raise our glasses and congratulate Mr and Mrs on 50 great years, here is to many more.
Enjoy writing your speech, write it from the heart and you won't need any free 50th anniversary speeches.
---
We deliver Anniversary Gifts to USA & UK, Europe, Australia

Contact Us | Shipping & Returns |Privacy Policy | Affiliate Disclosure|Anniversary Blog
Terms & Conditions | About | Site Map