50th Wedding Anniversary Quotes
50 years together needs some awesome anniversary quotes, full of words that show how special and golden a couple they are.
50th Anniversary Quotes for a Couple
After 50 Golden years, we still do and will do forever
50 years = 18,250 days = 438,000 hours = 26,280,000 minutes of married bliss
Love you more each day
On your Golden Anniversary, no treasure is more precious than a love grown old with time.
The roots of a family tree begin with the love of two hearts
Our anniversary is a time to look back at the good times and a time to look ahead to live our dreams together
50 years have passed and your love stays strong through smiles and tears. May today be a very special anniversary as you look back on all the happy memories you have shared.

50 years of loving each other and you two shine more brightly than gold. 
Once upon a time, 50 years ago at a dance, a boy met a girl and they took a chance.
Two special people, one special day, Happy 50th Wedding Anniversary
The first 50 years of marriage are always the hardest
You are a golden couple and your love shines through in everything you do and say.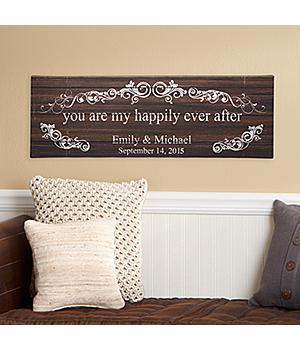 Happy Marriage Recipe
This fab canvas would make a great 50th Wedding Anniversary gift and is a great Happy Marriage quote too.
This canvas is available to buy in our store.
Romantic 50th Anniversary Quotes for your Husband or Wife
"You are today and all of my tomorrows" - Leo Christopher
"We were together, I forget the rest" - Walt Whitman
"

If I had my life to live over again...

Next time I would find you sooner so that I could love you longer."

"For me there is only you"

"

The couples that are 'meant to be' are the ones who go through everything that is meant to tear them apart, and come out even stronger than they were before."

"I loved you then, I love you still, I always have, I always will"

"If I know what love is it is because of you" - Hermann Hesse

"

Being deeply loved by someone gives you strength, while loving someone deeply gives you courage." 

- 

Lao Tzu

"You are my best friend as well as my lover, and I do not know which side of you I enjoy the most. I treasure each side, just as I have treasured our life together." -

 

Nicholas Sparks
---
Contact Us | Privacy Policy | Affiliate Disclosure|Anniversary Blog
Terms & Conditions | About | Advertise With Us | Site Map