50th Wedding Anniversary Quotes
50th Wedding Anniversary Quotes
50 years together needs some awesome anniversary quotes, full of words that show how special and golden a couple they are.
50th Anniversary Quotes for a Couple
We have lots of 50th Anniversary quotes for couples that you can use for friends or for your Aunt and Uncle.
50 years = 18,250 days = 438,000 hours = 26,280,000 minutes of married bliss
Love you more each day
On your Golden Anniversary, no treasure is more precious than a love grown old with time.
The roots of a family tree begin with the love of two hearts
Our anniversary is a time to look back at the good times and a time to look ahead to live our dreams together
50 years have passed and your love stays strong through smiles and tears. May today be a very special anniversary as you look back on all the happy memories you have shared.

50 years of loving each other and you two shine more brightly than gold. 
Once upon a time, 50 years ago at a dance, a boy met a girl and they took a chance.
Two special people, one special day, Happy 50th Wedding Anniversary
The first 50 years of marriage are always the hardest
You are a golden couple and your love shines through in everything you do and say.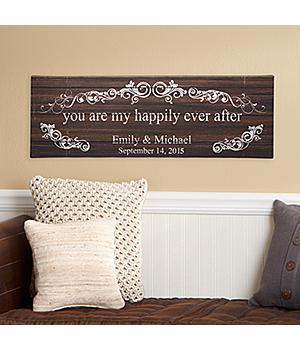 Happy Marriage Recipe
This fab canvas would make a great 50th Wedding Anniversary gift and is a great Happy Marriage quote too.
This canvas is available to buy in our store.
50th Anniversary Quotes for Parents
When it comes to finding the perfect quote for your parent's 50th Anniversary it is lovely if you can make it personal to them and these work equally as well if you are looking for 50th Anniversary Quotes for your Grandparents too.
Dear Mom and Dad thank you for being the best parents a child could wish for, thank you for showing us all what a good marriage is and sharing your love with us. We are lucky to have you both as our parents.
Dear Mom and Dad, wishing you the Happiest 50th Wedding Anniversary, your love for each other and for all of us has helped shape our lives and shown us what a great marriage looks like. Here is to lots more years of married bliss.
May your 50th Wedding Anniversary bring you all the love and happiness that you both deserve. We are blessed to have you as our parents guiding us and creating our wonderful family.
Congratulations Mom and Dad on fifty wonderful years of wedded bliss, may your love always be golden.
Happy Anniversary to my favorite couple that have always been Golden in my eyes. 
Dear Mom and Dad, your love has guided us and given us the best start in life that we could have wished for. Wishing you both a very Happy 50th Anniversary.
Romantic 50th Anniversary Quotes for your Husband or Wife
You probably can't quite believe that you have been married for 50 years and as it is one of the biggest milestone Anniversaries it can feel like there is a lot of pressure to get it right.
If you feel overwhelmed in what to write in your 50th Anniversary card for your love then we have lots  of quotes to choose from. You can then use the quote as a prompt on what else to write in your card or let it speak for you.
Wishing you both a very Happy 50th Anniversary from all of us.
After 50 Golden years, we still do and will do forever
"You are today and all of my tomorrows" - Leo Christopher
"We were together, I forget the rest" - Walt Whitman
"

If I had my life to live over again...

Next time I would find you sooner so that I could love you longer."

"For me there is only you"

"

The couples that are 'meant to be' are the ones who go through everything that is meant to tear them apart, and come out even stronger than they were before."

"I loved you then, I love you still, I always have, I always will"

"If I know what love is it is because of you" - Hermann Hesse

"

Being deeply loved by someone gives you strength, while loving someone deeply gives you courage." 

- 

Lao Tzu

"You are my best friend as well as my lover, and I do not know which side of you I enjoy the most. I treasure each side, just as I have treasured our life together." -

 

Nicholas Sparks
Good Bible Verses for a 50th Anniversary
If you are looking for a 50th Anniversary quote for a Christian couple then the Bible would be a good place for inspiration.
Your Gold Anniversary couple have shown over the last 50 years how they have used God's word to guide their marriage and these Anniversary quotes from the Bible show just that.
"And now these three remain: faith, hope and love. But the greatest of these is love." 1 Corinthians 13:13
"Let love and faithfulness never leave you; bind them around your neck, write them on the tablet of your heart. Then you will win favor and a good name in the sight of God and man."       Proverbs 3:3-4
"He who finds a wife finds what is good and receives favor from the Lord." Proverbs 18:22
"Be devoted to one another in love. Honor one another above yourselves." 14 Romans 12:10
"Above all, love each other deeply, because love covers over a multitude of sins." 1 Peter 4:8
"No one has ever seen God; but if we love one another, God lives in us and his love is made complete in us." 1 John 4:12
As well as using quotes from the Bible you can also use your own words to convey your 50th Anniversary wishes.
God bless you on your 50th Wedding Anniversary, you have built your marriage on your faith in God and he has honored your devotion by blessing you with a love that is cherished forever.
Congratulations on your beautiful marriage of 50 years, what a blessing it is to have each other on your journey through life.
---
We deliver Anniversary Gifts to USA & UK, Europe, Australia

Contact Us | Privacy Policy | Affiliate Disclosure|Anniversary Blog
Terms & Conditions | About | Site Map