The Best Bible Verse For Your Marriage Anniversary Celebrations
The Bible is a great place to look for inspiration when it comes to finding the right words for your Wedding Anniversary, you know that the words will have great meaning to you and are a lovely way to share your faith and God's love with dear friends and family. Plus they lift you up and provide you with guidance for a strong marriage for a Christian couple.
You can use Bible verses when you are writing an
or Wedding Card,
Anniversary or Wedding Invitations
your Wedding Vows and Vow Renewals
plus if you are looking for wording for an inspirational piece of wall art there are lots that are perfect,
as well as inspiration when you are starting to write an Anniversary Speech.
and finding the perfect Bible verse to add as an inscription to an Anniversary gift will make it even more special.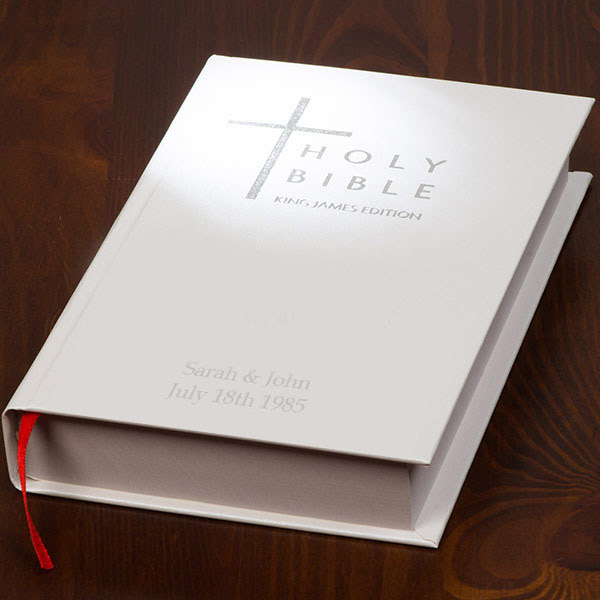 A personalized Bible makes a wonderful Wedding Gift or Anniversary Gift and you can use these Bible verses to add your own Christian Wedding Anniversary wishes to the happy couple.
Popular Bible Verses For Your Marriage Anniversary

We use the term Marriage Anniversary as although Wedding Anniversary is the normal way to phrase it, these words are all about celebrating your happy marriage and we hope you like them. As well as just using the quotes as a stand alone piece we have looked to add what each verse is about, we hope that you find this useful when you are choosing your Bible Verse.
Using a Bible verse as part of your gift to your Husband or Wife is a wonderful way to make it even more special.
Song of Solomon Anniversary Quotes
The book of Song of Solomon is a love story about a bridegroom who is in love with his bride, it was written by the King of Solomon around 300BC and is very popular for Anniversary and Wedding Quotes and often quoted for Wedding ceremonies and on religious cards.
The fact it is a love story makes it the perfect backdrop to find the best Bible Verse for your Anniversary.
Song of Solomon 3:4 - I have found the one whom my soul loves
Song of Solomon 2:16 - I am my beloved's, and my beloved is mine.
Song of Solomon 8:6-7 - Place me like a seal over your heart. Like a seal on your arm; for love is as strong as death, it's jealousy as unyielding as the grave. Its flashes are flashes of fire, the very flame of the LORD. Mighty waters cannot quench love; rivers cannot sweep it away. If a man were to give all the wealth of his house for love, his offer would be utterly scorned.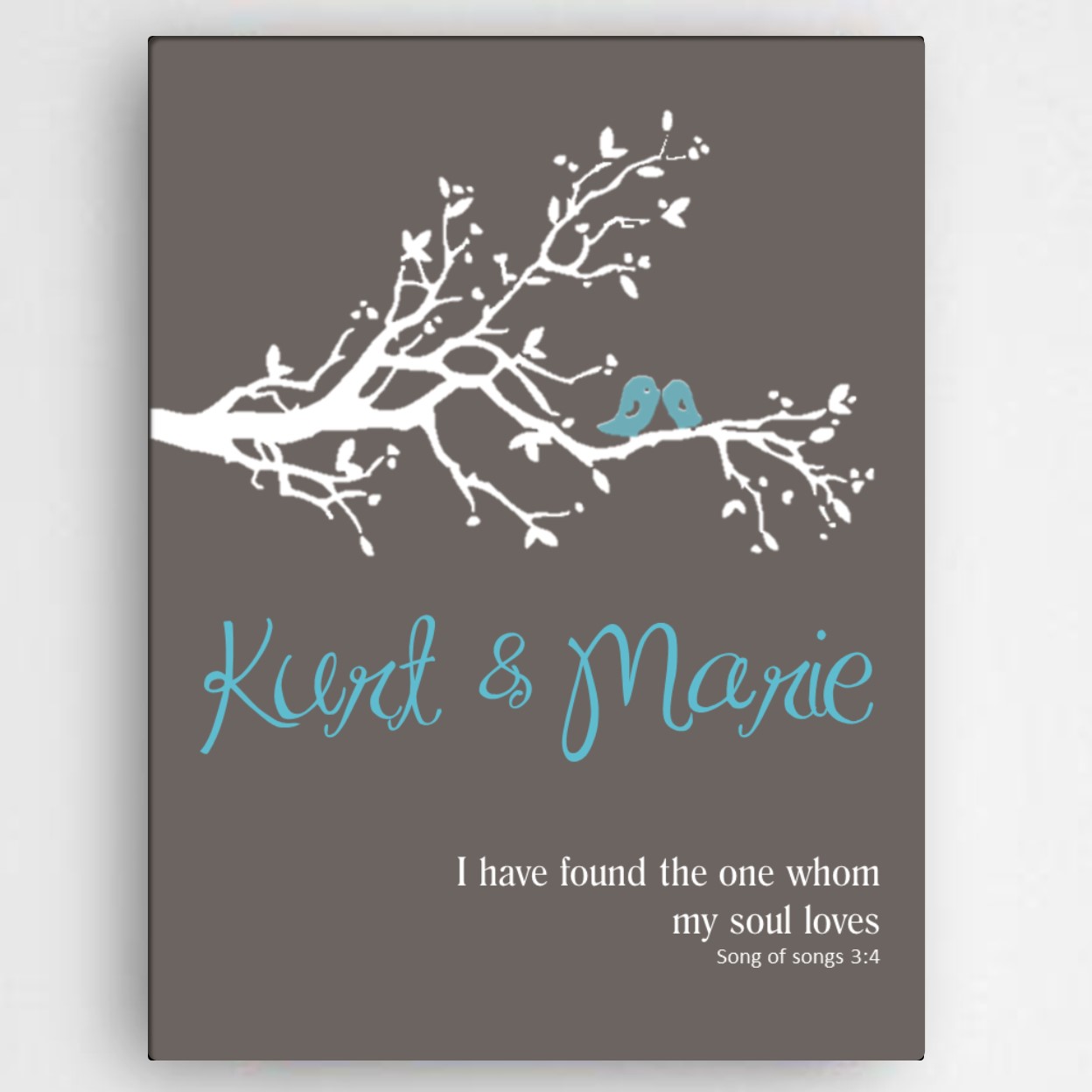 The Book of Hebrews Bible Verses for an Anniversary

The Book of Hebrews was written to the Jews who had converted to Christianity, it shows Jesus as the son of God and that he clears the way for human beings to approach the Father in heaven through prayer. It is an important book of the Bible today as is shows that we have the love of God.
Hebrews 13:4 - Marriage is to be held in honor among all, and the marriage bed is to be undefiled
Genesis Bible Verses for an Anniversary

Genesis is the first book of the Old Testament and is shows how God made the earth and all living things.
On Day Six he made man, this Bible verse from Genesis 1:27-28 is about what God expects from a couple.
God created man in his own image; in the image of God he created them. God blessed them and said to them, "Be fruitful and multiply, and fill the earth and subdue it; rule over the fish of the sea and the birds of the heavens and every creature that crawls upon the earth."
Proverbs Bible Verses for an Anniversary
The book of Proverbs is about the wisdom of God's words and provides short instructions on living your life by God.
Let love and faithfulness never leave you; bind them around your neck, write them on the tablet of your heart. - Proverbs 3:3
May your fountain be blessed, and may you rejoice in the wife of your youth: Like a loving doe and a graceful mountain goat, Let her breasts satisfy you at all times; Be exhilarated always with her love.              - Proverbs 5:18-19
He who finds a wife finds a good thing And obtains favor from the LORD. - Proverbs 18:22
Ephesians Bible Verses for an Anniversary

The Book of Ephesians was written as 13 letters by the apostle Paul while he was in a Roman prison and in it he gives thanks to God for his blessings and the work of Jesus Christ. It is still relevant today in that it lays out a moral and ethical way to live.
Be kind to each other, tender-hearted, forgiving one another, just as God through Christ has forgiven you. - Ephesians 4:32
Husbands, love your wives, just as Christ loved the church and gave Himself up for her having cleansed her by the washing of water with the word, - Ephesians 5:25-26
So husbands also ought to love their own wives as their own bodies. He who loves his own wife loves himself - Ephesians 5:28
Corinthians Bible Verses For An Anniversary

The First Book of Corinthians was written by the Apostle Paul as a guide for the church on every day problems in the First Century, this is advice that still stands today as you can see from these Wedding scriptures about Love.
[1] If I speak with the tongues of mankind and of angels, but do not have love, I have become a noisy gong or a clanging cymbal. [2] If I have the gift of prophecy and know all mysteries and all knowledge, and if I have all faith so as to remove mountains, but do not have love, I am nothing. [3] And if I give away all my possessions to charity, and if I surrender my body so that I may glory, but do not have love, it does me no good.
[4] Love is patient, love is kind, it is not jealous; love does not brag, it is not arrogant. [5] It does not act disgracefully, it does not seek its own benefit; it is not provoked, does not keep a record of wrongs, [6]it does not rejoice in unrighteousness, but rejoices with the truth; [7] it keeps every confidence, it believes all things, hopes all things, endures all things.
[8] Love never fails; but if there are gifts of prophecy, they will be done away with; if there are tongues, they will cease; if there is knowledge, it will be done away with. [9] For we know in part and prophesy in part; [10] but when the perfect comes, the partial will be done away with. [11]When I was a child, I used to speak like a child, think like a child, reason like a child; when I became a man, I did away with childish things. [12] For now we see in a mirror dimly, but then face to face; now I know in part, but then I will know fully, just as I also have been fully known. [13] But now faith, hope, and love remain, these three; but the greatest of these is love. - 1 Corinthians 13:1-13
Ecclesiates Bible Verses for an Anniversary

The book of Ecclesiates seeks to help people find the meaning of life through difficult times as well as happy times, it shows that there is good reward for following a religious life and the right path.
There is a man all alone, without even a son or brother. And though there is no end to his labor, his eyes are still not content with his wealth: "For whom do I toil and bereave my soul of enjoyment?" This too is futile--a miserable task. Two are better than one because they have a good return for their labor; For if one falls down, his companion can lift him up; but pity the one who falls without another to help him up! - Ecclesiates 4:8-10
The Book of Samuel Bible Verses for an Anniversary
The prophet Samuel teaches the people how to live as the people of God, this Bible verse is perfect for a special occasion and Anniversary celebration or a Wedding Day.
Have a long life, peace to you, and peace to your house, and peace to all that you have! - 1 Samuel 25:6
Good Psalms for A Wedding or Anniversary
But I trust in your unfailing love; my heart rejoices in your salvation. - Psalm 13:5
Do not withhold your mercy from me, LORD; may your love and faithfulness always protect me. - Psalm 40:11
Let the morning bring me word of your unfailing love, for I have put my trust in you. Show me the way I should go, for to you I entrust my life. - Psalm 143:8
Romantic Bible Verse Ideas

Most important of all, continue to show deep love for each other, for love covers a multitude of sins. - 1 Peter 4:8
Be devoted to one another in love. Honour one another above yourselves. - Romans 12:10
No one has ever seen God; but if we love one another, God lives in us and his love is made complete in us. - 1 John 4:12
There is no fear in love. But perfect love drives out fear, because fear has to do with punishment. The one who fears is not made perfect in love. We love because he first loved us. - John 4:18-19
I hold you in my heart, for we have shared together God's blessings. - Philippians 1:7
They are no longer two but one flesh. What God has joined together let no one seperate - Mark 10:8-9
Wishing you all a very Happy Wedding Anniversary, good health, happiness and joy on your special day.
Thanking God For Your Anniversary
If you are living a Christian life and marriage you will want to thank God on your Anniversary for the wonderful marriage you have thanks to him.
To make it even more meaningful for both of you, join together in your prayers when you give thanks.
God bless our union, may the Lord strengthen our marriage.
May the grace of God continue to bless our home and family.
Thank you God for guiding us in our marriage and showing us the way to live our life. 
---
We deliver Anniversary Gifts to USA & UK, Europe, Australia

Contact Us | Privacy Policy | Affiliate Disclosure|Anniversary Blog
Terms & Conditions | About | Site Map