40th Wedding Anniversary Gift Ideas

40th wedding anniversary gift ideas are traditionally ruby, but for those of you less traditional we have also suggested some great ruby inspired gifts.
40th Anniversary Gift Meaning 
Rubies are believed to bring friendship and love when given as a gift, so that makes them a pretty good present for a couple that are celebrating 40 years of marriage.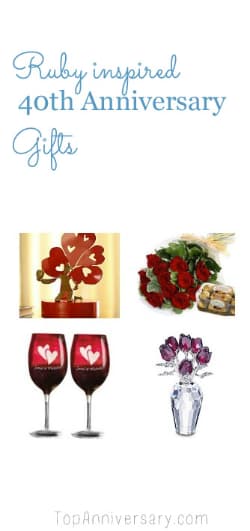 And the 1980s were a great time to get married.
Star Wars was the most popular movie 
Snow fell in Miami, Florida for the only time in it's history
Apple computers were incorporated.
And it only seems like yesterday! (Or is that just us?!)
40th Anniversary Gifts 
Celebrate the last forty years worth of memories with your own Wedding Anniversary Journal
A piece of history, an original newspaper from their Wedding Day 

A personalized pillow that will make you smile on your Anniversary
Lots more gorgeous 40th Anniversary Gifts to see in our shop.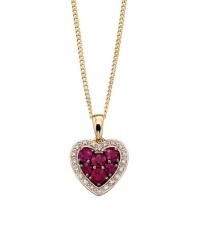 Ruby & Diamond Heart Necklace
$375.95
Celebrate your 40th Anniversary with your favorite photo from your Wedding Day and combine it with a more recent photo. This personalized Wooden Anniversary frame is a great way to display your favorite photos of the two of you.
A map of your favorite place; your home, where you met, you get to choose. Mounted on ruby red and customized with both of your names and Wedding date.
Personalized copy of the Bible, perfect for your 40th Anniversary and printed with your names and your own message.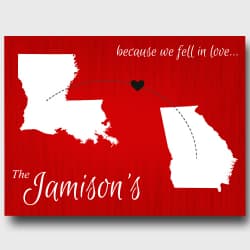 Your States Canvas In Red
$69.99
Personalized family tree canvas makes a great gift for your 40th Anniversary with you and your family on the branches.
Love pillow cases in ruby red. Customized with your names and the only way to wake up in the morning on your Anniversary.
This canvas makes a great gift if you come from two different States.Comes in a choice of colors, but the red would be perfect for 40 years.
Engraved glasses for both of you to celebrate your Anniversary in style.
Your book will be filled with copies of the front cover of the newspaper from your Wedding Day and every Anniversary since. Personalized with both of your names and your Wedding Date, plus space for your own message.
Where you first met is a special place. This jigsaw puzzle shows the exact spot and a heart shaped piece marks the spot.

Rubies are everywhere when you are celebrating your 40th, the traditional, modern and gemstone anniversary lists all have rubies.
Your 40th on the flower list is Nasturtiums, that is the flower that is edible and even this flower has a ruby color to its petals!
Ruby Anniversary Gift Ideas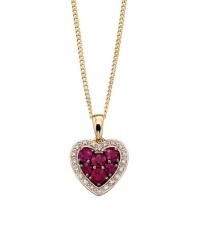 The most obvious is jewelry, gift ideas for women would be;
bracelets, 
rings 
and earrings 
and for men 

ruby tie pins, 
cuff links 
and rings with ruby studs. 


When choosing your rubies the advice of the experts is to go with the color that you like as there are two different opinions on what is considered best. Some think it is the darkest ruby others think it is the lighter, you choose what you like the best!
See lots of gorgeous 40th Wedding anniversary Gifts for your wife here ...
Ruby as a color is stunning and you can find some great gifts in this shade.
Ruby colored glass, 
40th anniversary plates
Personalized 40th anniversary mugs
and ornaments 
Swarovski Ruby Gifts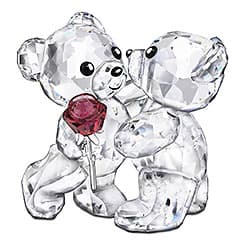 Swarovski as you know have stunning crystal pieces and if you are looking for a ruby inspired gift then they have a lot of choice.
Bordeaux crystals are the red ones and are a perfect match for rubies.
We love this cute teddy bear couple and there are also ruby red roses, tulips, hearts, plus lots of jewelry and gifts for the home too.
And it is good to know when you are in good company and celebrating your 40th anniversary puts you in the same class as Star Trek, The Doors - Love Her Madly and even the Summer of Love in San Francisco, all of which have celebrated their 40th! Finding a favourite band, song or movie from the year of marriage is a great way to add a personal touch to your gift. Ruby by The Kaiser Chiefs, Ruby Tuesday by The Rolling Stones and even Ruby by Kenny Rogers - keeps to the theme. But maybe not to your music taste!
40th Anniversary Party

Ruby Red Wine Gifts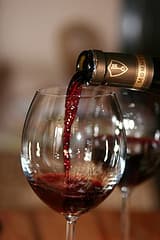 For those of you who like vintage wines and ports your 40th anniversary is an ideal time to celebrate with something great. A number of wine companies will gift pack these items in beautiful gift boxes - so nice you won't want to open them! For those with less of a budget have a look at a nice bottle of Ruby Port but make sure they like it first!
---
We deliver Anniversary Gifts to USA & UK, Europe, Australia

Contact Us | Privacy Policy | Affiliate Disclosure|Anniversary Blog
Terms & Conditions | About | Site Map