40th Anniversary Traditional Gift
40th Anniversary Traditional Gift Ideas
Traditionally your 40th anniversary is celebrated with rubies and one way to incorporate that theme into your gifts is to look to ruby red wines and ports or to choose a more traditional gift.
Anniversary Roses

Flowers and chocolates has to be the most traditional gift there!
But there is something so lovely about them too.
This gorgeous bouquet of a dozen red roses and yummy Ferrero Rocher chocolates is available from Gifts n Ideas to be delivered.

Anniversary Cake
This is the cake for your 40th anniversary, just look at the color!
And the best bit is that it can be delivered to you.
40th Anniversary Plate

Sometime only the really traditional gift will do and a 40th anniversary plate this lovely will be perfect.
You personalize it with your own words and a photo of your anniversary couple.
You could use a photo from their wedding day or a more recent one.
Shop 40th Anniversary Gifts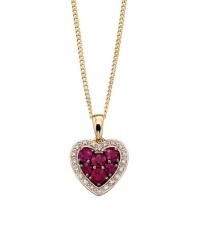 Ruby & Diamond Heart Necklace
$375.95

Vintage Ruby Wines

A great 40th anniversary traditional gift is one of vintage wine, it matches so well with the theme. Some of the best vintages were at the end of the 20th century in the 1970s but there were also some terrible vintages! Here is a brief guide for the great and the terrible years.
The good thing is you don't have to be a wine expert to buy Vintage wine, there are so many online wine stores and specialist shops. You can buy the wine from the year that you want and you can buy presentation sets with one bottle or if you are feeling extravagant then a whole case.
We have listed a number of different vintages from the 1970s to increase your choice. If your year is not fantastic you could look at choosing a wine from the year you were engaged or maybe the year your first child was born.
If you are celebrating your 40th wedding anniversary then you can do no wrong in choosing a great vintage from 1970. Italy, France, California all produced stunning wines and 1970 vintage Port will also be stunning - we tried some recently - all I can say is wow!
If you were married in 1971 then again you have a great year with fantastic vintages. Not as much wine was produced in 1971 as 1970 so the wine is not as readily available and this will be reflected in the price. However Italian wines did really well in 1971 so you should be able to find a stunning Chianti or Barolo.
1972 was not a brilliant year for wines in Bordeaux and France in general, luckily the Italian wine producers rescued us with great crops from Piedmont and Tuscany that are still good to drink today.
1973 was mainly a poor year but Germany had some good wines that are still great now and if you are lucky then there are a few 1973 Californian wines available still.
1974 wasn't brilliant in Europe but again you can still get some great Californian wines.
As well as vintage wines don't forget you also have vintage Port and also vintage Whisky, plus your 40th anniversary traditional gift is that of ruby, a nice ruby Port would be a perfect gift.
As you can imagine some of the vintage wines are incredibly expensive, we are talking over $100 per bottle! Rather than spending a fortune on one bottle you could look at buying a vintage wine from the year you are celebrating your 40th anniversary. These wines won't be as expensive and if you can hold yourselves back and not drink them now, they may be worth a small fortune in a few years.
If you enjoy your wine you know that it doesn't have to be an expensive vintage, if there is a ruby red wine that you enjoy why not treat yourselves to a case of that!
---
We deliver Anniversary Gifts to USA & UK, Europe, Australia

Contact Us | Privacy Policy | Affiliate Disclosure|Anniversary Blog
Terms & Conditions | About | Site Map