What Are The Wedding Anniversary Gifts Lists?
The Wedding Anniversary Gift Lists are as you would imagine, lists with each year and the gift symbol that is now associated with it.
Throughout history we have all come to celebrate important moments in life and give gifts to show our love. Your Wedding Anniversary is the perfect moment to celebrate both of you and just how much you mean to each other.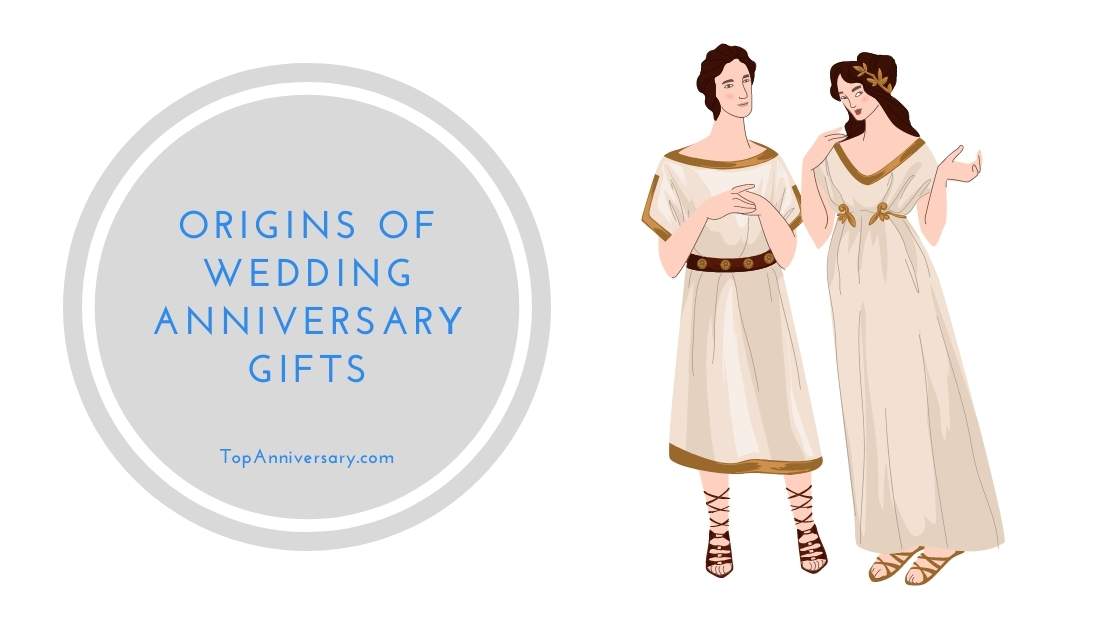 The Origins of Wedding Anniversary Gifts
No one really knows the origins of Wedding Anniversary Gifts but symbols for milestone Anniversaries have been said to go back centuries.
The earliest reference takes you right back to the Middle Ages in Germany when it was custom for a husband to give his wife a silver garland after 25 years of marriage and also a gold garland for 50 years of marriage. This is highly unlikely to be a common occurrence as life expectancy in Europe in the Middle Ages was 30-35.
Celebrating Wedding Anniversaries is a much more modern concept, helped by a number of factors;
Majority of us now marry for love rather than economic reasons
Our life expectancy is 72.6 years old - 73.2 years old and we thankfully have lots more years to celebrate our Wedding Anniversaries
Plus in most countries around the world we are now free to choose whom we marry; men and women marry, men and men marry and women and women marry.
There are lots more traditions of marriage and now a lot more marriages around the world for us all to celebrate.
The Anniversary Gift Symbols
It is believed that the gift giving has underlying superstitions of bringing luck to the couple and when you look at the anniversary lists you can see that as the years go by, your gifts are more valuable.
That must be lucky?!

Every Anniversary has it's own symbol with a hidden meaning behind each gift.
Origins of Traditional Wedding Anniversary Gifts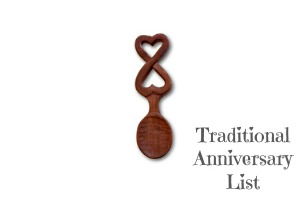 The Victorians who seemed to have loved collecting and symbolising everything are the ones who started adding different anniversary gifts on top of the silver and gold for your 25th and 50th anniversaries.
They created the Traditional Anniversary Gift List
In 1922 Emily Post wrote a book that listed eight anniversaries; 1st , 5th , 10th , 15th, 20th, 25th, 50th and 75th. It has grown since then!
You can also look at ways to include the traditional theme into your gift. One lovely way are these lovely anniversary roses.


Click on your Anniversary year below to find out what the Anniversary symbol is for you.
Origins of Modern Wedding Anniversary Gifts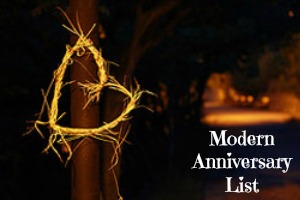 The modern gift list was introduced in 1937 by the American National Retail Jewellery Association, and you have guessed right it has a large amount of jewelry on it!
There are also a few gifts that are very practical and at the time you would have really made it if you had some of these. Nowadays most of us have the practical gifts, but you can still have fun trying to think of a romantic idea to add to them.
Find the Modern Anniversary symbol for your Anniversary this year here, with lots of ideas to help you make it more romantic.
Alternative Wedding Anniversary Gift Lists
Since the modern list was written there have been a number of other lists that have emerged;
How to find the perfect Anniversary Gift 
When you look back to your own wedding day and the years that you have been together it's the shared memories and love that you will remember, wedding anniversary gifts are just that, a symbol of your love.
Using the Wedding Anniversary gift lists as the theme for your gift adds an extra element of fun and romance. Plus you know that the gift will have so much thought in it.
You might want to use the symbols as the theme for a token gift and every year you find the next year's gift. As the years go by the gifts become more valuable.
You can see that when the 1st Anniversary gift is paper and the 60th Anniversary gift is diamonds!
Here are some extra gift ideas to help you find the best gift.
---
We deliver Anniversary Gifts to USA & UK, Europe, Australia

Contact Us | Shipping & Returns |Privacy Policy | Affiliate Disclosure|Anniversary Blog
Terms & Conditions | About | Site Map