Romantic Anniversary Flowers

Flowers for your anniversary are a great way to start your romantic celebrations, and there is nothing quite like receiving flowers from the florist, especially when you are at work!
Order your Anniversary Flowers today to ensure they arrive in time.
There are lots of great flower arrangements that you can choose from all florists and there is also an anniversary flower list with flowers for each of your anniversaries, but that can sometimes be a bit tricky when certain flowers are out of season.
Anniversary Flowers By Year
As well as the real thing you could also look at sending flowers made from the material associated with each year.
This would be a very unique bouquet to send the love of your life!
Order Your Anniversary Flowers Today
Need your Anniversary flowers today?

Click here to order them now

for same day delivery Nation-wide.

And check out the vast range of Anniversary bouquets at

Pro Flowers

 also available for same day delivery.
Anniversary Flowers By Month
Just think how much they would love to receive an Anniversary bouquet every month.
Or you could look at sending a bouquet of flowers that includes the flower from the month you were married.
How cute would a bouquet look if you combined the flowers from the month you met, married and your birthdays?
Ours would include Daisies, Lillies, Roses and Delphiniums. 
January - Carnations
February - Iris
March - Daffodil
April - Daisy
May - Lily
June - Rose
July - Delphinium
August - Gladioli
September - Aster
October - Marigold
November - Chrysanthemum
December - Poinsetta
Or if your partner has a favorite flower then you are probably best choosing those!
If you are celebrating a big anniversary then you may want to have a look at a plant or tree that will continue to grow. There are a number of roses that have been named after anniversaries that would be perfect if you are looking for a gift for your parents or grandparents.
The Language Of Flowers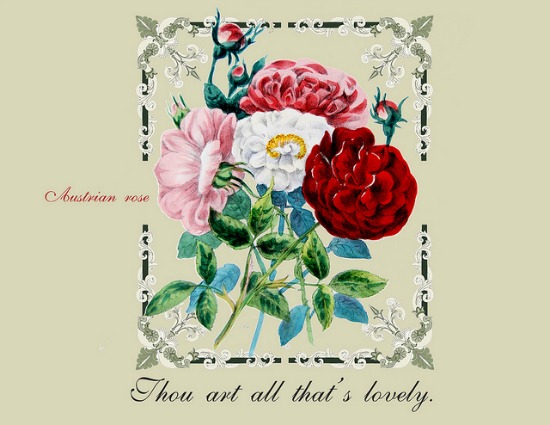 Image from Flora's Dictionary by Mrs E W Wirt 1855 
There is also the language of flowers for inspiration, this was very popular during Victorian times and couples were able to send love messages to each other with hidden meanings. You can still do this today!
Roses symbolize love, 
Forget-me-nots symbolize true love and memories, 
Honeysuckle is the bond of love. 
Nearly every flower has a meaning that may even date further back than Victorian times.

You could continue the tradition of sending love messages by having a mixed bouquet with all the flowers that mean what you want to say. You could help by adding a guide to what they each mean.
---
We deliver Anniversary Gifts to USA & UK, Europe, Australia

Contact Us | Shipping & Returns |Privacy Policy | Affiliate Disclosure|Anniversary Blog
Terms & Conditions | About | Site Map