11th Anniversary - 14th Anniversary
Traditional Anniversary Presents

11th, 12th, 13th and 14th Anniversary Gift Ideas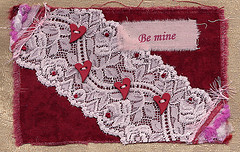 Traditional anniversary presents, ever wondered what this year will bring?
Anniversary gift lists symbolize the growth of your marriage and the strength of the love between the two of you. 

Just think, when you started out your 1st anniversary was symbolized with paper, a fragile gift that shows how you need to look after your marriage to make it last. 
11 years on and you are showing how well you have looked after your love. 
11th Anniversary Present Ideas

On your eleventh anniversary your traditional presents are made from steel, this is a very strong metal and one that has been used for some serious industrial structures, but there are also some fun and beautiful gift ideas too.
Steel jewelry has some great contemporary designs for both men and women.
Or how about a trip to where you can hear steel drums - the Caribbean maybe? or a trip to your local music school and have a go yourselves! Or a traditional set of steel cutlery and cook a lovely romantic meal.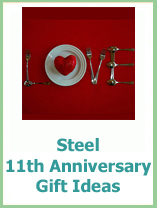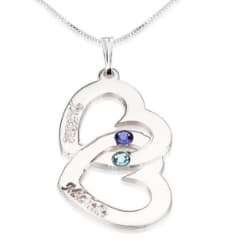 Couples Engraved Necklace with Birthstones
$59.95
Sweet Steel heart pendant on a leather necklace, in a choice of colors.
Personalize with their initial.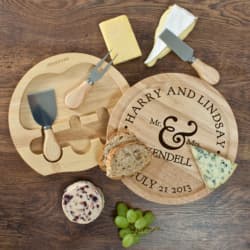 Wooden Anniversary Cheeseboard
$43.95
Personalize your cheeseboard with your names and dates.
Perfect for all foodies!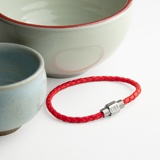 Personalized Women's Leather Bracelet
$54.99
Personalize this stunning leather and steel bracelet with your own Anniversary message.
Available to buy in store and in a choice of colors.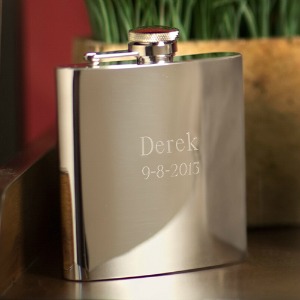 $24.99
Engrave this Steel Flask with your Husband's name and Anniversary or Wedding Date.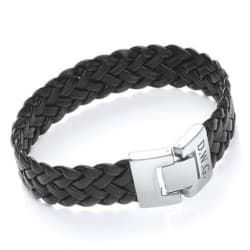 Personalized Men's Leather Bracelet
$89.99
Personalize this very smart Men's Leather Infinity Bracelet with steel clasp, with both of your initials or your Anniversary Date.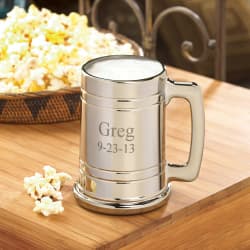 Personalized Metal Beer Mug
$24.99
Engrave this Metal Beer Mug with your husband's name and your Anniversary or Wedding date.
12th Anniversary Present Ideas

Your 12th wedding anniversary gifts are traditionally made from silk.
This is a great romantic material and again, one that you can both enjoy!
We have lots of gorgeous silk gift ideas - even ones that you can open in public!
Or we have gifts that could be a bit naughty with silk sheets and sexy silk underwear.
And other surprises too!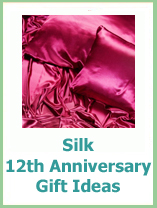 13th Wedding Anniversary Present Ideas

For your 13th wedding anniversary celebrate with lace!
New lace tablecloth or curtains? (just kidding!)

Or gorgeous lace underwear?
or a trip to where they make lace?
Or have a look at the lovely lace gifts we have found for you - click the image on the right.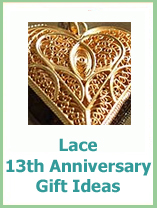 14th Anniversary Present Ideas

For your 14th it is traditional to celebrate with ivory. Today most people wouldn't want to have ivory gifts, but don't worry there are some great alternatives.
The best has to be Tagua nuts, they grow on palm trees in the rain forest and are very hard. Perfect for jewelry and ornaments they are worth looking at and the added benefit is that they are a benefit to the rain forest.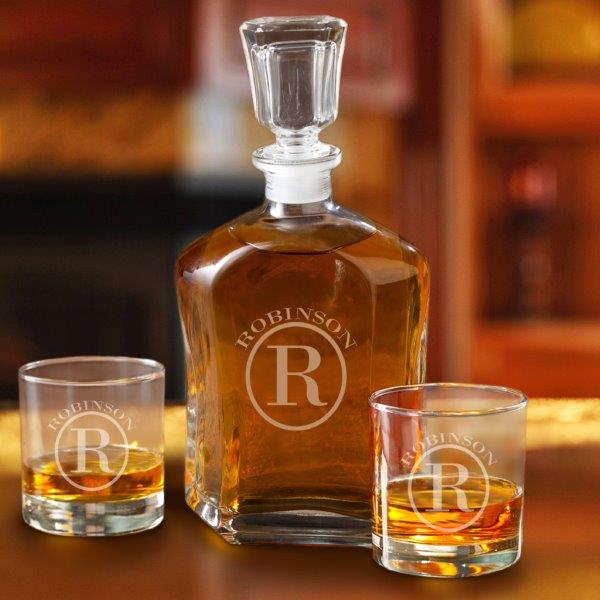 Personalized Whisky Set
$59.99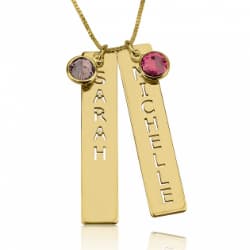 Personalized Couples Pendant
$69.95
There is also Gold as the Modern symbol for your 14th.
And Opals as the gemstone of 14 years married.
Traditional Anniversary Gifts To Buy

Roses made from the Anniversary symbol for that year
---
We deliver Anniversary Gifts to USA & UK, Europe, Australia

Contact Us | Privacy Policy | Affiliate Disclosure|Anniversary Blog
Terms & Conditions | About | Site Map