Gorgeous 75th Wedding Anniversary Symbols, Gifts & Party Ideas
Wedding anniversaries are always a reason to celebrate; with each passing year, couples face new challenges and grow together.
But some anniversaries stand out from the rest, such as the 75th wedding anniversary, known as Diamond. And we don't need to explain much about why this particular anniversary is so meaningful. Married seventy-five years ago, not long after World War 2 and probably high school sweethearts as they would have married very young.
Can you imagine spending your days with your loved one for 75 years? Such a moment to celebrate.
What Is The 75th Anniversary Symbol?
The Traditional Material you celebrate 75 years with is Diamonds or on some lists it can be platinum
The Modern Alternative is Gold (which is also your traditional 50th anniversary gift)
There are no flowers associated with this anniversary but there are a number of roses that have been named Diamond Anniversary.
75th Anniversary Meaning
The gift of platinum means success and it is a rare and precious metal.
Diamonds are the symbol of deep and ever-lasting love.
Making them both perfect symbols to celebrate 75 years of marriage.
75th Anniversary Celebrations
But after 75 years of living with someone you love, what could surprise you? Or if you have a sweet couple about to hit the 75th anniversary and you are planning on surprising them or throwing a big party to celebrate, chances are you have no idea where to start. Because even if this anniversary is known as the diamond wedding, you can't just gift a diamond or throw a diamond-themed party.
If you want to get creative and truly cause an impression on your loved ones, we are here to help with unique ideas for gifts, ways to incorporate the diamonds into the celebration, and much more. Because after celebrating over seventy wedding anniversaries, you should know a couple doesn't expect a blender as a gift; they probably have everything. Still, there are always ways to gift them the most meaningful and unique present.
Gift Suggestions
Diamonds
If you are someone who keeps traditions, you might want to stick to the most traditional gift for couples who have been together for over seven decades. Giving a couple a diamond is a great idea if you know they will appreciate it and, most importantly, use it. It doesn't have to be a super expensive diamond; prefer pieces you know the couple will wear.
For example, you can gift
some cufflinks, 
a watch, 
a charm bracelet, 
earrings, 
or any other jewelry piece with diamonds.
The purpose is to find a piece with meaning, something the couple will enjoy and remember for the rest of their lives. Diamonds are a great example of how you can achieve a perfect and shiny result when you have enough patience, and you get to see beyond what is visible. Sometimes the purest diamonds are hidden behind a cloudy rock, just like pure love is rarely found when you take the time to get to know someone.
Time
When you have been around for over 80 years in this life, you probably appreciate time more than ever. Couples blessed with the opportunity to celebrate a long and loving marriage are more than aware of how quickly time goes by. They see it in the greatness of their families, in how they were two when they started it, and now generations and generations follow them with children, grandchildren, and great grandchildren.
And how can you gift your special couple time? You might ask, well, the answer is simple you can go and hang out with them or organize a dinner to celebrate and reunite the whole family for a once-in-a-lifetime event. And you don't even need to throw a large and lavish party; chances are the couple prefers an intimate and calm celebration.
The first step you must take is getting the entire family to agree on a date to fit everyone's schedules. Then you can determine how big or intimate the party will be and start looking for a venue, decorations, catering, and the list goes on. Or if you rather celebrate intimately, you can choose a house to plan the party.
The main idea is to be present and enjoy a meaningful moment with the couple. Often, we value more the time spent with our loved ones than physical objects. For a couple who has celebrated so many wedding anniversaries, the best way to truly surprise them is by giving them a moment with their entire family. You can plan a vow renewal and make sure everyone participates, from the younger members of the family throwing flowers to the eldest giving a speech.
75th Wedding Anniversary Gifts
75th Wedding Anniversary gifts are all about a celebration of a long and happy marriage.
A vacation map where they have been for their favorite vacations
Where they First Met jigsaw puzzle
Personalized Anniversary newspaper from their Wedding Day
Signature frame for everyone to sign with their Happy 75th Wedding Anniversary messages
Personalized glasses to toast their Wedding Anniversary
Engraved Diamond Anniversary vase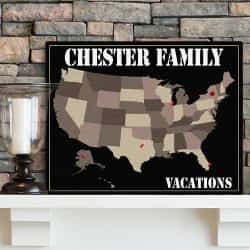 Your Vacation Map
$69.99
75th Wedding Anniversary Party Ideas
This may be the first time you are planning a 75th Wedding Anniversary party and you will want it to be special and a true celebration of a long and happy marriage. A 75th Wedding Anniversary is a rare occurrence and even the U.S. Census Bureau doesn't report this number as there are so few. However, only 0.1% reach their 70th anniversary. This is definitely a celebration that everyone will want to be involved in and it may be an idea to make a list of all the family members and don't forget great grandchildren too, that will want to be there.
When we talk about diamond wedding anniversaries, we can incorporate certain elements into the décor to ensure the diamond theme is there. For example, shiny chandeliers, metallic hints, and many white blooms provide an elegant and luxurious result. You can also add plenty of candles along the table with glass bases to make the evening feel extra cozy.
Some couples might rather spend their wedding anniversary traveling to a beautiful destination, perhaps a meaningful one like where they met or got married. If possible, you can then celebrate by renting a large property to spend a weekend to remember. The goal of throwing a party for the couple is to make them feel comfortable, so pick a location and theme to suit their needs and wishes.
Famous couples like former president Jimmy Carter and his wife Rosalynn Carter, the longest-married presidential couple, celebrated with a large party including over 300 guests. From family to former presidents and celebrities, the party was celebrated at the old Plains High School, in the town where they tied the knot originally. Now you can get the idea of how big a party can be when celebrating 75 years of marriage, especially if you have a large family.
Finally, we want to be clear about this milestone's important because even some of the most famous couples who were married a very long time like Queen Elizabeth and Prince Phillip, Queen Victoria and Prince Albert, didn't make it to a diamond wedding anniversary. Although both Queens did celebrate their Diamond Jubilee. Being a couple who hits that mark is a reason to celebrate because the compromise and love poured over the years and standing the test of time is no easy task.
We wish you all the best if you celebrate a 75th wedding anniversary or if your grandparents or great-grandparents are. It is a blessing to see a couple stay together through thin and thick and a moment to learn a bit about love, companionship, and friendship. Don't let such an important moment pass without celebrating with the entire family. Seeing how the family they started has grown will fill their hearts with joy.
75th Anniversary Cards
Don't forget you can request a card from the President of the United States and also the ruling monarch of the United Kingdom if you are a British subject.

---
We deliver Anniversary Gifts to USA & UK, Europe, Australia

Contact Us | Privacy Policy | Affiliate Disclosure|Anniversary Blog
Terms & Conditions | About | Site Map