32nd Wedding Anniversary Gifts & Ideas
After 32 years of marriage you will be looking for thoughtful gifts that fit with the theme and that you know that they will love.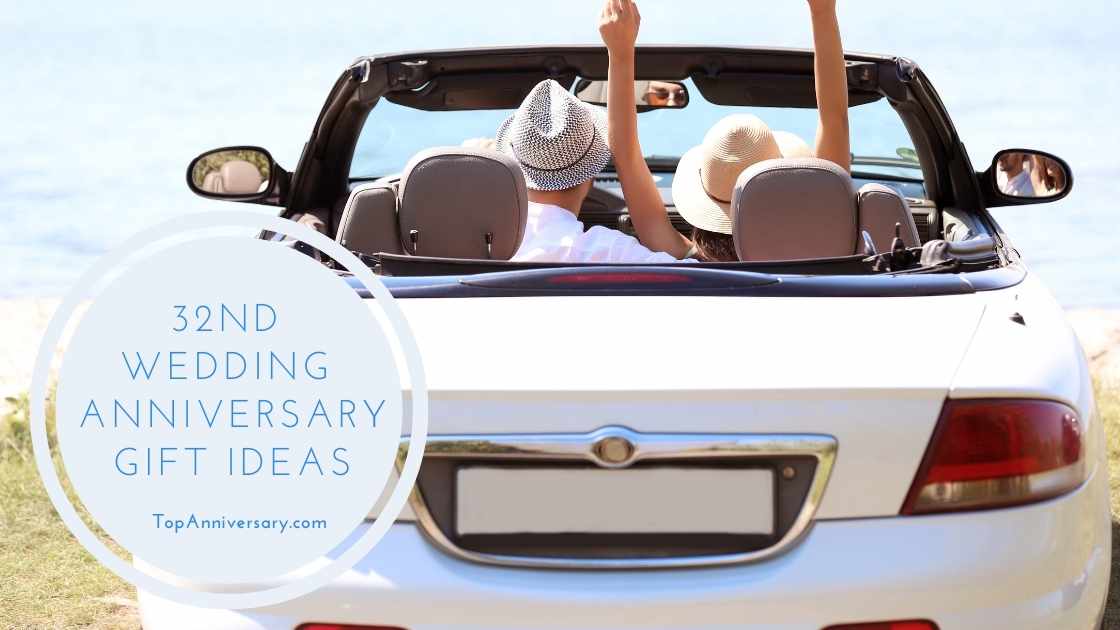 What Is the 32nd Wedding Anniversary Symbol?
All of the Anniversary Years have a gift symbol and using the gift lists is a great way to celebrate your special day.
There are no traditional gifts for this year, however on the modern list the symbol is a conveyance, this is an old fashioned word for transporting or carrying someone which the modern alternative could be
a new car
any car
a truck
an RV
a yacht
plane tickets
carriage rides in the park
a limousine ride
a hot air balloon ride
ice skates for a trip on the ice rink
roller skates or boots
a segway tour
a new gps system, tom tom, sat nav
You can see that the conveyance theme really is anything that helps you travel life's path together.

32nd Anniversary Stone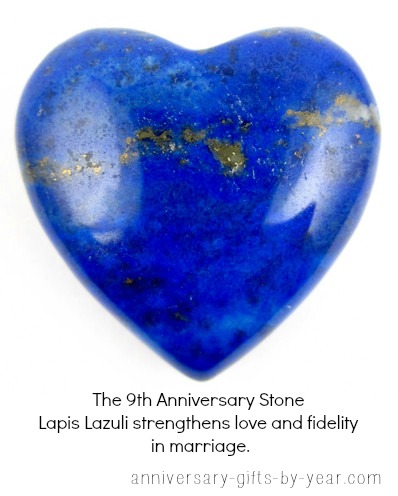 There is also the gemstone Anniversary list and here your 32nd Year Wedding Anniversary is celebrated with the very beautiful Lapis Lazuli, it is also on the list for your 9th Anniversary too.
Lapis Lazuli is a deep blue semi-precious stone it looks like the bluest of seas and has been a prized romantic gift for centuries. It was even found in King Tutankhamen's tomb which dates back to 3000BC which makes is a very traditional gemstone.

32nd Wedding Anniversary Symbolic Meaning 
The contemporary theme of a conveyance is symbolic of the life's path that you have travelled together, it shows how you have overcome life's trials together and also celebrated the good times.
Lapis Lazuli in Ancient rome was considered to be a powerful aphrodisiac and they even ground it up and drank it as a love potion.
We are not saying that you need to do that but instead look at maybe a more traditional piece of jewelry. The wearer of Lapis Lazuli is believed to have higher connections and it represents power, truth, opulance and wisdom. It's definitely a good luck stone.
Alternative 32nd Wedding Anniversary Gift Ideas
Not everyone lives a celebrity lifestyle and can afford to buy a new car for their loved ones on their Anniversary however there are alternative ways to incorporate the travel theme into your gifts.
You can use the theme as part of your Anniversary celebrations and it could be plane tickets to your vacation or a Carriage ride around your local town. If you are feeling more adventurous you could look to travel on a Segway or learn how to ride an electric scooter together. You know that you will have a good time whatever you choose to do.
If you are planning to travel for your Anniversary you could treat yourselves to new leather luggage or a wallet for your tickets and passport.
32nd Wedding Anniversary Gift Ideas For Your Husband
The best husband in the world needs the best Anniversary Gifts to fit with the theme.
A modern equivalent to the conveyance theme could be to treat him to an experience day in a race car where he also gets to drive round the track.
Or if he is more into a slower pace you could hire a limousine to pick you up for your date night.
Or if he is an old fashioned gent how about a trip in a horse and carriage.
Gifts could be a new map book if he likes to plan your next adventure.
Or a framed map of your favorite place to go.
Accessories for his car, bike or RV, there is undoubtedly something that he has wanted for ages.
Or canvas prints of his favorite car which if he is lucky he already owns
You could also look at travel gifts which could be tickets for an Anniversary Vacation
A travel wallet for your tickets
A stylish leather case or holdall from Amazon
Or you could look for a trip down memory lane and plan a road trip to your favorite places from the last 32 years. Maybe even take a trip back to your Wedding Day and visit where you were married.
Plus there is the gemstone list and Lapis Lazuli decorated cufflinks or a tie pin would be a lovely gift.
32nd Anniversary Gift Ideas For Your Wife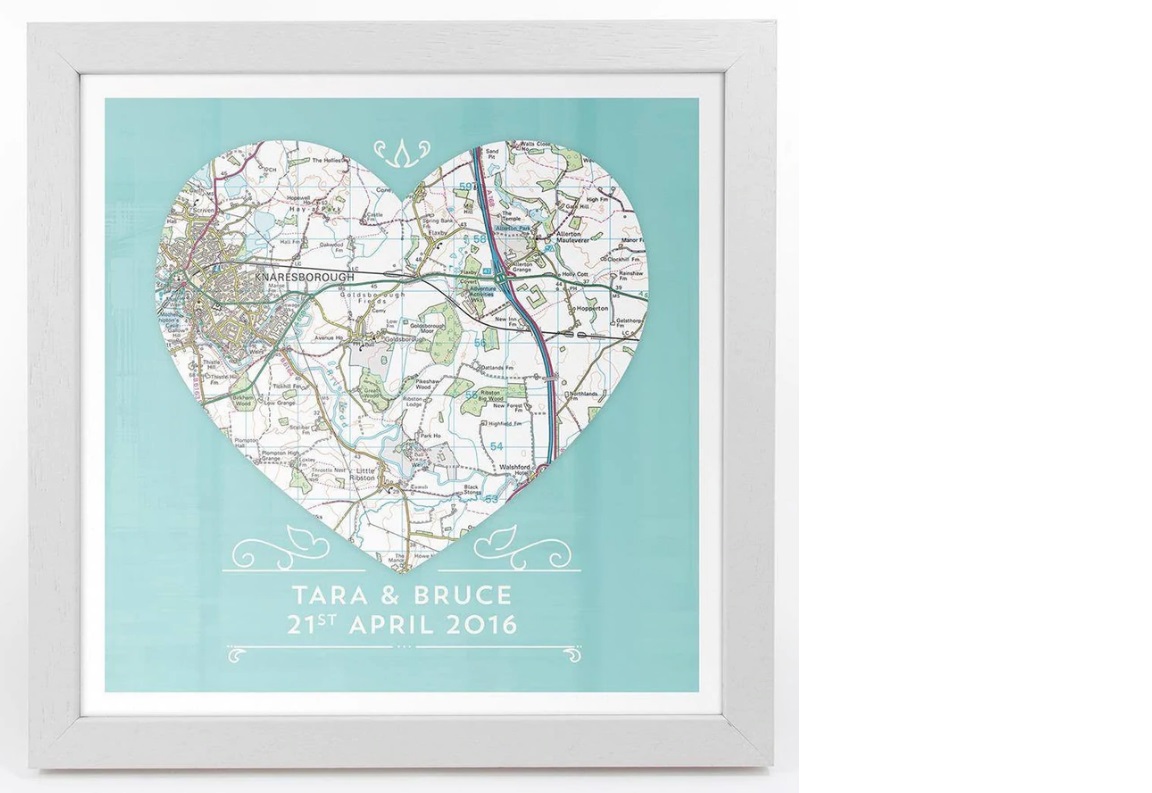 Personalized Anniversary Heart Map
Your lovely wife of 32 years needs a lovely gift and finding the perfect gift that fits with this year's symbol is a wonderful way to choose the best gifts.
For your wife there are lots of modern takes on the conveyance theme
You could plan a road trip around the United States in an RV if you know she has always wanted to have a fabulous adventure.
If she loves vintage cars you could surprise her by hiring a vintage car for a weekend away or you could have a chauffeur driven car take you on a lovely dates
Your wife has been your best friend for a long time with over 32 years of love and this means lots of major milestones and fun times, you could plan a trip or a visit back to one of your favorite vacation spots.
If you are looking for a romantic trip how about a trip in a Hot Air Balloon to watch either the sunset or sunrise.
If your wife loves to drive you could plan an experience day where she can drive or maybe even fly for the day. That would be a great modern present to fit with the theme.
Or if you are looking for a slower pace how about a romantic carriage ride, the perfect way to spend an evening with your love. Add a bottle of champagne and a picnic and you have the best evening.
Map wall art also fits with the theme as you could then plan a trip to your favorite place.
Or wine subscriptions that you can then virtually travel to lots of vineyards around the world even if you can't physically go to them all.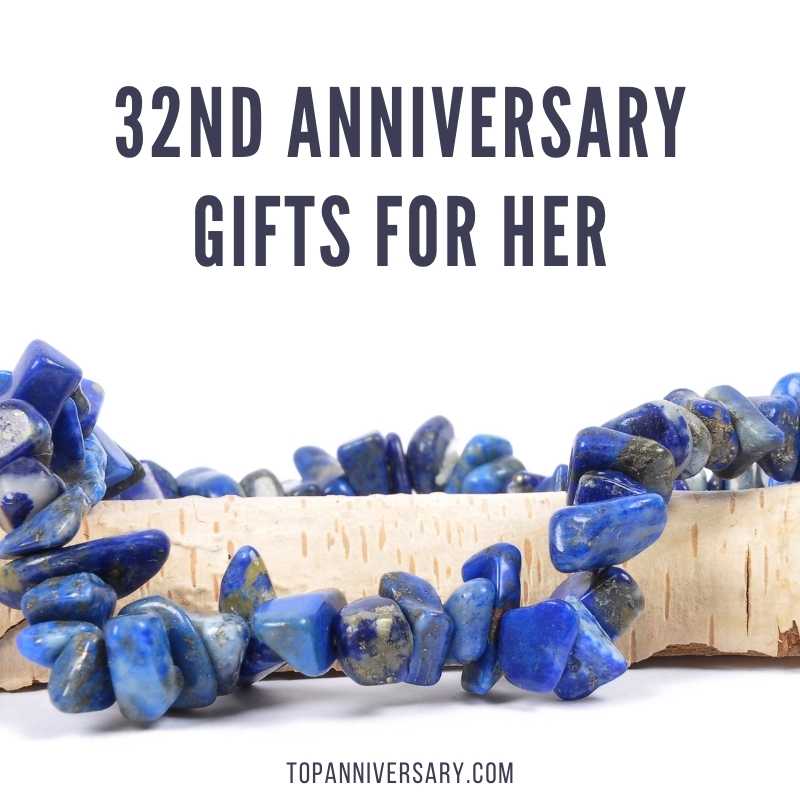 If your wife would prefer jewelry for her Anniversary Gift there are lots of stunning Lapis Lazuli pieces on amazon that would definitely be treasured for many years.
A Lapis Lazuli pendant necklace, bracelet or earrings.
Or you could even look to buy a set of Lapis Lazuli jewelry.
If you want to be more extravagant but still want to stick with the lovely blue color of Lapis Lazuli you would look to blue sapphires for your gift. Maybe you could even think about a 32nd year anniversary engagement ring?!

32nd Anniversary Ideas For Your Favorite Married Couple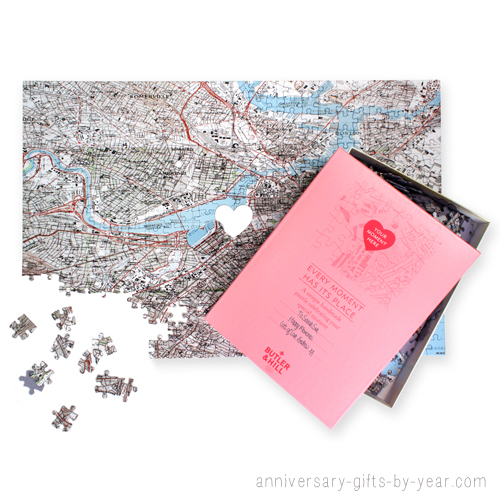 If you have friends or family members that you are celebrating their 32nd Wedding anniversary you can use it as an opportunity to take a trip with them.
The best times and things are when you can share them together!
You also don't have to actually travel to experience a new country, you could instead treat them to meal kits where they can learn to cook a fabulous Indian curry, or Italian past from scratch.
Wishing you all a very Happy 32nd Anniversary!
As an Amazon Associate Top Anniversary earns from qualifying purchases, these items do not cost you anymore.
Full details on our Affiliate policy can be read here

---
We deliver Anniversary Gifts to USA & UK, Europe, Australia

Contact Us | Shipping & Returns |Privacy Policy | Affiliate Disclosure|Anniversary Blog
Terms & Conditions | About | Site Map