Best Anniversary Vacations

The best anniversary vacations are the places that you have always wanted to go. You may have mentioned this special vacation early on in your relationship and maybe said that on your 10th or silver or even gold wedding anniversary this will be when you would like to go.
Some couples look to return to where they spent their honeymoon, others have always wanted to go on a cruise, whatever you choose you will want it to be perfect.
A great way to find out what a holiday would be like is to find out from others that have already been, a great resource is Trip Advisor which is full of real people's opinions on their holiday. You can read the warts and all stories, plus find where people really love, it is a great site to find out whether you want to go somewhere.
Not everyone can afford their best anniversary vacations and for a special anniversary you are bound to have friends and family who want to buy an anniversary gift. Rather than asking for money or vouchers there are now ways that you can set up your own anniversary gift registry. This is just like a wedding gift list but instead it is about your anniversary vacation or second honeymoon!
A great way to get this started is to sign up with an online anniversary gift registry and then ask a family member or friend to spread the word - you can always repay the favour when it is their turn. The thing that is great about doing it this way is that you don't have to ask for the money and your friends and family can buy you parts of your vacation - it could be white water rafting or a trip to swim with dolphins. You get to make your best anniversary vacations ever and it gets paid for by your friends, it couldn't get any better!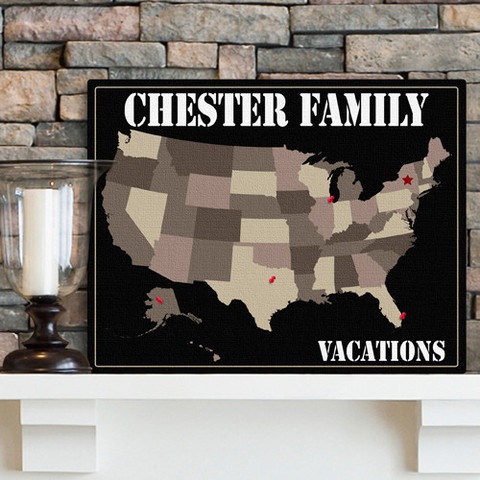 Your very own personalized Anniversary Vacation map is also a fab gift.
Plot your favorite places and those that you would love to visit too.
As with all special vacations it is a good idea to mention that it is your anniversary when you book, that way there may be a complimentary bottle of sparkling wine in your room or a free upgrade. One couple celebrating their 50th anniversary in 2000 returned to The Edison Hotel in New York City where they spent their honeymoon and were charged the rate they paid 50 years ago! $8.50 a night! Brilliant!
Have a fantastic anniversary vacation and don't forget to send us a postcard!

---
We deliver Anniversary Gifts to USA & UK, Europe, Australia

Contact Us | Privacy Policy | Affiliate Disclosure|Anniversary Blog
Terms & Conditions | About | Site Map