Themed 36th Wedding Anniversary Gift Ideas
When it comes to finding the best 36th Wedding Anniversary Gift it really helps if you follow the Anniversary Gift lists as you know that they will love your choice mainly because it fits with this year's symbol.
Think of your choice as a souvenir to celebrate 36 years as a married couple.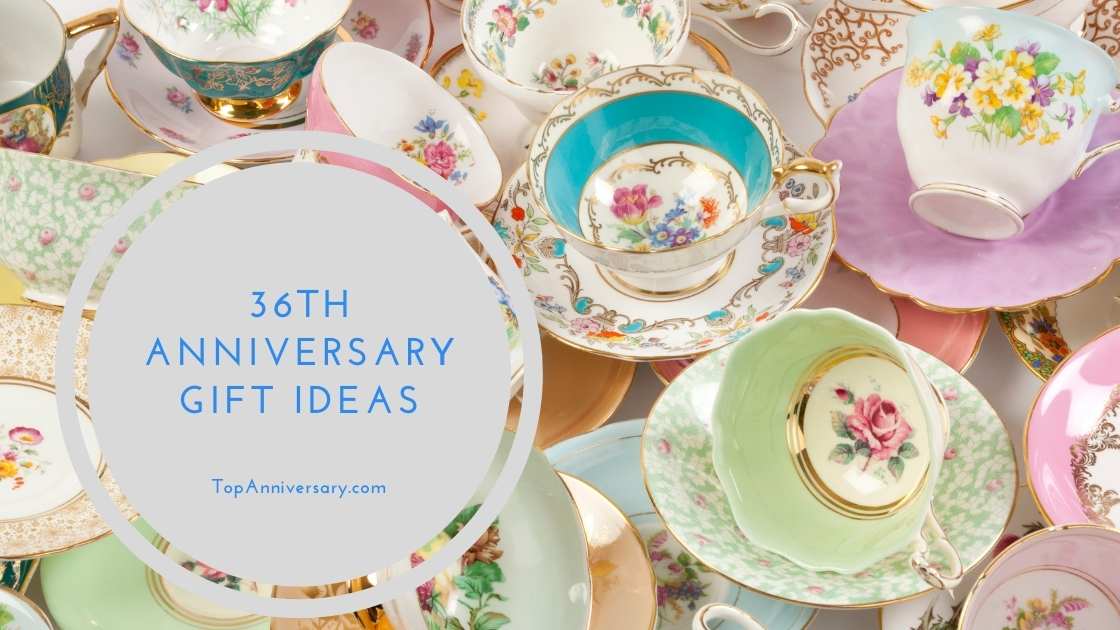 What Is The 36th Wedding Anniversary Symbol?
There aren't any traditional gifts for this year, the traditional list focuses on the milestone Anniversary years and last year's 35th Anniversary was definitely a milestone year.
However, the Modern gift for 36 years is Bone China which is a traditional material.
And the Flower gift is Tea Roses.
There isn't a 36th wedding anniversary gemstone but if you missed out on your 35th Anniversary gemstone gift which is jade or coral this would be a great time to catch up.
Every year of your marriage the gift symbols become more valuable. 
What Is The 36th Anniversary Meaning?
If you choose to gift tea roses for your Anniversary you will see below that there is a different meaning behind each color of rose.
The number 36 means creativity and energy which are both perfect symbols for your life together.
What Is Bone China?
You may have heard of Fine Bone China if you like to watch Antique programs as it is beautiful and much stronger than porcelain so stands the test of time better than other fine china pieces.
The clue about what is in Bone China is in the name, it does have Animal Bone Ash mixed into the clay, normally cow bones and therefore if you are buying your gift for a vegetarian or vegan you may want to find an alternative. The bone ash makes the china stronger which means that the pieces can be made thinner and more delicate.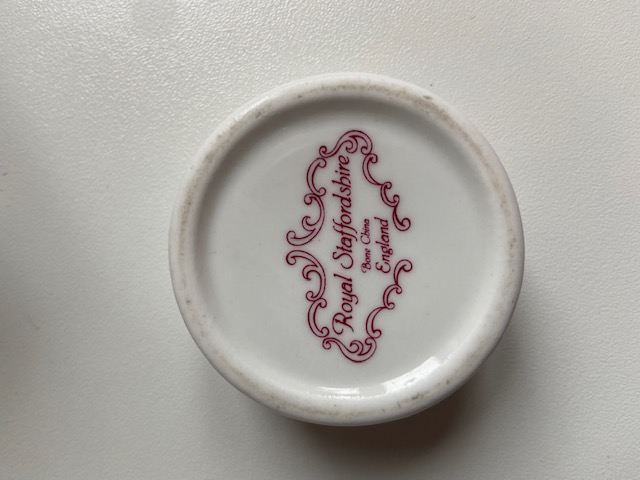 The creation of Bone China is credited to a number of people; Marco Polo for first bringing it to Western culture from his travels, Thomas Frye in 1748 an English potter in London for creating a Bone China mix of Bone Ash and porcelain and then Josiah Spode in the early 1800s in Staffordshire for perfecting the mix of Bone Ash, China Stone and China Clay that is still used in England today.

Basically, Bone China is a kind of porcelain and there is a lot of choice from antique pieces to a more modern work of art that would be perfect wedding anniversary gifts that you know they will love.
Look out for pieces from Spode, Royal Doulton, Royal Staffordshire, Royal Worcester and Wedgewood all from England if they love more traditional gifts.
Or bone china pieces from Lenox, who produced the first American China for the Whitehouse in 1918
Check on the stamp underneath your piece of china to see if it has bone china.
Tea Roses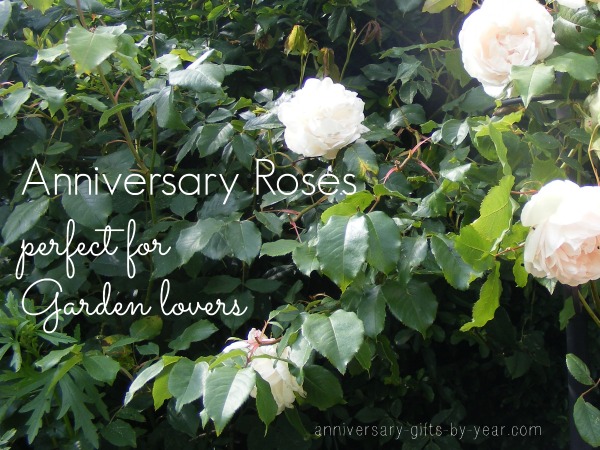 Tea Roses are the flower for your 36th Wedding Anniversary and they are stunning. They are more traditional rose with tea scented large flowers. The perfect gift for someone who loves to grow flowers in their garden and wants a colorful display or has created a beautiful old fashioned country cottage style garden.
They are also stunning as a bouquet of Roses which are one of the most romantic flowers there is.
Rose Meanings 
Each color of rose means something different.
Red Roses mean I Love You
Orange Roses are the symbol of Passion
Pink Roses mean sweetness and joy
Green Roses mean harmony and good health
Yellow Roses mean friendship
36th Year Wedding Anniversary Gift Ideas For Your Wife
When it comes to choosing the ideal 36th Anniversary gift for your wife you will want something that represents the love you share and therefore you will want it to be beautiful.
You could find the most beautiful bone china mug with a beautiful design or color that you know they will love. You can then surprise her with Breakfast in bed and on the tray, you could have your teacup which they could use for their morning drink, or you could use it as a vase and add a personal touch with a couple of pretty roses in it which also then matches the flower symbol too.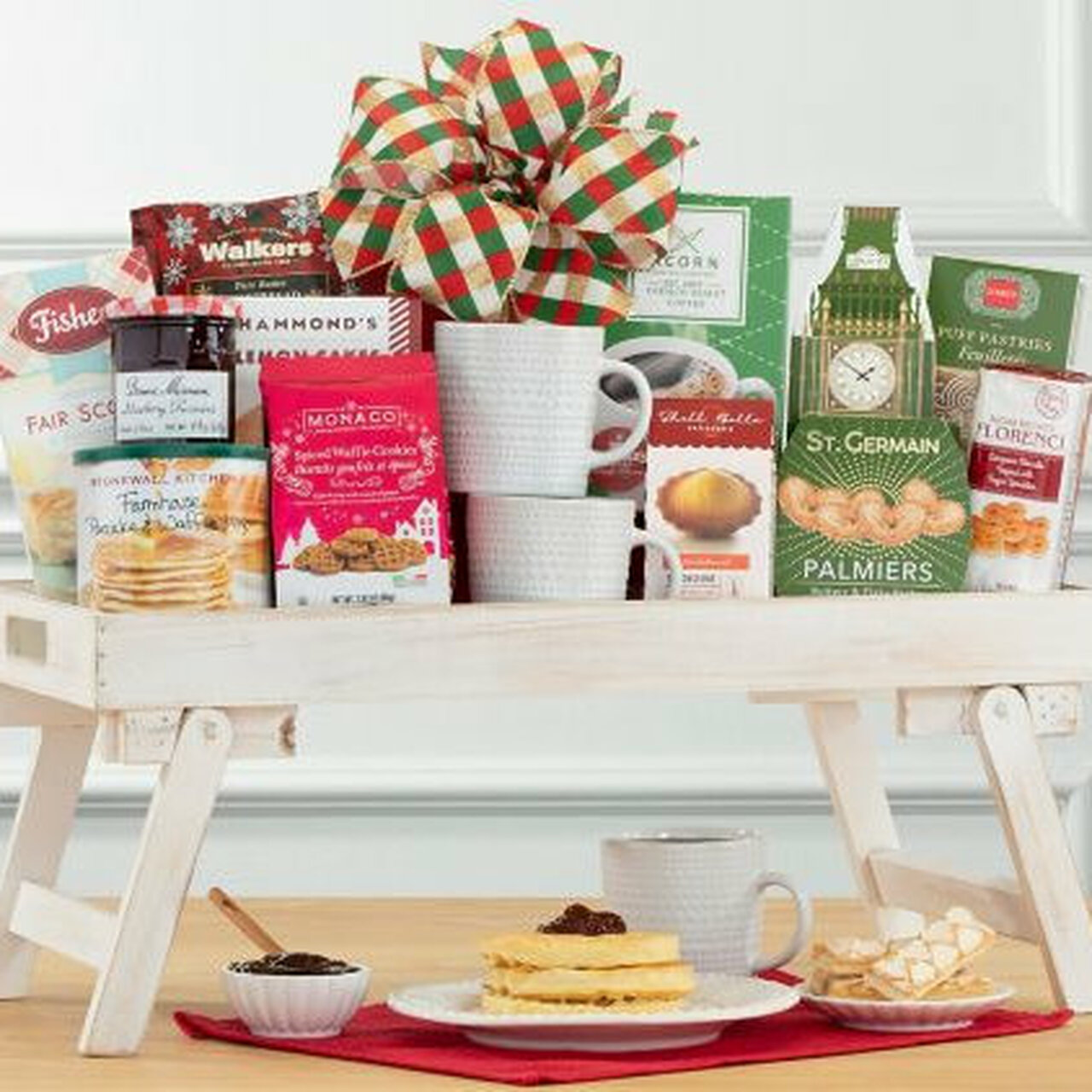 Anniversary Breakfast in Bed Gift Basket
If your Wife loves to entertain you could buy a beautiful tea set or dinner set that she may have been looking at and admired for a few years. A tea set is a very personal gift and is great if you know exactly what they would like but maybe don't buy this if you are not sure or you can both go together to choose a fabulous new set. Because after 36 years of marriage it is unlikely you have all the pieces of your original set you were given or bought when you got married.

As well as traditional bone china dinnerware sets you can also go for something more modern and a personalized Anniversary mug or a bone china vase for your Anniversary flowers. These can be personalized with your names and Wedding Date or Anniversary Date.
Or you can find pieces of bone china jewelry on Etsy, some of which have been made from up-cycled pieces of bone china or some which are more modern. Both styles are stunning and are a lovely unique gift that will be treasured as a souvenir of your 36th Anniversary.
Best Wife Ever Mug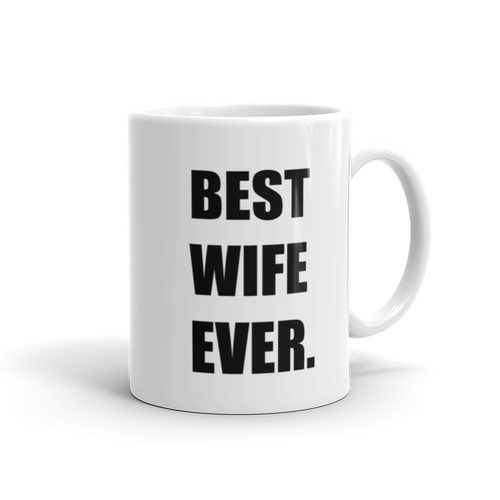 This Best Wife Ever mug is available in our Anniversary Gifts store here.
36th Wedding Anniversary Gifts For Your Husband
When it comes to finding a great gift to fit with this year's theme for your Husband the obvious choice would be to find a bone china piece that is decorated with things that he loves, and yes you can get novelty bone china mugs that have been decorated with most sports from Amazon.
As well as an actual gift your husband may prefer to take a trip to a pottery and although you probably won't be able to see Bone China being made you could have a go at throwing a pot and putting it in the kiln. Unfortunately, the Lenox factory in North Carolina was closed after the pandemic otherwise that would have been a pretty awesome trip. You can still get stunning Lenox pieces now and they are a definite piece of American history.
Best Husband Ever Mug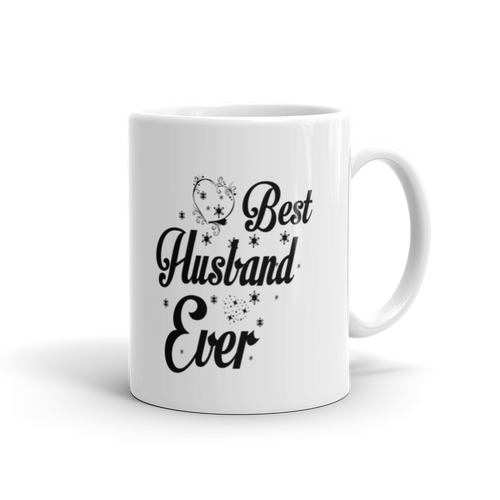 This Best Husband Ever mug is available to buy in our Anniversary store here
36th Anniversary Couples
If you are looking to buy an Anniversary gift for a couple, you could buy
a matching set of mugs
a 36th anniversary plate
a new dinner set
a tea themed gift basket
or a new tea set perfect for tea lovers.
A new dinner set can be quite expensive, but you know it will be treasured for many years, if there are a few of you buying a gift you could club together, and all buy pieces to make it complete. This also works really well if they already have a dinner set that they may have broken a few pieces as you can buy replacement pieces to make it whole again.
Homemade 36th Anniversary Gifts
It is very unlikely that you can make your own Bone China but if you are creative and want to make your own Bone China Anniversary gift there are lots of great ways you can.
You can find plain white bone china mugs and plates which you could decorate yourself, this could be with Happy 36th Anniversary or both of your names and your Anniversary date or something even more personal.
The mug or plate would be a decorative piece rather than one that you can put through the dishwasher.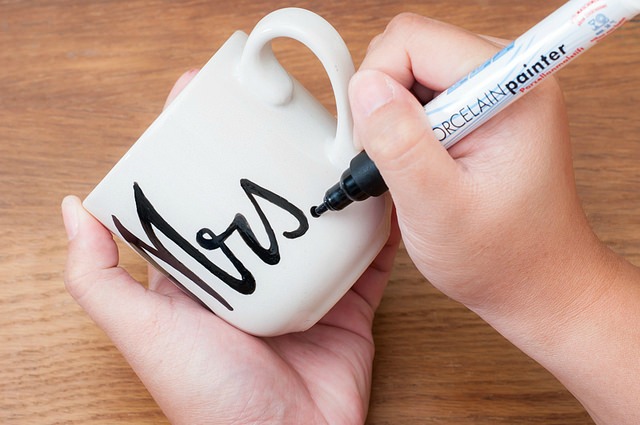 Or you could turn a bone china bowl into an Anniversary Gift basket and fill it with lots of their favorite treats or maybe a bottle of Champage and two glasses.
You can buy bone china cups from thrift stores and these you could turn into candles or you could make your own cake stand with three bone china plates and a cake stand kit. You will need to drill a hole through each plate and then thread the cake stand kit through.
You can also use lots of mis-matched bone china teacups and use them as vases and create a lovely display for your living room or they would look great as a centerpiece if you are having an anniversary celebration.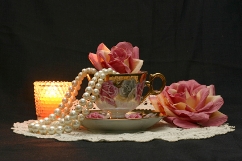 ---
We deliver Anniversary Gifts to USA & UK, Europe, Australia

Contact Us | Shipping & Returns |Privacy Policy | Affiliate Disclosure|Anniversary Blog
Terms & Conditions | About | Site Map