Anniversary Gifts
›
Lists
› Last Minute
Last Minute List Of Anniversary Gifts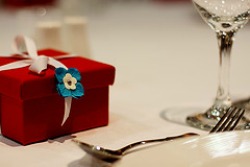 This list of anniversary gifts is for you if you have left your gift buying to the last minute! With all the best intentions in the world anniversaries can be forgotten so this is for you, to make sure you don't get into trouble! They may be a little cheesy but you are running out of time, so the priority is being able to find these gifts at any time. Let's hope your local 24 hour store is ready for you!
It's your 1st anniversary and apart from the fact that it is outrageous that you have forgotten, just kidding, it will be easy to find as traditionally this year is paper. You could print off all of your emails to each other and have them bound in a book, 365 post it notes saying "I Love You" to be stuck everywhere, a beautiful print of your favorite photo together, a blank journal for you to fill with love poems and the reasons why you love them, tickets, and if the minutes are ticking then buy a book.
So you made it to your 2nd anniversary and for this your list of anniversary gifts are made from cotton, t-shirts, new sheets, cotton bag filled with goodies or of you are feeling romantic then paint a great big banner on a white sheet with Happy Anniversary and have it proudly displayed at your home! Try and make sure you are home before them so you can create the maximum wow!
Your 3rd anniversary is celebrated with leather, this can be tricky when you are running out of time so for this list of anniversary gifts you will need to be creative! A leather wallet with a photo of the two of you, a belt, a new bag filled with love notes or one of those fancy travel wallets with a travel brochure for you both to choose a romantic anniversary vacation.
Your 4th anniversary is traditionally celebrated with linen or silk, at least this year you have a choice of two materials! Linen could be one of those canvas prints or smart new linen clothes or smart linen sheets. For silk you could look to find silk pyjamas, maybe even matching ones! Or a smart silk tie, scarf, anything in silk would be good. Some silk scarves are beautiful enough to have as pictures.
Wood is your 5th anniversary, check out lastminute.com for any romantic weekends away in a log cabin, or in the forest. Other gift ideas are a wooden tray for a romantic breakfast in bed, wooden platters to serve a romantic meal or a wooden frame for your favorite photo.
Your 6th is iron, you are looking to visit your local home store for either iron candlesticks or an ornament for your backyard. If your other half has a good sense of humor then your gift could be an iron, but maybe make a voucher stating that you will be doing the ironing for next couple of weeks! If you want to start a hobby together then look at golf as this fits into the iron theme, sorry couldn't resist that one!
7 years and you will be looking at wool fpr your anniversary gift list, no time to knit them a cosy jumper to keep them worn but you could buy one. Enjoy a romantic night in on your 7th anniversary with a cosy woollen blanket for you both to cuddle up with.
Your 8th list of anniversary gifts is bronze and this is not a last minute gift, unless you are very lucky and have a big selection of stores near you. Instead use the number 8 for your gifts theme and have 8 gifts, it could be 8 of their favorite things or 8 new cds or dvds. Think about what they like and choose your gifts wisely.
Your 9th wedding anniversary gift list is pottery, this could be a new mug or new plates or dishes. Cook their favorite meal and serve it in their present!
For your 10th anniversary you will be celebrating with tin; a big tin of candy, or fill a tin with their favorite cakes or cookies. You can also find a number of gifts already in tins in the gift sections of big stores.
You made it through 10 years of last minute anniversary gift buying which is fantastic, you haven't forgotten a single one and that is quite an achievement! If you find yourself caught out in future years have a look at our other gifts by year and if all else fails quickly place an order for a bouquet of flowers to be delivered!
Have a fantastic anniversary, enjoy the romance and the fun that each new year brings and maybe look to write your own list of anniversary gifts so you are ready for next time!

---
Find Your Perfect Anniversary Gift
Contact Us | Privacy Policy | Affiliate Disclosure|Anniversary Blog
Terms & Conditions | About | Advertise With Us | Site Map