10th Anniversary Gift Guide
Your 10th Anniversary is a big event and one that has lots of meaning behind it.
Did you know that the traditional symbol is tin or aluminum? 
And that the modern symbol is diamonds.
Plus Daffodils are your 10th Anniversary flower.
The Tenth Anniversary Meanings
The meaning behind the 10th anniversary symbols is wonderful, you would treasure any of these gifts on your Anniversary as they would be given with such love.
Tin represents how well you have preserved and cared for each other and your marriage over the past ten years.
Diamonds are the modern symbol and are a perfect gemstone for your Anniversary as diamonds represent relationships filled with love and faithfulness.
The 10th Anniversary flower is the daffodil and they have the most beautiful meaning "the sun always shines when I am with you" (Language of Flowers)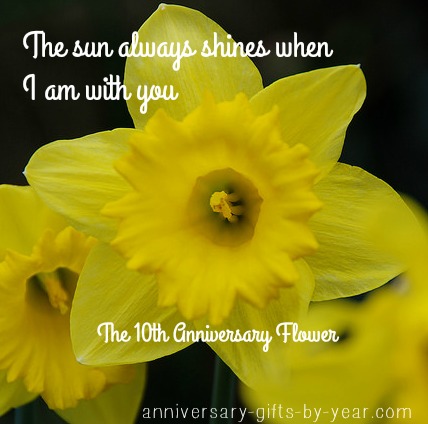 Anniversary Quotes For Ten Years Together
Over the years we have come across lots of beautiful quotes and poems, where love shines through.
Matt Damon celebrated his 10th Wedding Anniversary with his wife Luciana Bozán Barroso in 2015 and was quoted to have said;

"It's a crazy idea but I love being married to my wife. So I wouldn't tell anybody else about their relationship. But I'm lucky I found my wife. And I guess maybe, if there's any secret … it's to feel lucky."
"A lot of good love can happen in ten years" Jim Carey
Mini 10th Anniversary Poems
A decade together as husband and wife,
may love always be with you throughout your life.
10 years of marriage,
you are just getting started!
Love to you both
10 years is just the start
of a lifetime of love straight from my heart
More gift ideas;
A gift basket filled with their favorite cans
Personalized aluminum sign
Sun glasses
A new TV
A new computer
Anything with wires as they have aluminum in them!
Aluminum sculpture
New cooking pans 
Three Diamond Anniversary ring - for your past, your present and your future
Diamond Eternity Ring
More Diamonds!
---
We deliver Anniversary Gifts to USA & UK, Europe, Australia

Contact Us | Shipping & Returns |Privacy Policy | Affiliate Disclosure|Anniversary Blog
Terms & Conditions | About | Site Map