The Three Diamond Anniversary Ring

What do the stones mean?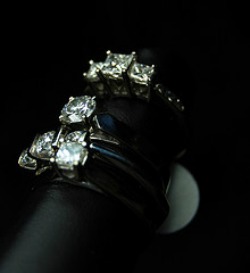 A three diamond anniversary ring is beautiful and for hundreds of years this has been a very traditional anniversary gift.
According to Marilyn Monroe, "Diamonds are a girl's best friend" and who are we to disagree? Especially when they are being given by your very best friend! Why wait until your 60th wedding anniversary to celerate with diamonds when you could be enjoying it now?
Meaning Of A Diamond Anniversary Ring
The 3 stones in the ring represent the past, the present and the future, and when you have 3 diamonds together boy will they sparkle.
A diamond eternity ring is also a beautiful gift, representing that you will be together for eternity, a never ending circle of love.
Where To Buy Your Anniversary Ring
Buying your three diamond anniversary ring from a reputable jewelers in your town is one way to ensure you are getting what you pay for and you could have such a romantic day, a trip to the jewelers  followed by lunch at your favorite restaurant to celebrate.
But it is also worth having a look online. Online shops have less overheads and the choice will be huge.
Here are some great places that have lots of stylish diamond anniversary rings, click on the images to see more.

Men are also getting in on the act of wearing diamond rings, theirs are more solid with the diamonds set into the metal, you could maybe even have matching anniversary rings!
The diamond ring that you choose will be very special to you, even more so if you have waited a number of years, you could make it even more special by having it engraved inside with your names, the dates or a personal message, you are obviously limited on space so you will need to keep your message short!
Personalized Anniversary Rings
This gorgeous couple's ring has both of your birth stones as the main feature, it is available in gold and silver.

You are also able to engrave the ring with your names, this is such a sweet and unique ring.

More details here ...
Available In Our Anniversary Store Today
---
We deliver Anniversary Gifts to USA & UK, Europe, Australia

Contact Us | Privacy Policy | Affiliate Disclosure|Anniversary Blog
Terms & Conditions | About | Site Map