Stunning Anniversary Rings That Will Take Your Breath Away

Anniversary rings are more than just pieces of jewelry; they symbolize the everlasting bond shared between the two of you.
"I say Forever after I Do"
These rings hold a special place in the hearts of couples as they commemorate their enduring love and commitment.
Whether it's your first anniversary or a milestone celebration, choosing the perfect anniversary ring is an opportunity to express your love and create lasting memories.
Here we will explore the significance of anniversary rings and offer some valuable insights to help you find the ideal symbol of your enduring love.
How To Choose Your Anniversary Ring
Anniversary Rings That Reflect Your Style
When selecting an anniversary ring, it's essential to consider your personal style and preferences. Whether you prefer a classic and sophisticated design or a contemporary and bold statement piece, there is a wide range of options to choose from.
From sleek solitaires to intricate designs, finding a ring that resonates with your individual taste ensures that it becomes a cherished piece of your jewelry collection.
Anniversary Rings To Match The Year
Each anniversary holds its own significance, and it's common for couples to commemorate specific milestones with corresponding anniversary rings.
For example, a five-year anniversary might call for a ring with five stones, each representing a year of love and commitment. Matching the ring to the milestone adds sentimental value and tells a unique story of your journey together.
The choice of metal and gemstone in an anniversary ring holds symbolic meaning.
While diamonds are the traditional choice due to their durability and everlasting beauty, other gemstones such as sapphires, rubies, or emeralds can add a personal touch.
The metal, be it gold, platinum, or silver, should complement the gemstone and also match the other rings that they wear. If they always where white metal rings they probably won't wear a yellow gold ring that much.
Personalized Anniversary Rings
To make your anniversary ring even more special, consider adding a personalized touch through customization and engravings.
You can engrave your initials, a significant date, or a heartfelt message that represents your love.
This personalization adds a unique element to the ring, turning it into a cherished heirloom that can be passed down through generations.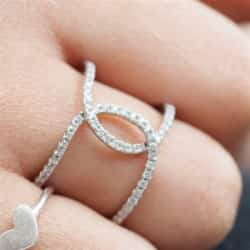 Anniversary Kiss Ring
$65.95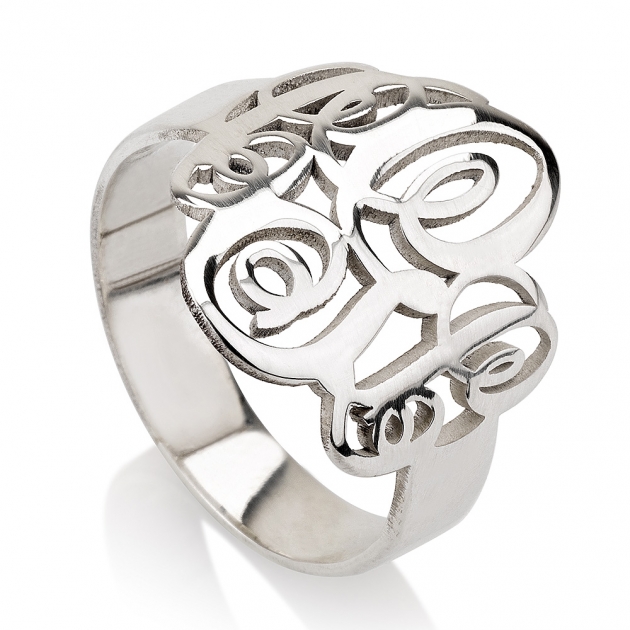 Couples Monogram Ring
$69.95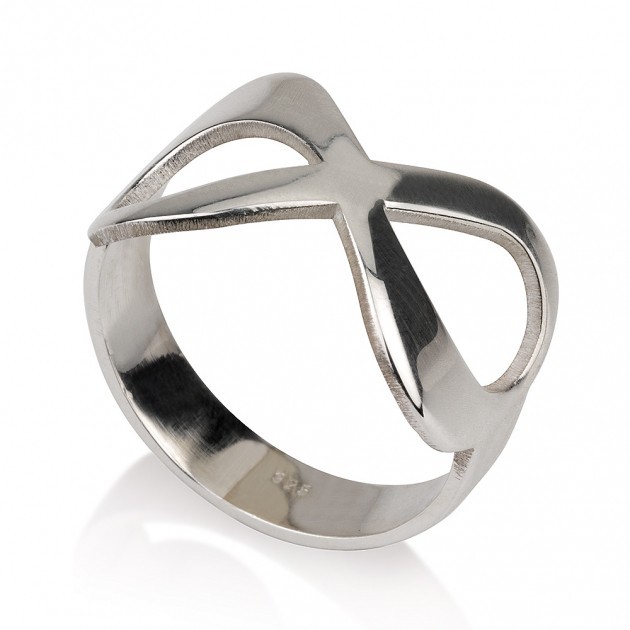 Silver Infinity Ring
$49.99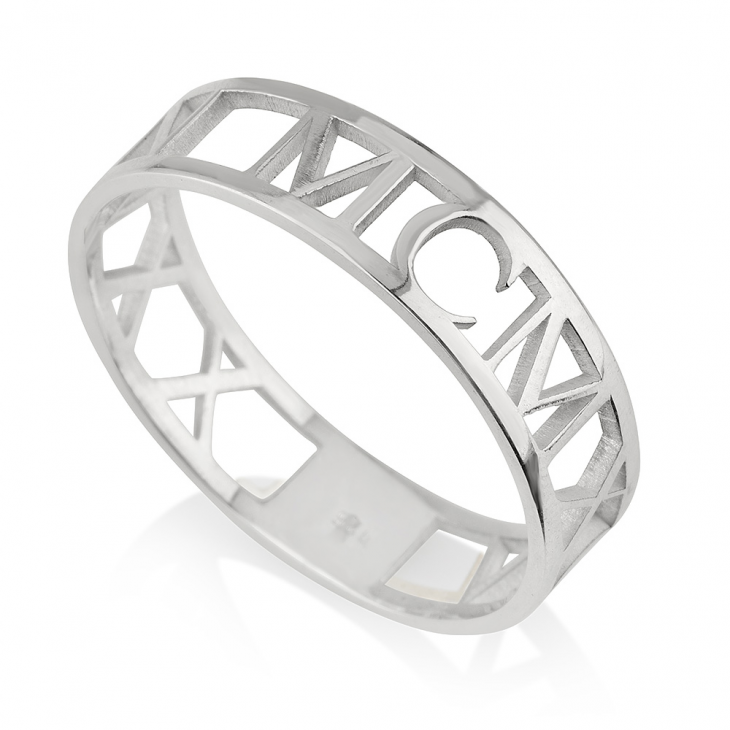 White Gold Anniversary Date Ring
$249.95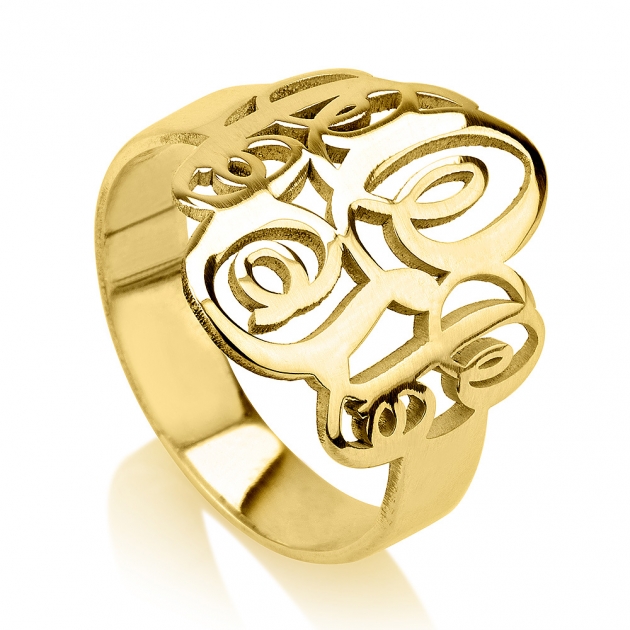 Couples Monogram Ring
$89.95
Anniversary rings don't have to wait until the big Anniversaries, and they don't have to be big and expensive, it is the love and thought that has gone into choosing this romantic gift that will make it extra special.
It may be that when you were engaged you were not able to buy the ring that you wanted. Now as the years have gone by you can now afford that ring. That will be an emotional moment as the box is opened! How about returning to the place where you proposed to make it even more special.
If you are planning on renewing your wedding vows then you may want to exchange rings to symbolise your union and the continued love that you have for each other. Maybe a three diamond anniversary ring is the perfect ring for you. The three diamonds represent the past, the present and the future.
Traditional Anniversary Symbols For Your Ring
You could also choose your ring depending on the anniversary that you are celebrating, from the traditional list you have:
| | |
| --- | --- |
| | This gorgeous silver and leather ring would make a lovely stylish and modern gift. |
For a bronze ring you could choose by the color rather than the metal as the bronze may end up discoloring.

This gorgeous cocktail ring is handcrafted from a caramel colored Agate and is available from Novica.
Steel is one of the most hard wearing materials and there are lots of fabulous designs to choose from.

Worth looking at all of the rings at Amazon
Silver rings can be unusual and pretty, this gorgeous handcrafted ring is called much love! Perfect to show how much you love each other after 25 years.

Available from Novica
| | |
| --- | --- |
| | Jade protects and supports love - perfect for 35 years together. |
The other symbols from the traditional anniversary list don't make great rings, but you could have fun making your own.
Paper for your first, cotton for your second and tin for your tenth - you could use a ring pull from a drinks can for that one!
The modern anniversary list also has some great ideas;
and then the rest of the anniversary ring options are the same as the traditional anniversary list.
As an Amazon Associate Top Anniversary earns from qualifying purchases, these items do not cost you anymore.
Full details on our Affiliate policy can be read here

FAQ on Anniversary Rings 
Anniversary rings are commonly given on significant anniversaries, such as the 5th, 10th, 20th, or 25th year. However, they can be given on any anniversary as a token of love and commitment.
If you don't know the recipient's ring size, you can discreetly borrow a ring they currently wear and have it sized by a jeweler. Alternatively, you can involve your partner in the selection process or opt for adjustable rings.
The exchange of anniversary rings is a personal and individual choice. Some couples choose to exchange rings together, while others surprise their partners. There are no set rules, so do what feels right for you and your relationship.
Absolutely! Anniversary rings are not limited to one gender. Men can wear anniversary rings that suit their style and taste. Common options for men include bands with diamonds or other precious stones.
While anniversary rings are often associated with wedding anniversaries, they can also be given to celebrate other milestones, such as the anniversary of a significant date in your relationship or a personal achievement.

Remember, these answers are general and may vary based on personal preferences and cultural traditions.
---
We deliver Anniversary Gifts to USA & UK, Europe, Australia

Contact Us | Privacy Policy | Affiliate Disclosure|Anniversary Blog
Terms & Conditions | About | Site Map