34th Wedding Anniversary
Congratulations on your soon to be 34th Wedding Anniversary, it is a fantastic achievement and a special occasion that should be celebrated.
After 34 years of marriage you will be looking for a lovely thoughtful gift and we have lots of ideas to help you choose.
It's always a good idea to start by looking at the Anniversary Gift Lists.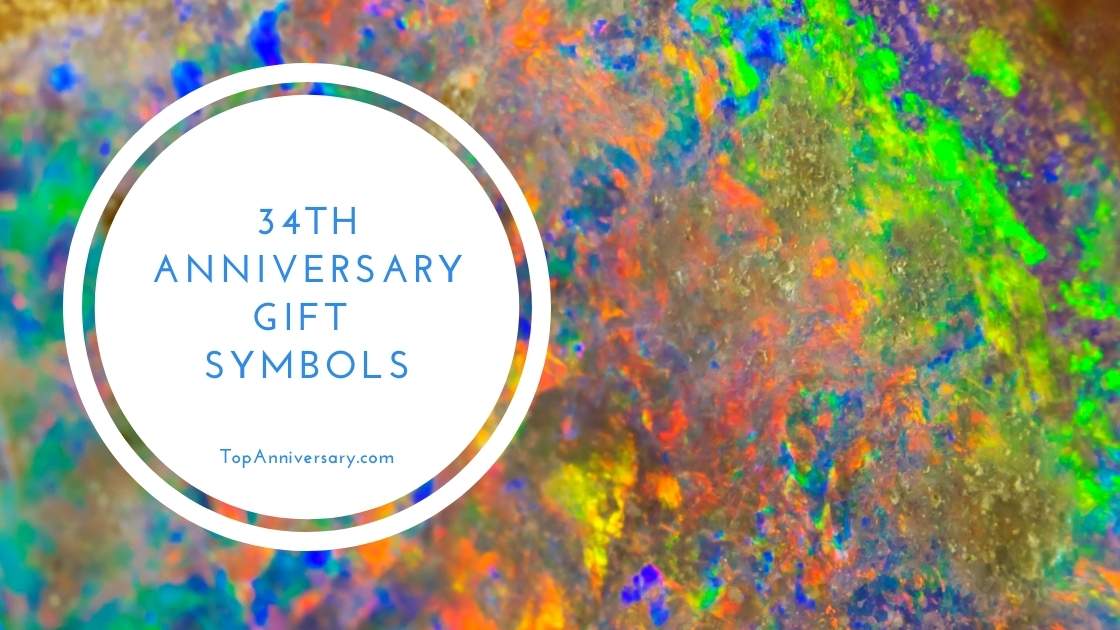 What Is The 34th Anniversary Gift Symbol?
There isn't a traditional material for this year but the modern alternative is the gorgeous gemstone Opal.
On the gemstone list the gift is Amber.
And the 34th Anniversary flower is Poppies.
34th Anniversary Gift Meanings
Opals are the stone for faithful lovers which is a beautiful symbol of a long and happy marriage and in the Middle Ages it was believed to bring good luck as they held the good fortune and power of all the colors within the stone.
Amber on the gemstone list promotes eternal youth and is worn as good luck and protection against evil. It is believed that if you meditate with Amber it eleviates stress and helps you with patience in your relationship.
Poppies have lots of meanings but as a flower for couples they are perfect with the red poppy a symbol for deep and passionate love.
Whichever Anniversary symbol you choose for your anniversary presents you know they are perfect for a married couple celebrating many happy years of marriage.
Traditional Wedding Anniversary Gifts
Although there isn't a traditional symbol for your 34th Anniversary, the modern symbols of Amber and Opals are very traditional gemstones formed millions of years ago.
They may not have been gifted for quite that long but they have for a long time been gemstones that are treasured.
Cleopatra loved Opals so much that when she invited the Roman Emperor to dinner she had her room decorated and herself decorated with Opals, the rumour was that it was these stones that had made Marc Anthony fall in love with her.
And as you can imagine that made Marc Anthony want to find lots of Opals for her.
It made them very popular at Roman Times.
In Ancient times many kings and queens used to think Opals were gifts from the gods and they had fallen from heaven due to the mesmirising colors but instead they are infact mined from the earth. They are formed when water was trapped in cracks in the rocks, normally in iron stone.
Until the huge amount of Opal was discovered in Australia, Opals were only found in the Balkans and they were very rare which made them even more desireable, that it was not just the beauty of the stone but also how difficult it was to find it.
Amber was also prized amongst the Romans they called it the gold of the North and would travel months to find it. They believed it had soothing and medicinal powers.
The traditional gifts in these stones were mainly jewelry as they were worn for their powers
Opal Gemstones
Opals are stunning and are full of color, some colors are rarer than others and therefore even more special when you give them as a gift.
Blue and Green Opals
Black Opal very rare with dark green flashes
White Opals with a rainbow of colors
Fire Opal with flashes of red and orange colors
As well as the real thing there are also synthetic opals, they can look the same and also have teh same internal structure and composition and so anyone who sells them has to mark them as synthetic or manmade. The good news is that they are cheaper than the real thing.
A beautiful Opal will stand the test of time just like your love making them a great way to say Happy Anniversary.
What Is Amber?
Amber is an unusual gemstone in that it is not a rock or a crystal but was formed millions of years ago and is in fact fossilized tree resin which is why you can find pieces of Amber with tiny little flowers or leaves, as well as insects.
It is a beautiful honey color and comes in dark yellows and browns. It has been prized for centuries and is also believed to bring good fortune to relationships. It helps you have an understanding and patience of your partner. It has been worn as a talisman and protects the wearer from stress.
Yellow Amber is more expensive as it is considered to be of a finer quality and you can find gorgeous pieces of jewelry made with Amber.
What Can You Buy Your Husband For Your 34th Anniversary Gift?
The Best Husband in the World need the best gifts and when it comes to finding a traditional gift that fits with the theme you can choose a number of items.
and the same goes for Amber too
What you choose really depends on what your Husband's style is and also which gemstone you want to choose maybe based on the meaning of the gemstone.
What Is A Good Gift To Buy Your Wife for your 34th Wedding Anniversary?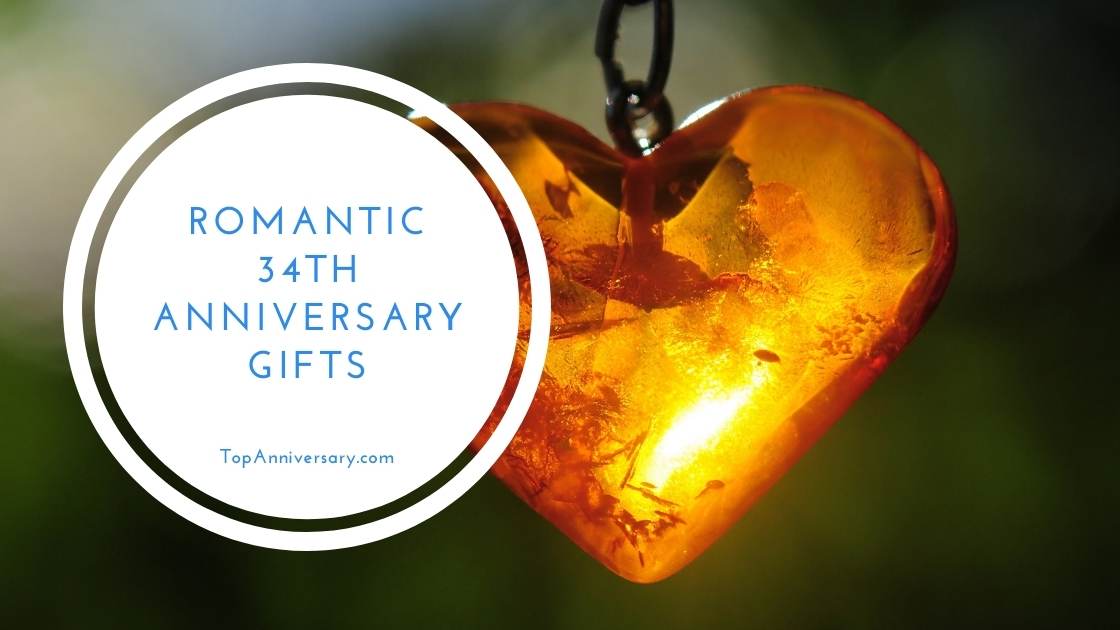 The perfect 34th Wedding Anniversary gift for your wife is one that fits with the modern themes but that is also a traditional anniversary gift that you know they will treasure.
After 34 years of love you want a thoughtful gift and these unusual gemstones provide just that.
You can buy Opal Jewelry
Opal rings, maybe to compliment your Wedding Rings or Engagement Rings.
Opal Earrings
Or buy Amber Jewelry
Both gemstones can be found in traditional styles, quite often in gold and also as a larger style in silver as a more modern gift.
34th Anniversary Gifts For Your Parents or Couples
When it comes to choosing a 34th year anniversary gift for your parents you could choose to buy them both a piece of jewelry in the appropriate stone.
Or a stunning large piece of Amber or Opal that they could display in their living room. These they could use as a paperweight or a book end or as part of a display on a side table or shelf. Both gemstones would look stunning as they will both catch the light. Just be careful not to leave Amber in too much direct sunlight or heat as it doesn't like this.
The great thing about this gift is that everytime they go past they will remember their Anniversary and you.
Or you could look at Poppies instead.
If they love their garden and flowers you could plant a pot with poppies so that they will flower for them in Spring to Summer. One of the great qualities of poppies is that they flower every year so this will be the gift that keeps giving for their Anniversary.
If you are looking for a token gift idea you could buy packets of poppy seeds or an Amber rose for them to plant at home.
If their Anniversary is not in Spring to early Summer you could buy them someting with a Poppy design or a Poppy Ornament to remind them of their Anniversary.
Poppy Coffee Mugs look cute and you could get them a matching set.
34th Anniversary Vacation Ideas
A great way to incorporate your 34th Anniversary theme into your gift is to go on vacation where you can find Opals and Amber in the world.
97% of the world's opals come from Australia, mainly from South Australia and you could have so much fun travelling around this amazing country and exploring together. You could even hire an RV and plan to spend a long time exploring places like the coral reef, Sydney, the national parks, rain forest, the stunning beaches and enjoy this country's famous hospitality.
Other countries with Opal are
Amber is mainly found in European countries; Norway, Denmark, England, Germany, Sicily, Poland, Estonia, Latvia, Lithuania and also Russia.
There have also been deposits found closer to home in the United States in Arkansas and New Jersey.
As well as Mexico and Canada.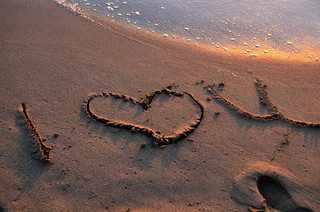 Have a think about the type of Anniversary vacation you would both love and choose the country depending on what you would like to do. While you are there you can look at finding a piece of Amber or Opal as a reminder of your Anniversary and the fun times you spend together.
If you prefer a more relaxing vacation you could visit Mexico which shouldn't be too far to travel to and relax on a beautiful white sandy beach with a fabulous cocktail.
If you love to visit historic places the list of countries has lots to choose from; castles in England and Germany, palaces in Denmark, beautiful old villages in Sicily and Latvia.
If you love to visit the wonders of nature when you are travelling then the fjords of Norway are incredible, or you have Mount Etna in Sicily, Canada for the Falls and the Rockies, Brazil and Mexico are also filled with stunning places to visit.
If you love the mix of modern and traditional you could visit Japan and delight in Geisha tea ceremonies and the blosson trees as well as the wonders of modern technology for almost everything.
Poppy Anniversary Gift Ideas
Poppies work really well as a gift if your Wedding was in the Spring or the early Summer, they are beautiful flowers but not ones we often associate with gifting mainly because of their many symbols.
When it comes to gifting Poppies for an Anniversary you want to gift red ones as they are the symbol of deep and passionate love. Orange poppies are also beautiful.
The great thing about Poppies for your Anniversary is that they flower every year so when you have found the perfect spot for them you can leave them there forever.
You could plant a pot of poppies or gift them lots of packs of poppy seeds that they can plant themselves. You will want to plant them in Spring or Fall, so if they were married in Fall they would also make a great gift.
Choose a sunny spot as they prefer that and sow them on top of the soil, you can see directions here.
34th Anniversary Gifts From Your Year of Marriage
Your special day 34 years ago is one that is very special to you both and therefore rather than just thinking about gifts that are made from that symbol you can also use the date as part of your gift.
You can also personalize and engrave your Anniversary Gift with your Wedding Date and your names.
Or a cute Happy anniversary message
Thirty Four Years and Forever To Go
I have loved you for thirty four years and love you more each day
Gorgeous Wife you are the best
To the Best Husband, looking forward to all of our adventures in the next thirty four years.
Milestone Anniversaries
Don't forget next year is your 35th Anniversary, with traditional gifts of Coral or Jade and it is a milestone anniversary
With over a year to plan you will find the perfect way to celebrate.
This year we wish you a very Happy 34th Anniversary.
---
We deliver Anniversary Gifts to USA & UK, Europe, Australia

Contact Us | Privacy Policy | Affiliate Disclosure|Anniversary Blog
Terms & Conditions | About | Site Map