Homemade 10 Year Anniversary Gift Ideas
Homemade 10 Year Anniversary Gift Ideas

Your 10 year anniversary gift ideas are traditionally made from tin and there are lots of traditional gifts that you can find that would be perfect to celebrate ten years together. 
The meaning behind the ten year symbol of tin is that it represents the strength of your marriage and how together you are preserving and looking after your relationship.
If you are looking for a personal present and you want to make your own then using the tin theme makes perfect sense!

Tin Vase
The simplest homemade anniversary gift is one that you use tin cans, yes those cans that yesterday held beans will today be transformed into something beautiful!

You will need a can, some wrapping paper, or photos or the two of you and some sticky tape. Plus scissors! The easiest craft to make using a tin can is a pen holder, desk tidy or a vase. Use the wrapping paper or photo collage to cover the outside of the tin and a contrasting paper for the inside.

If you want to fill your can with water and flowers then don't cover the inside of the tin. You could use the new vase as the centerpiece for your romantic anniversary dinner or you could fill the tins with favorite plants or herbs if they are into cooking. Another easy way to clever the tin is to spray paint them.

         Tin Flower Vase Photo

by Samantha (This Home Sweet Home)
Tin Lantern
Another homemade 10 year anniversary gift idea is to turn those tin cans into a lantern, you will need a tin can, a wipeboard marker, a nail and a hammer. Fill your tin can with water and pop it into the freezer until it is frozen, then use your pen to make a design onto the tin can, it could be a heart, or I Love You or your initials. When you are happy with your design use the hammer and nail and punch out holes on the design. When the ice has thawed you can put a tea light into the tin which will shine through the holes. If you made quite a few then they would be a perfect decoration for a 10th anniversary celebration.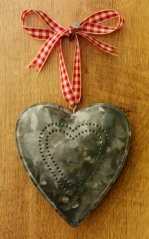 You can also use this method of punching a design into tin to make all sorts of homemade decorations, this time you are not going to go all the way though you will be using the hammer and nail to make dents. You can use sheet tin for this which you can pick up in a diy store, or if you are being thrifty you could use the base of a pie plate. Again you could create beautiful hearts, the number 10 or something that is special to the two of you.
You could also use a cake tin as a gift box for your homemade gift. Ideas could be baking their favorite cookies, really anything that you have made would look great in a tin. And if you are not that crafty why not decorate a tin with photos of the two of you and fill it with their favorite things?
Shop 10th Anniversary Gifts
Of course 10 year anniversary gifts don't have to be homemade, you could always get someone else to make it for you! 
Here are lots of stunning 10th Wedding Anniversary Gifts
---
Contact Us | Privacy Policy | Affiliate Disclosure|Anniversary Blog
Terms & Conditions | About | Advertise With Us | Site Map