Tin Lantern
Another homemade 10 year anniversary gift idea is to turn those tin cans into a lantern, you will need a tin can, a wipeboard marker, a nail and a hammer. Fill your tin can with water and pop it into the freezer until it is frozen, then use your pen to make a design onto the tin can, it could be a heart, or I Love You or your initials. When you are happy with your design use the hammer and nail and punch out holes on the design. When the ice has thawed you can put a tea light into the tin which will shine through the holes. If you made quite a few then they would be a perfect decoration for a 10th anniversary celebration.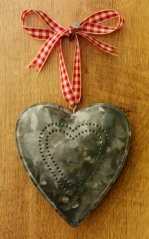 You can also use this method of punching a design into tin to make all sorts of homemade decorations, this time you are not going to go all the way though you will be using the hammer and nail to make dents. You can use sheet tin for this which you can pick up in a diy store, or if you are being thrifty you could use the base of a pie plate. Again you could create beautiful hearts, the number 10 or something that is special to the two of you.
You could also use a cake tin as a gift box for your homemade gift. Ideas could be baking their favorite cookies, really anything that you have made would look great in a tin. And if you are not that crafty why not decorate a tin with photos of the two of you and fill it with their favorite things?