10 Year Wedding Anniversary Band Ideas
Are you approaching your 10th wedding anniversary and want to celebrate it in style?
A 10-year anniversary band is a perfect gift to celebrate your love and this significant milestone.
Anniversary bands are a special piece of jewelry that is gifted to commemorate a milestone in a couple's life. Unlike wedding rings, anniversary bands are often embellished with diamonds or other precious stones. They are a perfect way to show your partner how much you love and appreciate them especially after 10 years of marriage.
And just like the two of you your Anniversary Band will stand the test of time.
Traditional Anniversary Gifts for 10th Wedding Anniversary
Traditionally, the 10th wedding anniversary is celebrated with tin or aluminum gifts. These gifts symbolize the durability and flexibility of your relationship.
However, modern gifts include diamonds, which represents strength, endurance, and everlasting love.
Popular Styles of 10-Year Anniversary Bands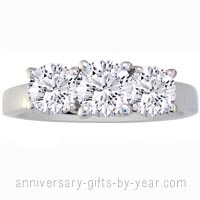 There are several popular styles of 10-year anniversary bands to choose from.
An Eternity ring is a classic style that features diamonds or other stones that encircle the entire band.
Another popular style is the three-stone band, which symbolizes the past, present, and future of your relationship.
You can also choose a band with diamonds and your choice of precious stone.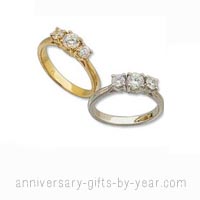 As an Amazon Associate Top Anniversary earns from qualifying purchases, these items do not cost you anymore.
Full details on our Affiliate policy can be read here

Selecting the Right Metal for Your Anniversary Band
The first thing to think about is what metal you are going to choose for your anniversary band, it is important to consider the durability and how it will look with your wedding band and engagement ring.
That is if you are planning on wearing your Anniversary Band with your other rings or you may want to wear them on your right hand in which case you don't have to match the metal.
The options are
Rose Gold
Sterling Silver
Silver
Yellow Gold
White Gold
Platinum
Titanium
The most durable metal will be Titanium but choose the ring that will fit with your personal style so that you wear it as often as you want to.
Setting Options for Anniversary Bands
A 10th anniversary ring can be an Eternity ring where you have the gemstones and diamonds all the way round the band, or you can have a half band.
You can also have a three stone ring to represent the past, present and future.
And you can also have any ring design that you want. This could be the diamond ring you always wanted.
Popular Gemstone Options for Anniversary Bands
The best anniversary rings are the ones that you are going to treasure forever just like the love of your life and after a decade of marriage this is the perfect time to celebrate.
Popular gemstones that can be used in anniversary bands are; diamonds, sapphires, rubies and emeralds.
Diamond Anniversary Bands would be perfect for your 10th anniversary gift as diamonds are the gemstone this year.
A Sapphire ring which is set with diamonds is a classic eternity band and you can also have the same style with ruby and diamonds or emerald and diamonds.
Gemstone Meanings for Your Anniversary Band
A Diamond Anniversary Ring is for everlasting love
Emeralds bring good fortune and youth
Rubies are filled with love
Sapphires are the stones for fidelity and loyalty.
Designing Your Custom Anniversary Band
If you want a unique Anniversary ring you will need to design it yourself. This you can do with a jewelry designer.
If you don't know a jewelry designer that you would like to use make lots of enquiries and find designers that you like the look of their work. Then have a chat with them to discuss what you are looking for.
When you are choosing the stones that you would like you may want to have a think about the meaning of the gemstones and choose ones that are important to you.
You could use both of your birthstones to create a trully unique jewelry piece and also have it engraved with the date of your wedding and your anniversary.
Or you could look at reusing gemstones from vintage rings that family members have owned. That way you are combining your family's history with your future.
A custom Anniversary Band is a lovely way to remember your 10th Anniversary.
An anniversary band is often worn with a wedding ring in a stack on your ring finger, but it doesn't have to be.
Your 10th Anniversary is a milestone anniversary, in other words a big Anniversary and one to be celebrated.
Anniversary bands can be worn by men and women. There is no specific style that you have to use for an Anniversary band and instead it should be a ring that fits with your style.
You can resize an Anniversary band but you will need to be careful of the stones as they can come loose if not done correctly.
There is no formula for how much you should spend on an anniversary band and it really should be how much you can afford.
---
We deliver Anniversary Gifts to USA & UK, Europe, Australia

Contact Us | Shipping & Returns |Privacy Policy | Affiliate Disclosure|Anniversary Blog
Terms & Conditions | About | Site Map