10 Year Anniversary Party Ideas 

10 year Anniversary party ideas come in all sorts of colors and themes, this is the first big milestone anniversary which makes it a special occasion and one that is worth celebrating in style!
After 10 years of marriage you will have lots of close friends that will want to celebrate your 10th Anniversary and holding a party is a wonderful way to share your special day with them. However, it does make your guest list nice and big too so whether you are planning your own anniversary party or you are organizing a surprise party you will want to be organized.
Start by thinking about everyone you would like to invite, your family members and closest friends and then that will give you a rough idea of numbers
When you know how many people you want to invite it will help you work out if you can hold your party at home or if you need to find a venue.
The numbers will help you shortlist the venues you can fit everyone in, it could be a table at your favorite restaurant or your church hall or a big hotel ballroom or at home and then you can plan the party from there.
You will also want to think about what delicious food you would like to serve
Entertainment to think about, whether you want to have live music with your favorite band, or a photo booth
If you have invited lots of children then you may want to think about fun activities to keep them entertained too.
Do you want an Anniversary Cake which could be a mini replica of your wedding cake.
Don't forget to print your Anniversary Party Checklist which will help you keep less stressed.
This is also the time to think about whether you want to renew your wedding vows, which is a lovely romantic thing to do.
Starting with the traditional anniversary theme and you have tin, maybe not the most glamorous of items but there are lots of fun ways to incorporate it into your theme.
Meaning of the 10th Anniversary Symbol
Tin may not be the most glamorous of gifts but the meaning behind the gift shows the strength of your marriage.
And you have diamonds as the modern symbol, which makes your Anniversary Party the perfect place to introduce your new diamond jewelry.
Themed 10th Wedding Anniversary Party Ideas
Choosing the theme of your party will set the tone of you party.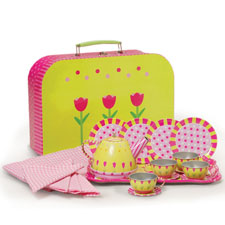 You could go vintage and have an afternoon tea party complete with pretty vintage tin plates filled with gorgeous cakes and pastel colors everywhere.
Think village fete when you go with this idea. You can have cute sandwiches and cake stands filled with yummy goodies, plus pots of tea and big jugs of homemade lemonade. You don't need to have many decorations as all of the cakes will be decoration enough and if the weather is kind to you on your 10th anniversary then this is the perfect time for a garden party.
If your own back yard is not big enough for all of your guests then you could look at having your anniversary at your local park, you may need to let the local park wardens know that you are holding a party so that they can reserve an area for you.
| | |
| --- | --- |
| | When it comes to parties tin can also be a great relaxed big tin bucket filled with ice cold beers and a bbq on the go. This kind of party is fun, you may want to see if you can find somebody to man the bbq so you don't have to. There is nothing worse than spending the night cooking and not getting to enjoy your own party. |
Or you could go super sparkly and have a Diamond themed Anniversary party with lots of sparkly gems everywhere. This will be easier if you choose a venue with fabulous chandeliers or looks sparkly with mirrors.
Tin Themed Anniversary Party Decorations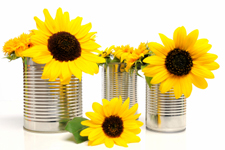 Tin party decorations you can make yourself with old tin cans. You can turn them into lanterns by punching holes in the can and then popping in a candle, or have the tin cans as your vases for the tables. An old tin pail or a tin watering can also work well as vases.
10 year anniversary party ideas don't have to be just in tin, as diamonds are the symbol of your 10th anniversary on the modern anniversary list and diamonds are big sparkly types of parties!
Diamond parties could be a fantastic over the top celebration, a weekend away with all of your close family and friends. A destination 10th anniversary party at one of those fabulous all-inclusive resorts or an anniversary cruise. The invitations are all you would really need to do, the partying while you are away will probably take care of itself! However you may want to book a private dining area for one of the evenings.
Just think a beautiful venue with flowers or candles on the tables, a beautiful meal and dancing. It could be the wedding reception you didn't have but now can. And you could really add to the moment and have this great 10th anniversary party after renewing your vows.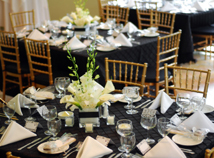 Other symbols for your 10th anniversary that you can incorporate into your wedding anniversary party are the 10 year anniversary flower which is the daffodil - great if you are celebrating in the Spring but not brilliant any other time of the year. And the color for your 10th wedding anniversary is silver.
Your 10 year anniversary party ideas don't have to be big celebrations, you could instead invite 10 friends to dinner and have a big 10 theme with your decorations. 10 candles, 10 flowers, 10 of everything!
With all 10th anniversary parties the decorations are important, and somewhere you need to find space to show off your photos from the past 10 years, don't forget some of your wedding photographs too!
Romantic Ideas For Your Party
Celebrate the two of you and your successful marriage with lots of favorite photos of the two of you everywhere. It can be ones from when you were dating or your Wedding Day that others may not have seen.
You could also re-do your wedding song with all of your best moves or take this as as an opportunity to have the songs played that you love now.
Also, remember to take time for just the two of you. If you think back to your wedding day and how quickly the day went just try and grab a moment to take it all in.
Latest Trends For Your 10th Anniversary Party
A photo shoot to celebrate a decade of marriage is becoming more and more popular and with you both dressed up for your party this may be the perfect opportunity. You could get ready early and spend time together recreating your favorite wedding photos.
Going full on glamorous is also popular with cocktail party ideas being having a his and hers cocktail, or if you are having your party at home you could have your guests bring the ingredients for their favorite cocktail.
A time capsule is also popular, you may have started it on your first anniversary and if that's the case you can add to it now, or you could look at starting one now and open it on your next milestone Anniversary or every 10th year.
If you are having a big party a great way to cater for all your guests is to have street food vans turn up and feed your guests.
Just remember you don't have to have a 10th Anniversary party you may prefer to go on a much-needed vacation, a cruise, a boat ride or a road trip, maybe take a trip down memory lane and plan a long weekend just the two of you with lots of romantic dates.
---
We deliver Anniversary Gifts to USA & UK, Europe, Australia

Contact Us | Shipping & Returns |Privacy Policy | Affiliate Disclosure|Anniversary Blog
Terms & Conditions | About | Site Map