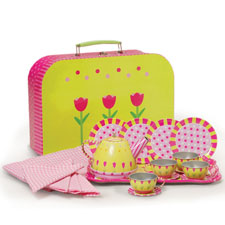 Teaset available from Constplay
You could go vintage and have an afternoon tea party complete with pretty vintage tin plates filled with gorgeous cakes and pastel colors everywhere.
Think village fete when you go with this idea. You can have cute sandwiches and cake stands filled with yummy goodies, plus pots of tea and big jugs of homemade lemonade. You don't need to have many decorations as all of the cakes will be decoration enough and if the weather is kind to you on your 10th anniversary then this is the perfect time for a garden party.