10 Year Anniversary Party Ideas 

10 Year anniversary party ideas come in all sorts of colors and themes, this is the first big anniversary and one that is worth celebrating in style!
Starting with the traditional anniversary theme and you have tin, maybe not the most glamorous of items but there are lots of fun ways to incorporate it into your theme.
Meaning of the 10th Anniversary Symbol
Tin may not be the most glamorous of gifts but the meaning behind the gift shows the strength of your marriage.
10th Anniversary Party Decorations
Teaset available from Constplay

You could go vintage and have an afternoon tea party complete with pretty vintage tin plates filled with gorgeous cakes and pastel colors everywhere.

Think village fete when you go with this idea. You can have cute sandwiches and cake stands filled with yummy goodies, plus pots of tea and big jugs of homemade lemonade. You don't need to have many decorations as all of the cakes will be decoration enough and if the weather is kind to you on your 10th anniversary then this is the perfect time for a garden party.
If your own back yard is not big enough for all of your guests then you could look at having your anniversary at your local park, you may need to let the local park wardens know that you are holding a party so that they can reserve an area for you.
| | |
| --- | --- |
| | When it comes to parties tin can also be a great relaxed big tin bucket filled with ice cold beers and a bbq on the go. This kind of party is fun, you may want to see if you can find somebody to man the bbq so you don't have to. There is nothing worse than spending the night cooking and not getting to enjoy your own party. |
Tin Themed Anniversary Party Decorations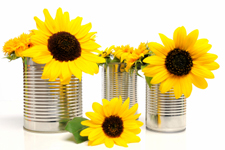 Tin party decorations you can make yourself with old tin cans. You can turn them into lanterns by punching holes in the can and then popping in a candle, or have the tin cans as your vases for the tables. An old tin pail or a tin watering can also work well as vases.
10 year anniversary party ideas don't have to be just in tin, as diamonds are the symbol of your 10th anniversary on the modern anniversary list and diamonds are big sparkly types of parties!
Diamond parties could be a fantastic over the top celebration, a weekend away with all of your close family and friends. A destination 10th anniversary party at one of those fabulous all-inclusive resorts or an anniversary cruise. The invitations are all you would really need to do, the partying while you are away will probably take care of itself! However you may want to book a private dining area for one of the evenings.
Just think a beautiful venue with flowers or candles on the tables, a beautiful meal and dancing. It could be the wedding reception you didn't have but now can. And you could really add to the moment and have this great 10th anniversary party after renewing your vows.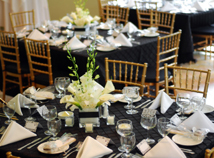 Other symbols for your 10th anniversary that you can incorporate into your wedding anniversary party are the 10 year anniversary flower which is the daffodil - great if you are celebrating in the Spring but not brilliant any other time of the year. And the color for your 10th wedding anniversary is silver.
Your 10 year anniversary party ideas don't have to be big celebrations, you could instead invite 10 friends to dinner and have a big 10 theme with your decorations. 10 candles, 10 flowers, 10 of everything!
With all 10th anniversary parties the decorations are important, and somewhere you need to find space to show off your photos from the past 10 years, don't forget some of your wedding photographs too!
---
We deliver Anniversary Gifts to USA & UK, Europe, Australia

Contact Us | Privacy Policy | Affiliate Disclosure|Anniversary Blog
Terms & Conditions | About | Advertise With Us | Site Map