Home > Lists > What Anniversary
What Wedding Anniversary Is It This Year?
Our Anniversary chart will tell you what your Wedding Anniversary is by the year you were married.
Find out the meaning behind the gifts by clicking on the links...
And make even more of the year you were born with an Original Newspaper or a reprint of the front page.
| | | |
| --- | --- | --- |
| Year You Were Married | Anniversary in 2017 | Symbol For This Year |
| 1947 | 70th | Oak |
| 1948 | 69th | Larch |
| 1949 | 68th | Granite |
| 1950 | 67th | Star Sapphire |
| 1951 | 66th | Jasmine |
| 1952 | | |
| 1953 | 64th | Sunflowers |
| 1954 | 63rd | Lilac |
| 1955 | 62nd | Ivory |
| 1956 | 61st | Tree |
| 1957 | | |
| 1958 | 59th | Olive |
| 1959 | 58th | Maple |
| 1960 | 57th | Mirror |
| 1961 | 56th | Boxwood |
| 1962 | | |
| 1963 | 54th | Glass |
| 1964 | 53rd | Cherry Tree |
| 1965 | 52nd | Topaz |
| 1966 | 51st | Pastures |
| 1967 | | |
| 1968 | 49th | Luxuries |
| 1969 | 48th | Optical |
| 1970 | 47th | Books |
| 1971 | 46th | Poetry |
| 1972 | | |
| 1973 | 44th | Groceries |
| 1974 | 43rd | Travel |
| 1975 | 42nd | Real Estate |
| 1976 | 41st | |
| 1977 | 40th | |
| 1978 | 39th | |
| 1979 | 38th | Beryl |
| 1980 | 37th | Alabaster |
| 1981 | 36th | Bone China |
| 1982 | | |
| 1983 | 34th | |
| 1984 | 33rd | |
| 1985 | 32nd | Cars |
| 1986 | 31st | Timepiece |
| 1987 | | |
| 1988 | 29th | Furniture |
| 1989 | 28th | Orchids |
| 1990 | 27th | Sculptures |
| 1991 | | Pictures |
| 1992 | | |
| 1993 | 24th | Musical Instruments |
| 1994 | 23rd | Silver Plate |
| 1995 | 22nd | |
| 1996 | | Brass |
| 1997 | | China |
| 1998 | | |
| 1999 | | Porcelain |
| 2000 | | Furniture |
| 2001 | | Silver |
| 2002 | | |
| 2003 | | |
| 2004 | | |
| 2005 | | Silk |
| 2006 | | Steel |
| 2007 | | Tin |
| 2008 | | Pottery |
| 2009 | | Bronze |
| 2010 | | Copper |
| 2011 | | Iron |
| 2012 | | Wooden |
| 2013 | | Linen/Fruit and Flowers |
| 2014 | | Leather |
| 2015 | | |
| 2016 | | |
---
Find Your Perfect Anniversary Gift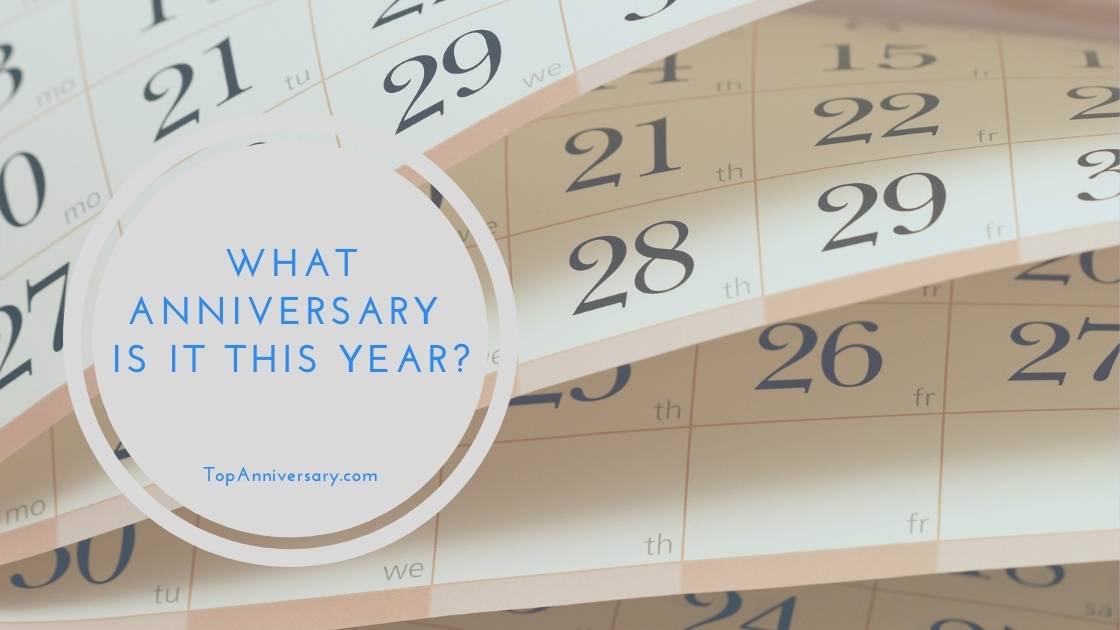 Contact Us | Privacy Policy | Affiliate Disclosure|Anniversary Blog
Terms & Conditions | About | Advertise With Us | Site Map