Sparkly 6th Anniversary Gifts
Your 6th anniversary is traditionally celebrated with candy or iron and from the modern list with wood. All of these are great gifts but if you want a present that has a bit more sparkle have a look at the gemstone list.
The gem for 6 years is Amethyst, the beautiful purple stone that is steeped in history and ancient stories. It is considered to be the stone of protection, controls evil thoughts, increases intelligence and encourages calmness and bravery.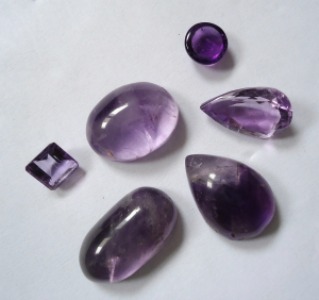 In Feng Shui the Amethyst improves the wealth corner and focus on giving and receiving wealth.
So not only is it a stunning stone it also has some pretty powerful strengths too, across a number of cultures!
There is also a sweet story that Saint Valentine is thought to have worn an Amethyst ring which was engraved with a cupid. Catherine The Great, the Russian princess loved the stone so much she sent soldiers to find more in the Urals. It is also in a number of pieces in the British Crown jewels.
You would be in good company if you decided to give this stone as your anniversary gift and although this is the stone for your 6th anniversary that doesn't stop you gifting it at another anniversary. This would hold even more importance if you felt that they could benefit from protection or also just because it is beautiful. Beautiful is important on an anniversary. There are some beautiful pieces that would be perfect for your anniversary.
Amethyst Themed Anniversary Vacations
As well as some stunning jewelry you could also look at travelling to where Amethysts are found and there are some pretty amazing places to visit for an anniversary vacation.
They are the Alps in Austria and Germany, Brazil, Bolivia, Canada, India, Russia, USA and Sri Lanka.
Some of the places have more Amethyst than others and there are even places within these countries that have places named after this beautiful stone one famous example is the Amethyst Mountain, Texas. You can also visit some of the mines in these areas and maybe even find your own piece - how about that for an anniversary gift!
Of course mining for Amethyst crystals is really only an excuse for a great vacation! You could just as happily spend your time sight seeing, climbing mountains, skiing, sunbathing and chilling by the pool.
Happy 6th anniversary!
If you fancy more traditional 6th anniversary gifts then there are lots of ideas here.
---
Contact Us | Privacy Policy | Affiliate Disclosure|Anniversary Blog
Terms & Conditions | About | Advertise With Us | Site Map