Unique 46th Wedding Anniversary Gift Ideas
Your 46th Wedding Anniversary is the perfect time to tell your love how much they mean to you as this year's symbols are
Poetry on the modern list 
And Pearls on the gemstone list.
Both are beautifully romantic and the poetry gives you a very unique opportunity to create something wonderful.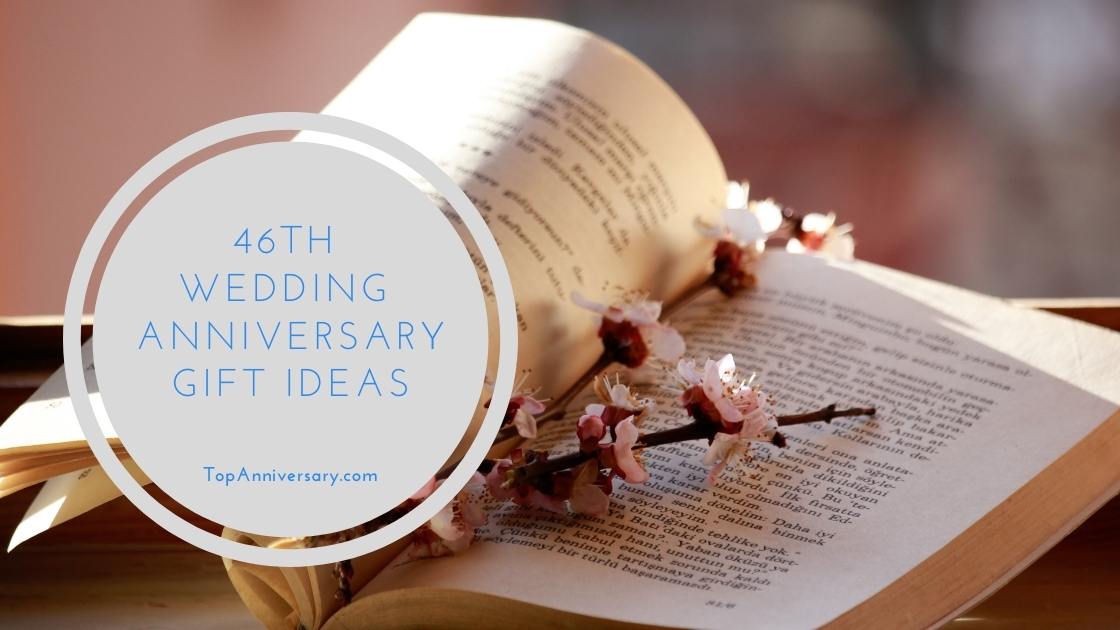 46th Anniversary Meanings
Poetry for your 46th Wedding Anniversary means that you are in a wonderful relationship and that your love is beautiful just like romantic poetry.
Pearls symbolize wisdom and after 46 years of marriage that is something that you will have in abundance.
46th Wedding Anniversary Poetry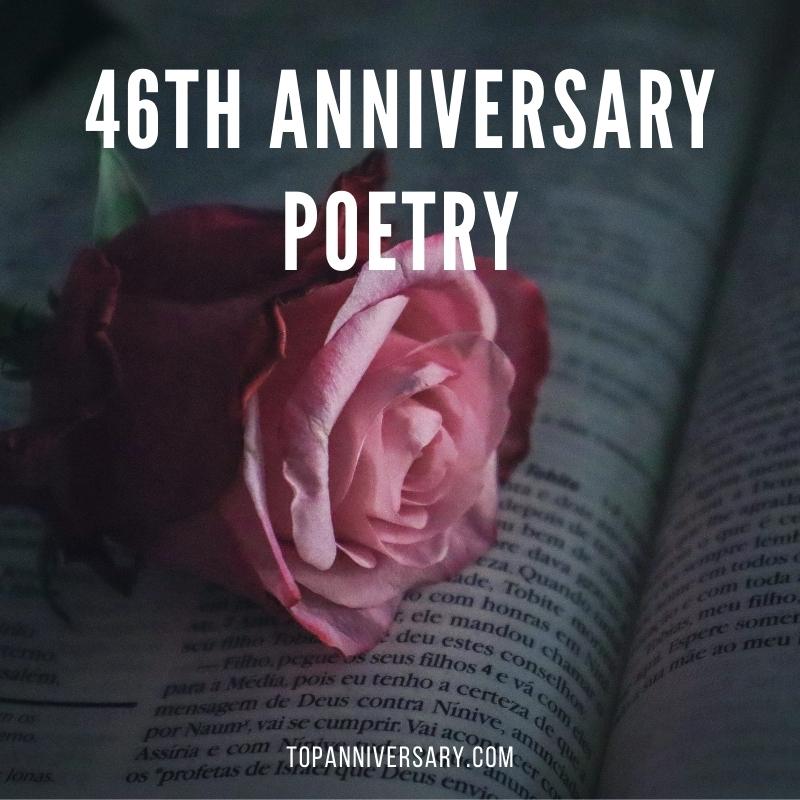 When it comes to choosing the best poetry to represent your 46th Anniversary you have two choices.
You can either
write your own romantic poetry
or 
you can find the perfect poem that is perfect for you both.
Write Your Own 46th Anniversary Poetry
Let's start with writing your own poetry because even if you are not a great writer it is still possible to write a few lines that your love will adore.
You could start with the classic but edited poem
Roses are Red
Violets are Blue
Life is wonderful << change this line to something equally as lovely
And so are you
46th Anniversary Haiku Poetry 
Or you could look to write your own Haiku which is a traditional Japanese poem with exactly 17 syllables over three lines;
5 syllables, 
then 7 syllables 
and then 5 syllables on the last line.
An example would be
In you I found the
Love of my life, my soul-mate
& the best marriage
Or
Forty Six Years Ago
You made me the luckiest
Woman in the World
(You can change the last line to - Man in the Whole World)
Custom 46th Anniversary Poetry 
If you don't fancy writing your own poetry you could look to the experts and ask them to write one for you. You can seriously buy anything online nowadays.
You can find poetry writers on 
All you need to do is a search for custom poetry and see which writers appeal to you. They will then ask you for things that you want included in your poem.
Famous Love Poems
The reason that some Love Poems are more famous than others is that they are just wonderful and a perfect way to celebrate your 46 years of marriage.
Take Sonnet 43 by Elizabeth Barrett Browning which is also known as How Do I Love Thee? Here she is describing her love for her husband and how spiritual their love is.
How do I love thee? Let me count the ways.
I love thee to the depth and breadth and height
My soul can reach, when feeling out of sight
For the ends of being and ideal grace.
I love thee to the level of every day's
Most quiet need, by sun and candle-light.
I love thee freely, as men strive for right.
I love thee purely, as they turn from praise.
I love thee with the passion put to use
In my old griefs, and with my childhood's faith.
I love thee with a love I seemed to lose
With my lost saints. I love thee with the breath,
Smiles, tears, of all my life; and, if God choose,
I shall but love thee better after death.
You could write this poem in your Anniversary Card or use it's theme and start with "How Do I Love You? Let me count the ways" and then go on to list everything you love about them. It may not rhyme in the traditional way but it will be completely from the heart and that has to be the best type of Anniversary gift.
46th Anniversary Poetry Books
If you don't fancy writing your own poem for your Anniversary or you are looking for a gift to wrap then maybe a Poetry book would be perfect. You could write in the front cover your own Anniversary message.
As we all like different things and the same goes for choosing poetry, if your love likes traditional, modern or classical poems there will be plenty to choose from.
Some great poetry books are
And if they already have those and are they big fans of literature then you could look at finding limited edition books or maybe even a signed copy.

Even better would be a poetry reading by the author. Keep an eye out on local event listings and at your local theatres or sometimes even a cafe and definitely at local book shops. If your partner follows some of their favorite authors on social media you could follow too and get in a conversation about possible events they are thinking about.
Literature Festivals for an Anniversary Vacation
There are also a number of literature festivals around the world that you could attend where they can submerge themselves in everything poetry.
Brooklyn Book Festival is one of the largest Book Festivals in the United States and is held in the Fall.
Berlin International Literature Festival is held in September in Germany.
Buenos Aires Book Festival is held in April in Brazil.
Cheltenham Literature Festival is held in October in the United Kingdom and has been going since 1949.
And they all make great locations for your Anniversary Vacation!
Pearl 46th Anniversary Gifts
Pearls are the 46th Anniversary Gift on the Gemstone list and they are also the traditional gift for your 30th Anniversary.
We have lots more Pearl Anniversary gift ideas here that they will love.
Our Most Popular Pearl Anniversary Gifts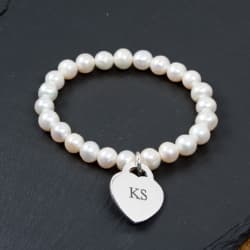 Engraved Pearl Bracelet
$44.99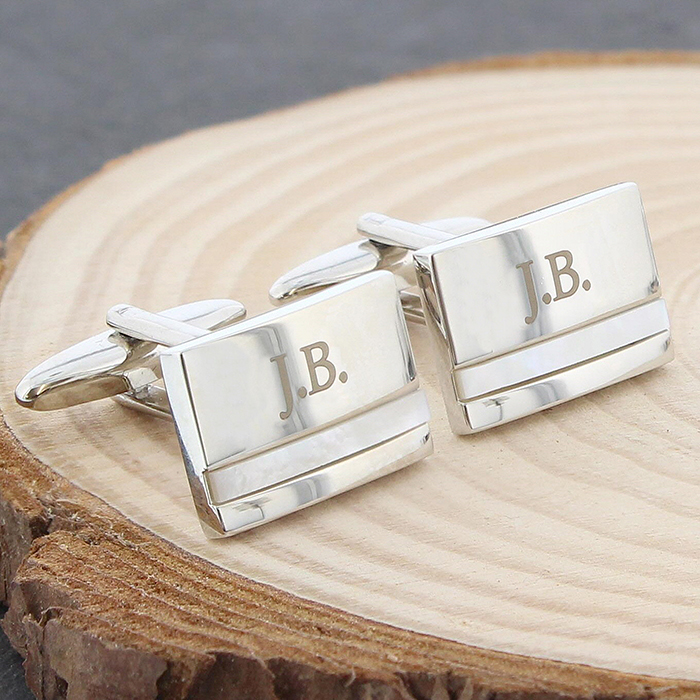 Engraved Pearl Cufflinks
$39.99
For your wife there are some gorgeous pearl jewelry; earrings, bracelets and necklaces.
For your husband you may want to look at mother of pearl, there are lots of gorgeous mother of pearl gifts available on amazon here.
Pearl gifts for couples can be photo frames, decorative boxes that you could fill with their favorite candy, or mother of pearl caviar spoons if you were feeling super fancy! These are all available on Amazon here
As an Amazon Associate Top Anniversary earns from qualifying purchases, these items do not cost you anymore.
Full details on our Affiliate policy can be read here

The traditional gift for a 46th wedding anniversary is poetry.
The modern gift for a 46th wedding anniversary is original poetry.
The flower associated with the 46th wedding anniversary is the blue iris.
---
We deliver Anniversary Gifts to USA & UK, Europe, Australia

Contact Us | Shipping & Returns |Privacy Policy | Affiliate Disclosure|Anniversary Blog
Terms & Conditions | About | Site Map