Original Anniversary Newspaper Gifts
An Anniversary newspaper from the day you were married makes a great gift for lots of reasons..
That day is Your day and a big part of your history as a couple
It's a fun way to look back on how life was when you got married
And it's fun to read what else was going on, on your wedding day.
We have original newspapers from United States and also Great Britain
1st Anniversary Newspaper Gift
Your 1st Anniversary is traditionally celebrated with paper, so newspapers are a fun way to keep to the tradition.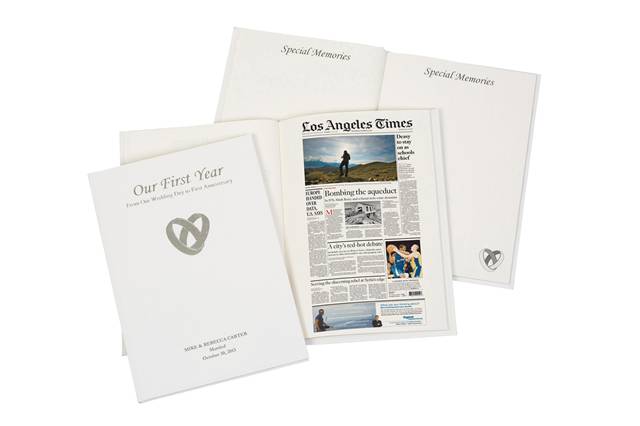 And we have just the gift to remember your first year together.
Your very own personalized First Year Anniversary book.
The cover is personalized with your names and your wedding date.
Inside there is a copy of the newspaper from your wedding day and space to add your own memories too.
You can see all the details in our shop here.
Anniversary Edition Newspaper Book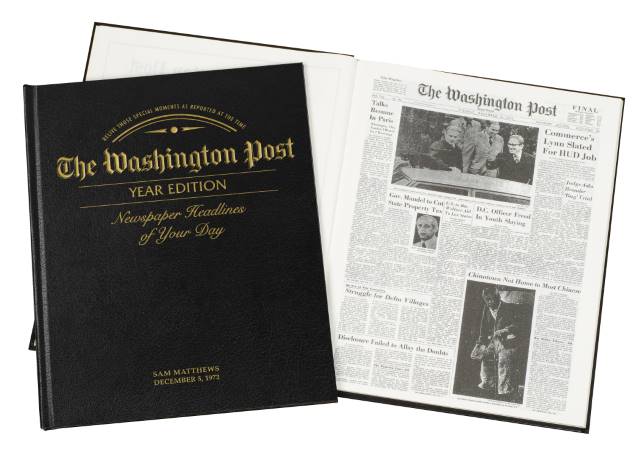 This is a fantastic personalized Anniversary Book with a copy of the newspaper from your wedding day and from EVERY Anniversary since.
The more years you have been married the bigger the book!
The front cover is personalized with your names in gold and inside you can add your own personal Anniversary message.
This would make a great gift for your parents 40th Anniversary or 50th and more!
Framed Front Cover From Your Wedding Day
Remember your wedding day with a copy of the front cover of either the Washington Post or Los Angeles Times, or if you are in the UK it is the Daily Mirror framed on your wall.
Perfect for every Anniversary! You could even have a copy from every year you have been married!
See all the details in our shop here.
Original Newspapers From Your Wedding Year
Anniversary Newspaper Gifts from UK
We also have access to one of the biggest archives of original newspapers in the world and will find an original newspaper from your wedding day.
Newspapers from 1962 for your 60th Anniversary
Newspapers from 1972 for your 50th Anniversary
Newspapers from 1982 for your 40th Anniversary
Newspapers from 1997 for your 25th Anniversary
If you have ever wondered what happened on the day you were married, you can soon find out!
Each newspaper comes in a A Day To Remember Gift box, complete with a Certificate of Authenticity which you can personalize with your own Happy Anniversary message.
Washington Post Front Cover Jigsaw Puzzle
You can even have the front page from your wedding day printed for you as a jigsaw puzzle.
Double the fun!
Find out how to order yours here.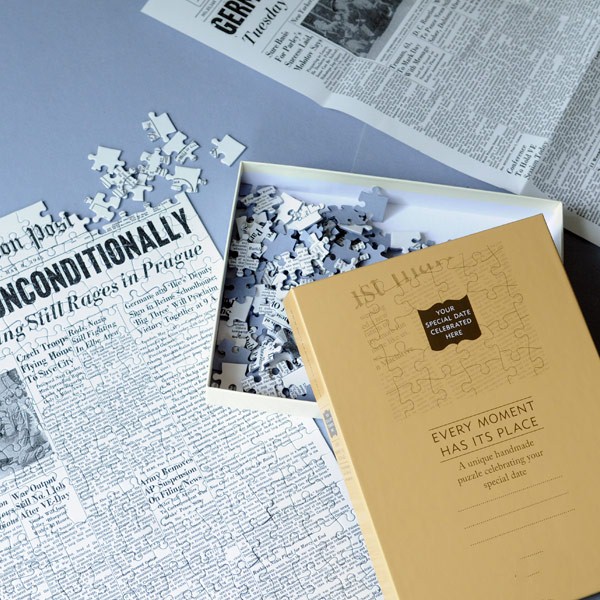 ---
We deliver Anniversary Gifts to USA & UK, Europe, Australia

Contact Us | Privacy Policy | Affiliate Disclosure|Anniversary Blog
Terms & Conditions | About | Site Map