31st Wedding Anniversary Gifts
After thirty one years of marriage you will want your 31st anniversary Gift to be thoughtful, that fits with this year's theme and be something that you know they will love. Thankfully there are lots of ideas to choose from that will fit with all tastes and budgets and help you make the perfect choice and perfect gift.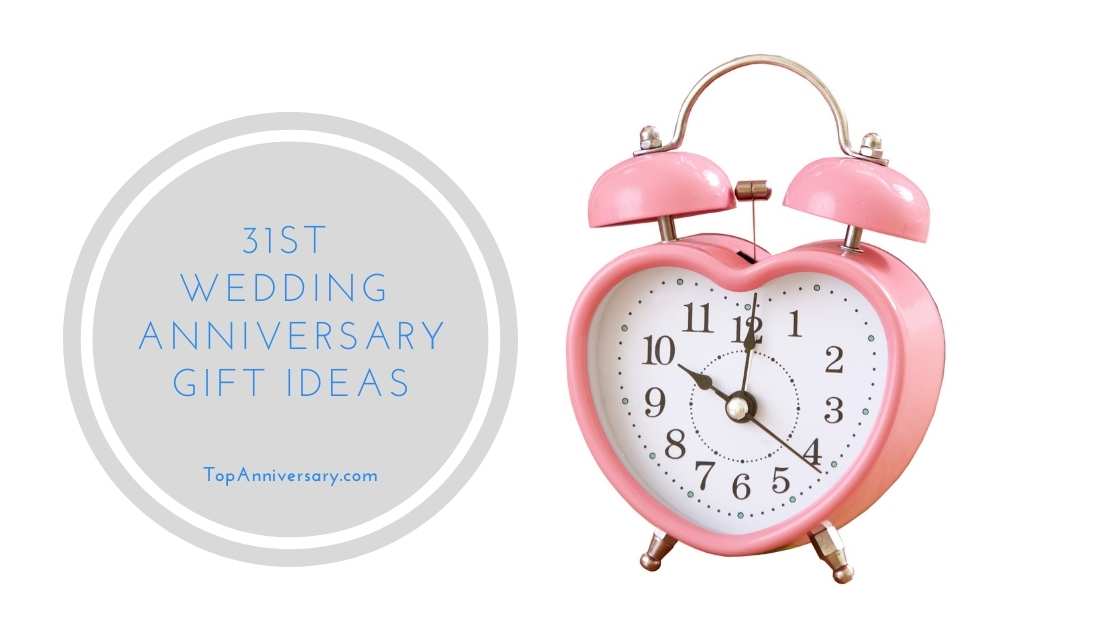 What Is The 31st Anniversary Symbol?
On the modern anniversary list you celebrate 31 years of marriage with a wonderfully traditional gift of a timepiece and as a timepiece is any instrument, such as a watch or a clock, that measures time there is a lot of choice.

There are no specific 31st Anniversary flowers for this year but you could instead have a bouquet of 31 fresh flowers that you know they will love.

The 31st Anniversary gemstone is traditionally ebony but the modern alternative is black onyx.

The 31st Anniversary Gift Meaning
Your 31st anniversary symbol shows that time is prescious and that it is a gift to be able to spend time together. Your three decades of marriage have been full of special events, including this Anniversary and therefore you will want your gift to be worthy of this special occasion.
The meaning behind Black Onyx as this year's anniversary stone is that it is belived to give the wearer protection against conflict or danger.
31st Anniversary Watches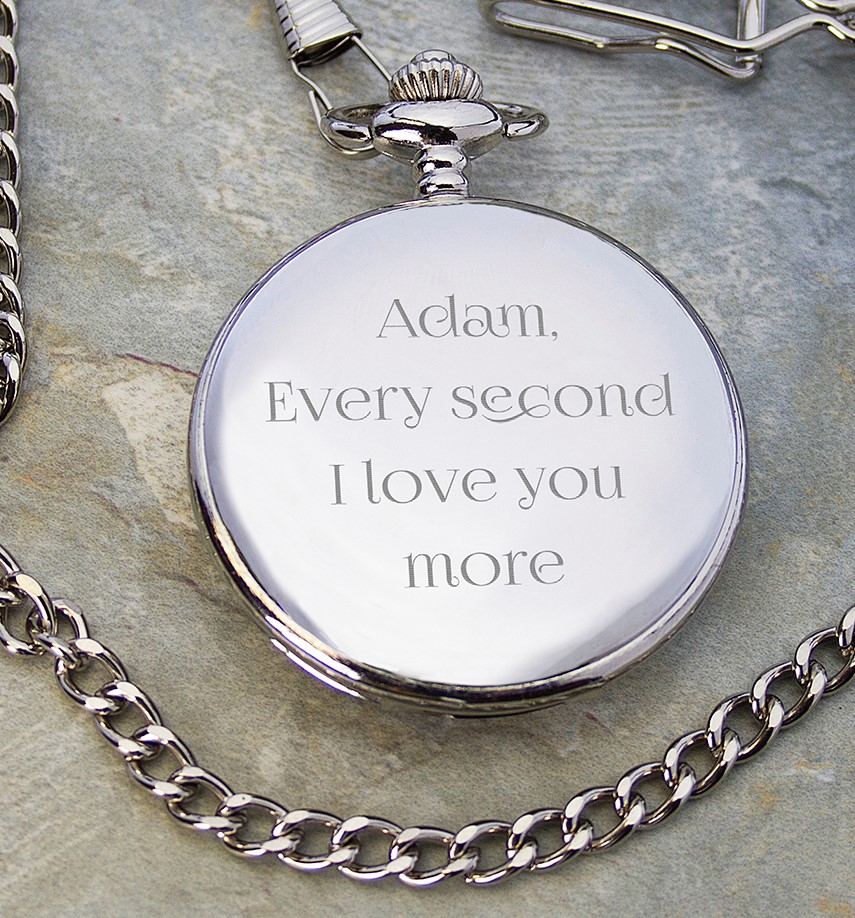 There are lots of watches that would be perfect and a great way to celebrate; you could have matching his and her watches perfect for a long time married couple or you could choose something that would more their individual style.
Matching Couple Watches
Dress Watches, perfect if you are looking for a watch to wear on special occassions and fancy nights out.
A watch as a piece of jewelry where the watch is the pendant on a necklace or bracelet or as part of a ring.
Or if your partner collects watches you could gift them a personalized watch box
You can also make your gift of a watch even more worthy of your special day by having the back of the watch engraved with your own special message.
Some options for your engraving are
a three-initial monogram
Best Husband for all time
Best Wife for eternity
The First Time I saw your face I thought the sun rose in your eyes (Roberta Flack)
You could have your Wedding Date and time
31st Anniversary Clocks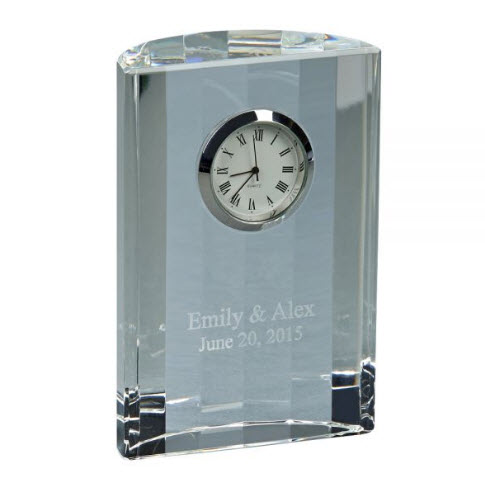 A Clock is a great choice for an Anniversary Gift and one that you can choose that you know they have always wanted for their home;
whether it's a traditional clock for the fireplace in their living room,
a classic Anniversary clock that you only need to wind once a year, hence the name.
a fabulous Grandfather Clock for their hallway
or a Grandmother Clock if you don't have as much space. They are a smaller version of the Grandfather Clock.
Clocks also make great wall art, you may have seen the very large wall clocks that are just hands and then you can position photos where the numbers are meant to be. You could have your favorite photos from the last 31 years dotted around the numbers.
Not the nicest of clocks but an Alarm Clock could be a bit of fun for your Anniversary gift
Or a desk clock for your Home Office
There is even the option for a water clock, the modern option is pretty unique and makes a fun talking point.
Alternative 31st Anniversary Clocks
Your clock doesn't have to be the traditional sort, there are a number of modern equivalents as well as traditional types of clocks that date back centuries.
A sundial which you could have engraved with your happy couple's names (available from Amazon)
A sand timer which look cool and can be a unique work of art
Candle clocks which in it's simplest form you could make yourself, think of it like an Advent Candle with the marks up the candle. You could start yours on your 31st Anniversary and then make marks along the candle either for every year or for every milestone Anniversary.
Quartz clocks which are apparently the most efficient which is a good skill to have when your job is to tell the time! Perfect for your more gadget loving friends.
You could even go for Atomic Clocks which are clocks that automatically set their time using the Us Atomic Clock which even now seems pretty cool that you are using the same technology as GPS satellites.
Digital or Electric clocks are making a cool comeback and you can get some pretty stylish designs perfect for modern couples.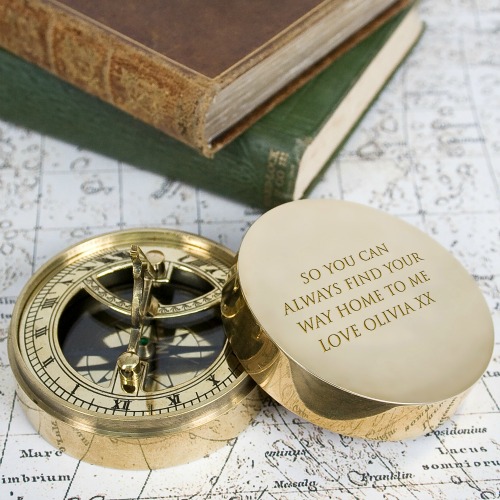 This brass Compass and sundial can be engraved with your Anniversary wishes and is available to buy in our Anniversary Gifts store here.
Time & Love Anniversary Quotes
The most prescious gift you can give your love on your Anniversary is the gift of time and although the watches and clocks are a symbol of this you will also want to actually spend quality time together and with friends and family members too.
Some of our most favorite quotes on love and time sum up just what you mean to each other and they are perfect to use in an Anniversary Card or in a speech if you are holding a party.
"If you live to be a hundred, I want to live to be a hundred minus one day so I never have to live without you."
A.A. Milne (Winnie-the-Pooh)
"I swear I couldn't love you more than I do right now, and yet I know I will tomorrow."
Leo Christopher
"Know that love is truly timeless." Mary M. Ricksen
Love is realizing that every day, hour and minute I have spend with you is worth it because we are together.
Grow old with me the best is yet to come
Or you could use the lyrics from a classic song that says everything you want to say, a favorite is Roberta Flack singing The First Time I Ever Saw Your Face. The lyrics are beautiful and a wonderful way to celebrate a 31st Anniversary and celebrate the passing years.
The first time ever I saw your face
I thought the sun rose in your eyes
And the moon and the stars were the gifts you gave
To the dark and the endless skies, my love
To the dark and the endless skies
And the first time ever I kissed your mouth
I felt the earth move in my hand
Like the trembling heart of a captive bird
That was there at my command, my love
That was there at my command, my love
And the first time ever I lay with you
I felt your heart so close to mine
And I knew our joy would fill the earth
And last 'til the end of time, my love
And it would last 'til the end of time, my love
The first time ever I saw your face
Your face
Your face
Your face
Writer Ewan Maccoll
31st Anniversary Dates
The best way to spend time together is to go out and enjoy what you love to do together. You could even pretend to go on a blind date and arrange to meet somewhere. The clock at Grand Central Terminal in New York is a pretty iconic clock and this fits neatly into this year's theme and also a great place to meet for a date.
Other famous clocks from around the world are
Big Ben in London
The Prague Astronomical Clock which is in one of the oldest famous clock towers dating back to 1410. It is the oldest astronomical clock that is still working, which is astonishing when you think this was the 15th Century. An Astronomical clock is one that tells more than just time and has the positions of the sun and the moon as well as other planets, Su Song worked on one of the earliest examples in 725AD.
Torrazzo of Cremona Clock, Lombardy, Italy was built in the 16th Century and is the largest Astronomical clock.
There was even Al-Jazari's Castle Clock which was built in the 11th Century and the first astronomical clock powered by water.
Wells Cathedral Clock, Somerset also has an impressive astronomical clock which was built in the 14th Century.
Philadelphia City Hall's tower houses four clock faces and was from 1901 to 1908 the tallest building in the world.
All of these make wonderful places to visit for an Anniversary vacation and a memorable way to remember your 31st year of marriage.
Wishing you both a very Happy 31st Wedding Anniversary!
---
We deliver Anniversary Gifts to USA & UK, Europe, Australia

Contact Us | Privacy Policy | Affiliate Disclosure|Anniversary Blog
Terms & Conditions | About | Site Map