60th Wedding Anniversary Gifts for Grandparents
60th Wedding Anniversary Gift Ideas
For Your Parents & Grandparents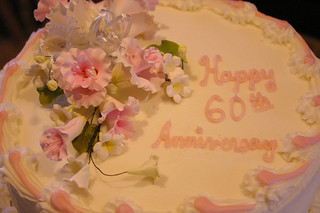 60 years together calls for a celebration...
A sparkly Diamond Anniversary celebration!
Because 60th wedding anniversary gifts are traditionally diamonds and as that is something that probably only your grandma would appreciate, we have come up with lots of presents they will both love.
Anniversary Jigsaw Puzzles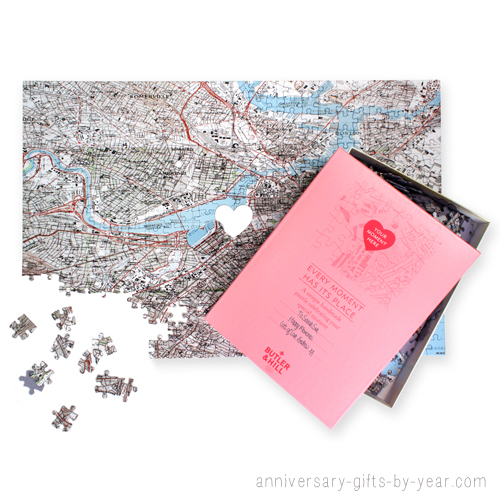 Do your grandparents love to do jigsaw puzzles?
If they do, we have lots to choose from...
Personalized Map of where they first met
The map of where they live or have lived
The front cover of the newspaper from their wedding day.
Diamonds can mean so much more than just the stone.
Diamond memories in a scrapbook, 60 pages of photographs and notes from family members would be something to treasure. You could have 60 reasons why you love them and have everyone share their own memories of your grandparents.
Diamond patterns on a rug or new bedding.
And 60 years will have lots of memories, could you get them to tell them to you and then write them as their love story.
The world has changed so much in the last 60 years that having their story will be part of your family history - and I bet they would love telling you too! You could either record them and have it as a video for every family member or have their own book printed with photographs from the time.
Your Grandparents Family Tree
After sixty years of marriage your grandparent's family tree will have grown and they were the beginning.
Show them the wonderful family they have created with lots of gorgeous gifts...
Pictures of all the children and grandchildren together are a must and would be a perfect gift for your grandparents.
Their Sixty Year Old Love Story on Canvas
60 years will have lots of memories, could you get them to tell them to you and then write them as their love story.
Or you could add their special dates and names to personalize this Canvas which can then be used for you all to add your Happy Anniversary messages.
Available in Red or Plum.
If your grandparents are able to get away you could look at treating them to a night away in their honeymoon hotel - just remember the prices and the place may have changed in the last 60 years! 

Most grandparents just love being able to spend time with their family and that is a great gift, try and get everyone together to celebrate and make sure you take lots of photos for the next family album.
60th Anniversary Photo Frames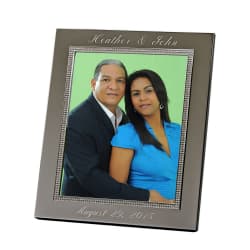 Your Grandparents will love this Personalized Photo Frame which will be engraved with their names and their Wedding Date or you could choose to have their 60th Anniversary Date.
This photo frame is decorated with crystals to shine like Diamonds and is available to buy in our Anniversary Gifts Store.
60th Anniversary Photo Album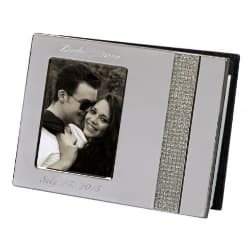 Instead of a photo frame you could fill a sparkly 60th Anniversary photo album which is personalized with your Grandparent's names and Wedding Date.
Lots of space for your favorite photos of the two of them and you could add a copy of one of their Wedding Photos to the front cover.
60th Anniversary Glasses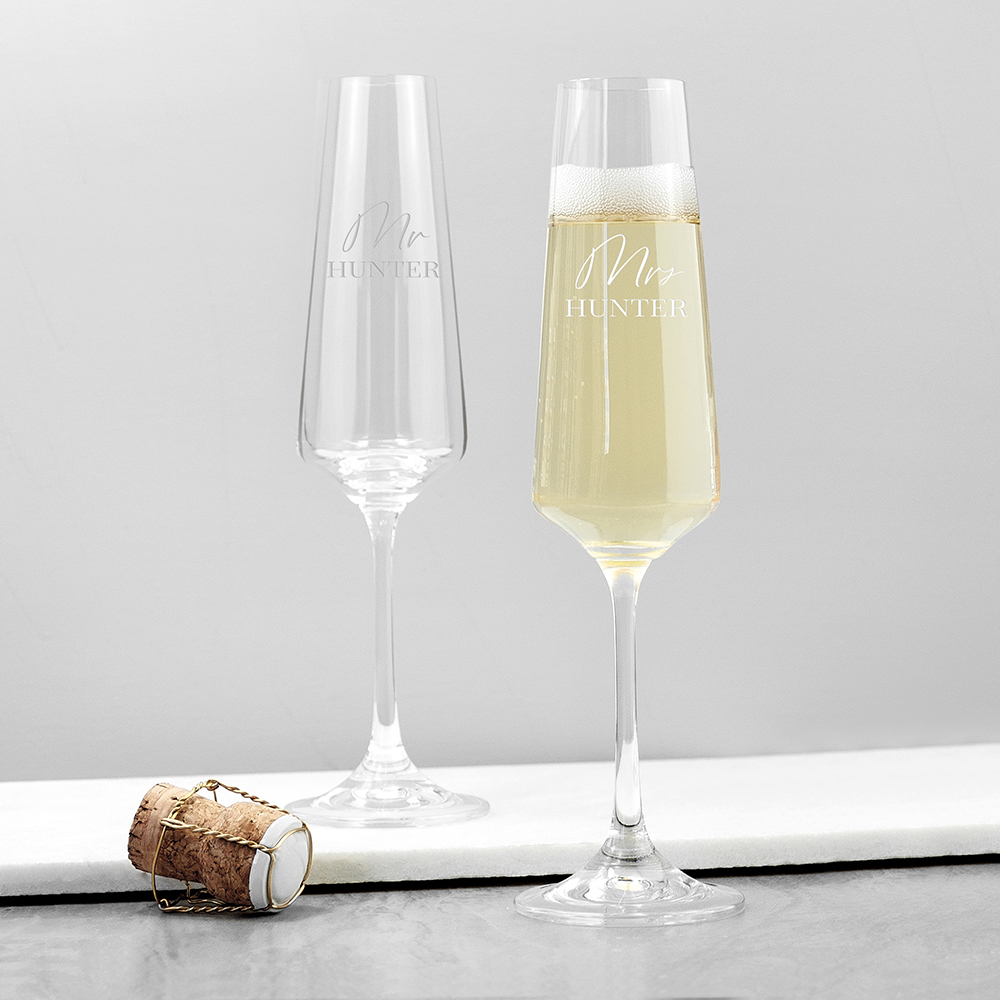 We all love to celebrate a special occasion, especially one as important as your grandparent's 60th Wedding Anniversary.
These personalized Anniversary celebration glasses are available to buy in our Gifts Store here.
What is the 60th Anniversary Flower?
As well as the traditional gift of Diamonds for your 60th Anniversary, there is also the flower list and there the flower is Orchids.
Orchids are beautiful and you can often buy them in pots that would be perfect to brighten your Grandparents day and if they are lucky enough to live in a more tropical climate they could even grow them in their own garden. 
On other lists the 60th Anniversary flower is the Iris.
Engraved Crystal Anniversary Vase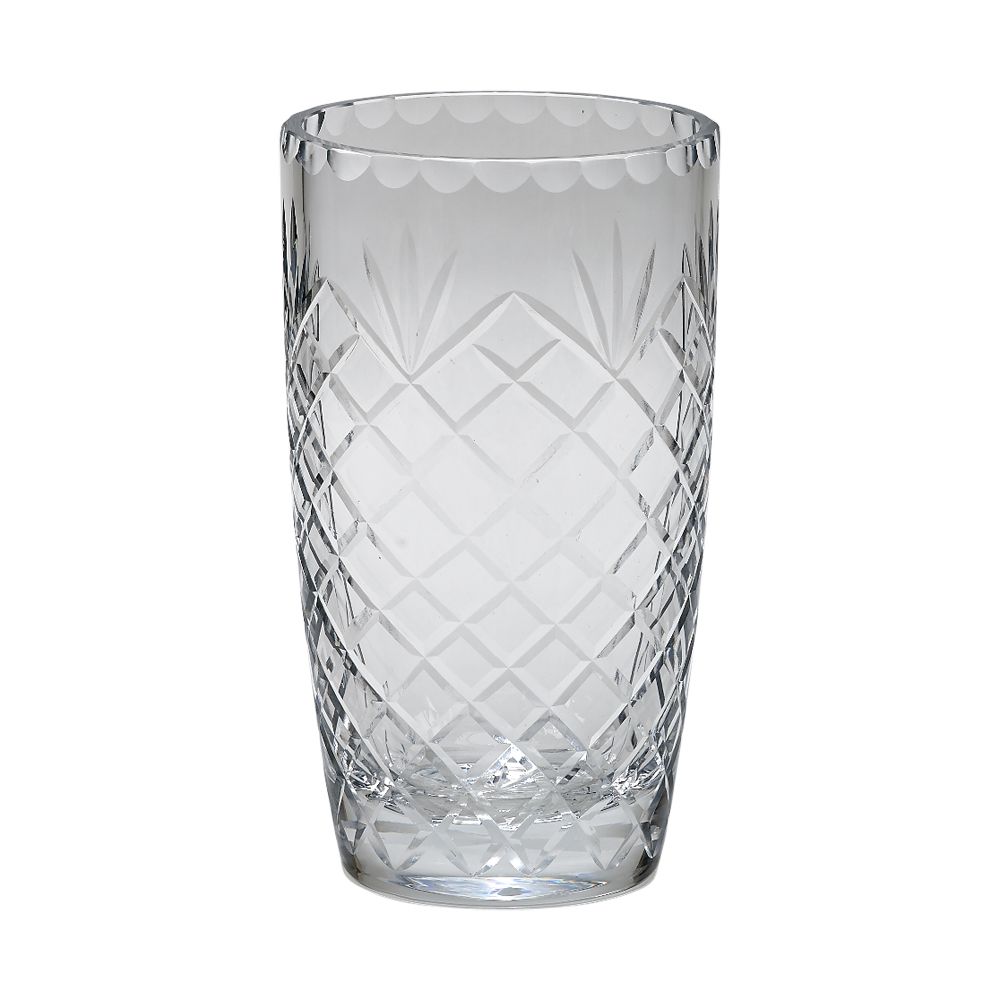 You could also include a Personalized Cut Crystal Vase to go with your bouquet of flowers, it is a lovely way for your parents to remember their Anniversary.
What is the 60th Anniversary Color?
On the Anniversary Color list your Grandparent's Diamond Anniversary is celebrated with the brilliant Diamond White, it really wouldn't be any other color!
You can use the color to theme your Anniversary Party decorations, a bouquet of white flowers or you could send them both a sparkly Anniversary Gift Basket.
60th Anniversary Gift Basket
A sparkly Gift Basket has to include Champagne and Dom Perignon is one of the best. This is a great gift if you are unable to be with your Grandparents on their Special Day.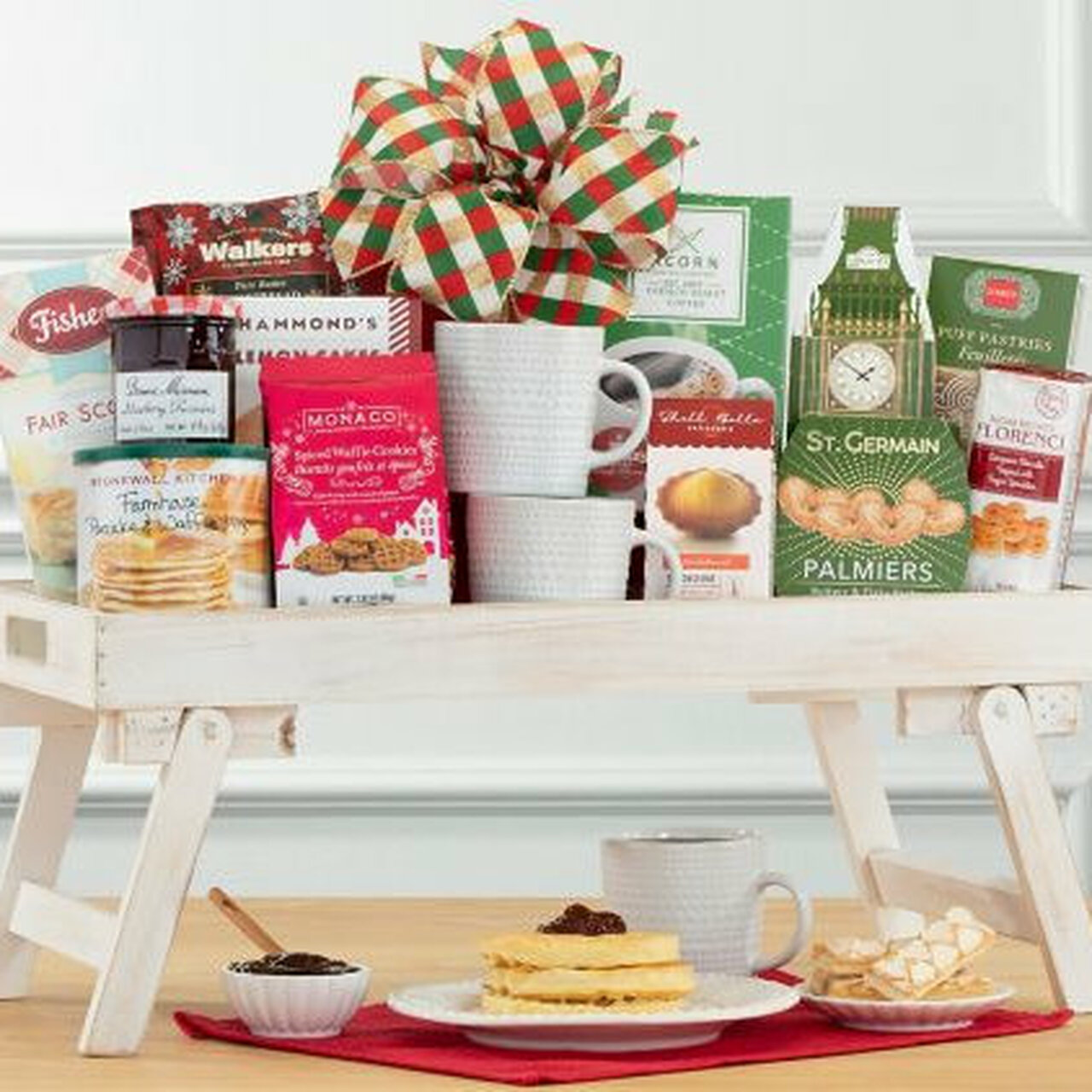 For some couples they would be much happier celebrating with a mug of coffee or tea and lots of gorgeous treats.
This Breakfast in Bed Gift Basket is full of very yummy treats and is available to order in our Gifts Store here.
Homemade 60th Wedding Anniversary Gifts For Grandparents
Homemade gifts for your Grandparents will always be treasured whatever your age!
A younger child could paint a picture of their Grandparents and this could be on a plate or a mug, as well as paper.
Older Grandchildren could create a 60th Anniversary memory book where they write their 60 favorite things about their Grandparents, or they could fill the book with their 60 favorite photos.
You could also plant a pot with their favorite plants.
Create a Quilt which you could embroider with their names and dates.
Or put together your very own Anniversary Gift Basket filled with their favorite things.
And don't forget someone will need to bake a cake for the Anniversary Party!
60th Anniversary Wishes for Grandparents
As well as a great gift you will also want to add a very special card or message to your present. Especially more so if you are not able to be with them on their special day.
Some Anniversary Wishes could be
Happy 60th Wedding Anniversary
to the most wonderful Grandparents.
2 Kids and 3 Grandchildren.
Celebrating 60 years of
friendship, laughter, & love.
***
Happy 60th Wedding Anniversary
to the best Grandparents in the World.
Thank you for showing us what a great marriage looks like.
Sending lots of love to you both on your special day
***
Happy 60th Anniversary to my
wonderful Grandparents.
 Celebrating 60 years of love
and friendship.
 Lots of Love
***
Dear Grandma and Grandpa
Happy Diamond Anniversary
Love
***
To our wonderful Grandparents
on their 60th Wedding Anniversary.
Celebrating 60 years of love and friendship.
Lots of love
---
We deliver Anniversary Gifts to USA & UK, Europe, Australia

Contact Us | Shipping & Returns |Privacy Policy | Affiliate Disclosure|Anniversary Blog
Terms & Conditions | About | Site Map