60th Wedding Anniversary Party Ideas
60th wedding anniversary party ideas need to be special, 60 years together is a big celebration!
Start by thinking about the type of party your anniversary couple will enjoy;
Is it to be a big or small party? 
Where would they like to be 
And who would they like to be there?
Now you know the type of party your anniversary couple will enjoy you need to start thinking about the 60th anniversary celebrations.
To help we have put together a free printable checklist to help with your anniversary party planning. Here you will find checklist's for catering, florists, your venue and your anniversary party timeline, in other words when you need to do what by!

60th Anniversary Party Venue
Location is important too as you want to be able to be able to spend as much time as possible enjoying everyone's company. We have always found that family parties always work best if you are at someone's home.
Even better if it's in the summer months as you can then be outdoors too which means you have more space to invite more people. Love garden parties!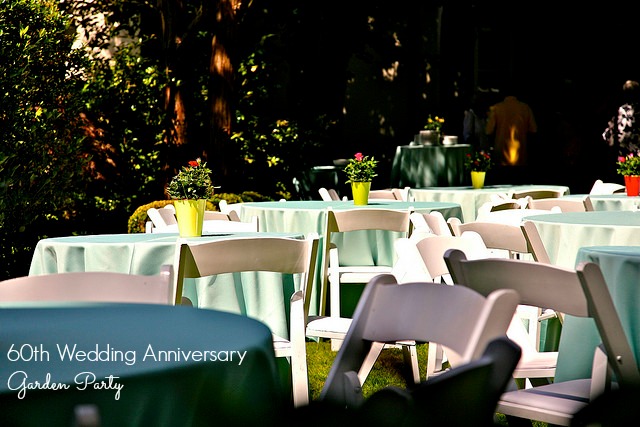 Alternatively you could look at having a picnic at your local State park or there may be a room or space that you can hire at your local park that would be perfect.
If you are organizing the party and still want to enjoy the day it would be best to rent a space and have caterers. That way you will be able to chat to everyone and not have to worry if there is enough food etc.
Ideas for Aniversary party food here.
60th Wedding Anniversary Decorations
Most 60th wedding annversary party ideas will have either the diamond theme as this is the symbol of 60 years together or a 1960s theme.
For your party decorations use the diamond theme with white and sparkly everything.
Thankfully it has become much easier to find 60th anniversary specific party items and you may also want to use decorations that have the number 60 on.
Decoration ideas for your party;
6 and a 0 helium balloons - these can be quite large so would work well as a backdrop
Craft crystals (looking like diamonds) would look great scattered on tables and also as part of an anniversary centerpiece.
Plus candles and crystal holders would look very pretty on each table.
Old photos - you could even have a framed photo on each table.
Name each table after a decade with a photo from that year - 1960s, 70s, 80s, 90s, 00s, 10s, teens and twenties.
It is definitely worth checking out the 60th Anniversary Decorations that are available on Amazon.
60th Anniversary Memory Table Decorations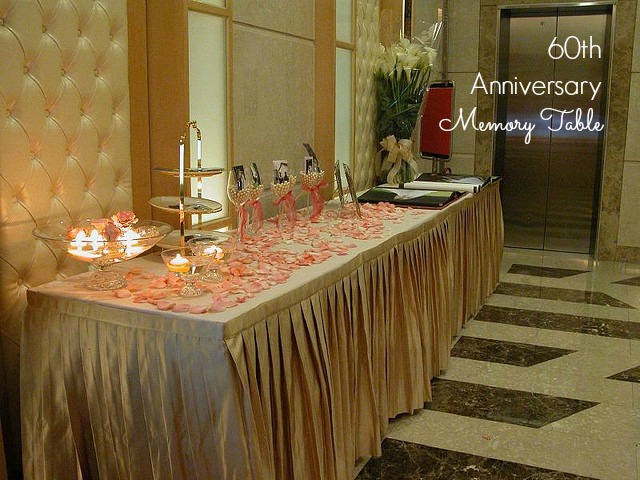 It is also nice to have photographs from the last 60 years, a display of wedding photographs would be perfect. You may want to copy the originals so you don't need to worry if they get damaged.
You can add these to a memory table, along with souvenirs from the past 60 years, some ideas;
Photo albums
Wedding dress
Map of everywhere you have lived
Map of everywhere you have visited
Trophies and medals won at sports, cooking, arts or gardening
Your family tree with the anniversary couple at the top.
60th Anniversary Entertainment
For the entertainment, it could be as simple as music from 60 years ago or talented family and friends could put together a very personal private concert!
If you have old home movies you could have them shown just as if you were at the cinema. There will be some family members that won't have seen them before and everyone loves to see old movies to remember the good times.
A quiz full of questions about the Anniversary Couple is a great way to get different generations chatting away to each other - that is if you allow teams to take part.
Now we know that renewing your Wedding Vows is not exactly entertainment but it is a lovely focus for a Diamond wedding and one that the couple would enjoy.
Your anniversary party is all about the couple and being able to spend time with family and friends, hope you get to enjoy the party too!
---
Contact Us | Privacy Policy | Affiliate Disclosure|Anniversary Blog
Terms & Conditions | About | Advertise With Us | Site Map