60th Wedding Anniversary Invitations
Parent's 60th Wedding Anniversary Invitations
Being happily married for this long is a beautiful thing and your parent's or grandparent's 60th wedding anniversary invitations need to show that love whilst also making sure your guests know where they are going and when.

One idea is to use your parent's original wedding invitations and replicate their timeless quality.
Or if you would like a photo on the front you could look at having a black and white photo from your parent's wedding.
Traditionally you celebrate your 60th anniversary with diamonds, for an added sparkle you could embellish the front of your invitations with crystals. Real diamonds would probably be a bit over the top.
The theme of your anniversary party will also have a big impact on the invitations. 
If you are planning a 1950s style party then your invitation should match, letting your guests know the fun they are going to have.
A garden party could have beautiful flowers.
On the beach for your party and you will probably want a beach theme.
There are also many 60th anniversary invitations to look at for inspiration.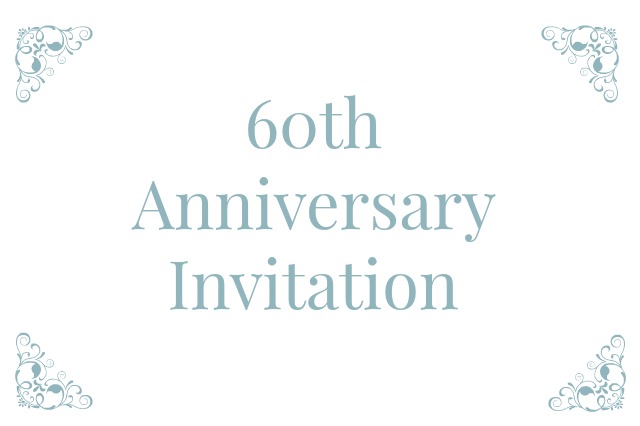 60th Wedding Anniversary Wording
Most 60th anniversary parties are organized by the couple's children which means that quite often the invitations are written from them and not the couple.
Robert and Emily request the presence of your company 
at the 60th wedding anniversary celebrations 
of their parents Simon and Suzanne
At The Mansion House
On 12th July 2020 
at 1pm
If there are a lot of you, you may want to have the invitations from the whole family.
The family of Bob and Joan would like to invite you to a celebration of their parent's 60th Wedding Anniversary
At The Rose Gardens, State Park
On 12th July 2020 at 1pm
Or you could be more informal
Please join us as we celebrate Simon and Suzanne's 
Sixty years of married bliss
At The Old School House
12th July 2020
3pm
Alternatively you may be wanting to include a vow renewal as part of the celebrations, we have ideas for wording here.
---
We deliver Anniversary Gifts to USA & UK, Europe, Australia

Contact Us | Privacy Policy | Affiliate Disclosure|Anniversary Blog
Terms & Conditions | About | Site Map