60th Wedding Anniversary Invitations
Being happily married for this long is a beautiful thing and your parent's or grandparent's 60th wedding anniversary invitations need to show that love whilst also making sure your guests know where they are going and when.
Here are some amazing ideas to create perfect invitations for this milestone anniversary that will make the event truly memorable.
Types of 60th Wedding Anniversary Invitations
There are several types of 60th wedding anniversary invitations that you can choose from, such as:
Traditional Formal Invitations: These are classic and elegant invitations that follow a formal format with black and white color schemes and calligraphy fonts.
Photo Card Invitations: These invitations are a great way to share your love story and memories with your guests. You can use photos from your wedding day or recent pictures of the couple.
DIY Invitations: If you're feeling crafty, you can create your own invitations with personalized touches such as ribbons, stickers, and embossed designs.
Digital Invitations: With the rise of technology, digital invitations have become a popular choice for many couples. You can choose from a wide range of templates and designs and send them via email or social media. If you do choose this option be mindful that not all of your guests will be uptodate with technology and you don't want old friends and family members missing out.
You could use your parent's original wedding invitations and replicate their timeless quality.
Traditionally you celebrate your 60th anniversary with diamonds, for an added sparkle you could embellish the front of your invitations with crystals. Real diamonds would probably be a bit over the top.
The theme of your anniversary party will also have a big impact on the invitations. 
60th Wedding Anniversary Invitation Theme
To create the perfect 60th anniversary invite, you need to start with the theme. The theme of the invitations should reflect the couple's personality, style, and taste. Some popular themes for 60th wedding anniversary invitations include:
Diamond theme: Since the 60th anniversary is known as the diamond anniversary, you can incorporate diamonds into the invitation design.
Vintage theme: You can go for a vintage or classic theme to reflect the couple's long and enduring love.
Gold theme: Gold represents the 60th anniversary, so you can choose a gold color scheme for the invitation.
If you are planning a 1960s style party then your invitation should match, letting your guests know the fun they are going to have.
A garden party could have beautiful flowers.
On the beach for your party and you will probably want a beach theme.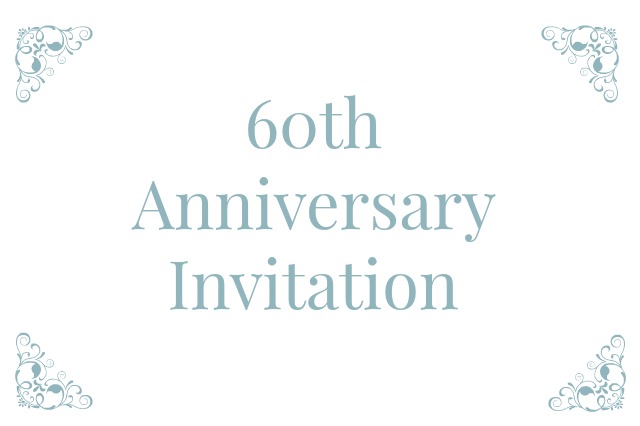 60th Wedding Anniversary Wording
The wording of the invitation is equally important as the design. You can go for a formal or informal tone, depending on the style of the event. Here are some examples of wording you can use:
"Please join us as we celebrate 60 years of true love and commitment."
"Come and raise a toast to the couple who have been together for six decades."
"Join us as we honor the diamond anniversary of our beloved grandparents (or parents.)" This is perfect if the invitation is going to be from the couple's children.
Use a poem or quote about love and marriage
Most 60th anniversary parties are organized by the couple's children which means that quite often the invitations are written from them and not the couple.
Robert and Emily request the presence of your company 
at the 60th wedding anniversary celebrations 
of their parents Simon and Suzanne
At The Mansion House
On 12th July 2020 
at 1pm
If there are a lot of you, you may want to have the invitations from the whole family.
The family of Bob and Joan would like to invite you to a celebration of their parent's 60th Wedding Anniversary
At The Rose Gardens, State Park
On 12th July 2020 at 1pm
Or you could be more informal
Please join us as we celebrate Simon and Suzanne's 
Sixty years of married bliss
At The Old School House
12th July 2020
3pm
Alternatively you may be wanting to include a vow renewal as part of the celebrations, we have ideas for wording here.
Where To Buy 60th Anniversary Invitations
You want your invites to look gorgeous and fit with the theme, have a look at the links below to find what you are looking for.
Amazon has lots of pre-printed 60th Anniversary invitations that you can add your details to. Including lots of party packs where the invitations are included. 
Basic Invite is one of our favorite sites for invitations as there are lots of gorgeous designs that you can personalize and they print for you. 
Tips For Your 60th Wedding Anniversary Invitations
To ensure that you have enough time to plan the celebration and send out the invitations, you should start early. Ideally, you should start planning at least 6 months before the event.
This also allows for any problems with the postal service, as there would be nothing worse than all of your invites arriving late.
Make sure your 60th anniversary invitations provide all the necessary details, such as the date, time, location, dress code, and RSVP information.
If your couple would prefer to receive donations to their favorite charity instead of an anniversary gift you should add this to the invite
Keep the design simple and elegant
Use high-quality paper and printing
Choose a font that is easy to read
Make sure the text is clear and easy to understand
Personalize the Invitations
To make the invitations more meaningful and personal, you can add a handwritten note or a special message to the guests. Add a personal touch that reflects the couple's personality and love story.
Choose the Right Printing Method
The printing method you choose for the invitations can affect the overall look and feel of the invitation. You can choose from digital printing, letterpress printing, or foil stamping, depending on your budget and preferences.
Before sending out your invitations, proofread everything to ensure there are no errors or typos.
FAQs about 60th Diamond Wedding Anniversary Invitations
When should I send out the invitations?
You should send out the invitations at least 6-8 weeks before the event to give the guests enough time to RSVP.
How many invitations should I order?
The obvious answer is you should order enough invitations to cover all the guests you are planning to invite, plus a few extra in case of last-minute additions and mistakes when you are addressing them.
However, you don't have to have an invitation for every person as couples and families will share one invite. Just make sure you write everyone's names on the invite that you want there.
How can I make the invitations more unique?
You can add a personal touch to the invitations by including a photo of the couple, or if you have the time you could use a different photo of the couple and the people you are inviting on each invite. Another way would be to include a group photo of the couple's wedding day and ask how many people they recognise.
What should be the RSVP deadline for 60th wedding anniversary invitations?
The RSVP deadline should be at least 2-3 weeks before the celebration to allow time for final preparations.
What should be included on the RSVP card for 60th wedding anniversary invitations?
Name of the guest
Whether or not they will be attending
Dietary restrictions (if applicable)
Any special requests or comments
60th Anniversary Printables
As well as invitations for your 60th Anniversary party you may want to ensure all of your printed materials match.
Anniversary Menus
RSVP cards
Save the Date 
Anniversary Program - perfect if you are planning on renewing your wedding vows on this milestone Anniversary.
What should be included in the program for a 60th wedding anniversary celebration?
Welcome message
Timeline of events
Speeches from family and friends
Photos of the couple throughout the years
Special performances or entertainment
---
We deliver Anniversary Gifts to USA & UK, Europe, Australia

Contact Us | Shipping & Returns |Privacy Policy | Affiliate Disclosure|Anniversary Blog
Terms & Conditions | About | Site Map