Roses And Traditional
Wedding Anniversary Presents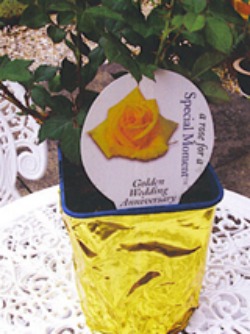 Traditional wedding anniversary presents follow the original list, there is a traditional gift for every year you have been married up until your 15th and then it is every 5 years.
Choosing a gift from this list does make it a bit easier as you are focused on a present made from that material. Sometimes though the traditional gift item is a bit too much for a gift and would be inappropriate, take dear friends that you like and that are celebrating their golden wedding anniversary you may feel that gold would not be the right gift, but you want to find them a gift that still fits with the theme.
There are lots of ways of taking the theme and twisting it to fit more with the couple that are celebrating, you will find these through the site on the appropriate year pages, just follow the tabs on the left, but there is one anniversary idea that needs to be highlighted and that is anniversary roses.
Roses For Each Year
You can buy handmade roses in all of the main gift materials - paper roses for your 1st anniversary and gold ones for when you are celebrating your 50th.

These gorgeous roses are available from Just Paper Roses.

You can also have roses personalized with your names and even a photo!

You could send a single rose or a whole bouquet.
Anniversary Roses
Rose growers have also come to the rescue and have cleverly started naming roses just for your anniversary. You can find roses named Anniversary Rose, Silver Anniversary Rose, Ruby Anniversary Rose and Golden Wedding Anniversary Rose. Each rose is the appropriate color for the year and they are stunning.
Rather than concentrating on the material of the anniversary you could look at using the color. If it was your 30th it is pearl, your 35th is coral and jade - think pink and sea green, your 40th is ruby which is red, your 45th is sapphire which is blue and then you have gold which can be nothing apart from gold colored! You can find beautiful roses in those colors or you could look at finding their favorite flower in those colors.
---
Contact Us | Privacy Policy | Affiliate Disclosure|Anniversary Blog
Terms & Conditions | About | Advertise With Us | Site Map