Anniversary Party Decorations
Anniversary Party Decorations

Anniversary party decorations help set the mood for your celebrations, from small intimate gatherings to large parties you will want to make it beautiful. You don't go to children's birthday parties without balloons but what is the ideal anniversary decoration?
If you are organizing a small intimate anniversary party, it maybe in your own home, keep the colors in your decorations simple and elegant, two or three colors tops.
Anniversary Decorations Themed By Year
Choosing your anniversary colors is easier if you are celebrating a classic anniversary; silver, ruby, or gold are a must if you are celebrating those wedding anniversaries. If you find your anniversary doesn't have a specific color then I find a great place for inspiration is to look at the hot colors for weddings.
For big anniversary party decoration ideas I find looking at real life anniversary parties another source of inspiration and a perfect place to look is youtube.com, here is one for a 40th wedding anniversary in Manila that I think has beautiful decorations.
The ruby red lanterns look amazing and such beautiful flowers.
Flowers are great anniversary decorations, perfect for a table centerpiece and the added bonus is they can be taken home as a gift. You could use the anniversary flower list for inspiration if you want the flowers to match your anniversary.
Party shops are also worth looking at, things have moved on from tacky plastic decorations and you could find a banner, or an extra piece for a centerpiece or the topper for your wedding anniversary cake. You may not want to do all of your shopping there, first it could cost a fortune and second you may not want your party to be too over the top but it could be the start of your theme.
Having a theme and a plan when you are thinking of your decorations does help, otherwise you can end up buying all sorts of decorations that you end up not using. Gather your ideas, work out the costs and then go shopping!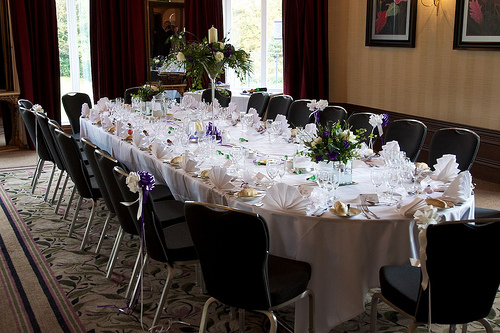 ---
We deliver Anniversary Gifts to USA & UK, Europe, Australia

Contact Us | Privacy Policy | Affiliate Disclosure|Anniversary Blog
Terms & Conditions | About | Site Map