Centerpieces With Photographs
Anniversary Centerpieces With Photographs
Creating Anniversary Centerpieces with Photographs are great as memories and photographs play such a big part in anniversary celebrations that it isn't surprising they are also becoming a key part to party decorations.
Treasured photo albums on a memory table or a wall of photos for everyone to spend time looking over are a great way to get your guests talking but how about these ideas to decorate your room too?
If you are having a big party you may want to name your tables and have a seating plan. Instead of numbers you could name each table after a decade you have been together – 1960s, 1970s etc or maybe the house you lived in or the vacation from a particular year if you love to travel, or important events that have happened along the way. Add a photo to represent each event on the table, these can be displayed in frames fairly easily.
Photo by Melinda
You could attach photos to empty jars and use these as vases for your flowers or add a floating candle, or you could mix it up and have both.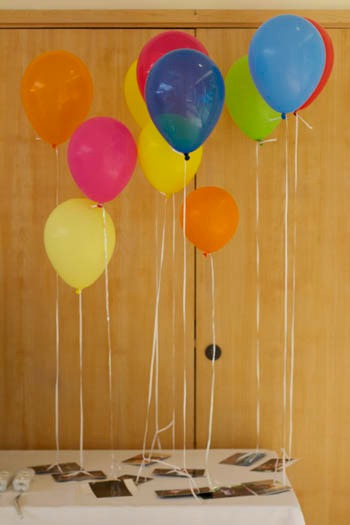 This is a fun idea, tie a photo to a helium balloon and have them balancing on the table. Probably a good idea if these are copies as you will need to make holes in the photos.
Everyone will want to see photos from your wedding day as well, so you may want to make copies of these too.
---
Contact Us | Privacy Policy | Affiliate Disclosure|Anniversary Blog
Terms & Conditions | About | Advertise With Us | Site Map