Anniversary Party Ideas On A Budget

When it comes Anniversary Party ideas on a budget there are lots of ways to make your day special without it looking cheap.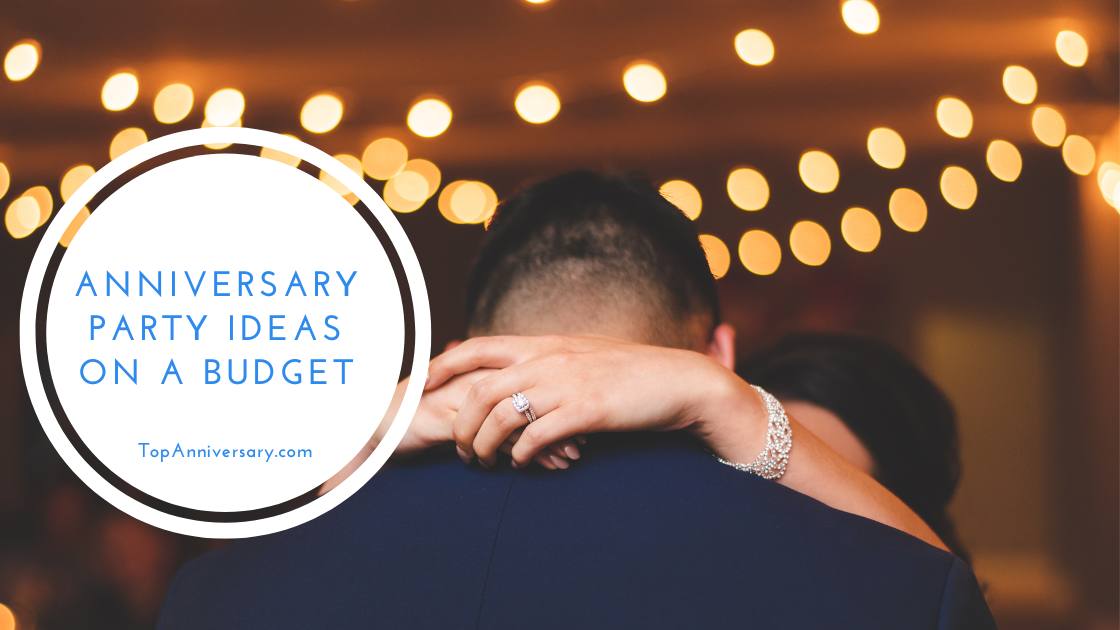 Set Your Anniversary Party Budget
It's a good idea to start by working out what you can afford to spend on your Anniversary Party, because without a budget everything can get out of hand and what starts out as buying a few relatively cheap party decorations can end up costing more than you want.
So the first step is to set the budget.
And don't panic great Anniversary Parties with lots of special moments can be planned on every budget it's about finding creative ways to spend your money.
Anniversary Party Planning
Now that you have your budget you can work out where you want to spend it.
Our Free Printable Anniversary Party Checklist is a good place to see what you will need and you don't have to have everything on the list, it is more of a guide to ensure you don't forget things.
Remember that with all of your party planning the biggest impact on your budget will be the number of guests you invite.
And to keep track on who you would like to invite make a list of your close friends, close family members and everyone else you would like there.

If you are planning on a large party you will need to make savings on other areas of your budget, a good one is to think about a free venue like a local park or in your own living room and ask friends to bring a dish to the party instead of a gift.
If you have a small guest list you will be able to spend more on food and other bits.
It's about what is important to you or your happy couple if you are planning for them.
Anniversary Party Costs

When you are planning your Anniversary Party there are always ways to save money without it looking cheap.
Anniversary Party Venue
Save money on your event space by thinking about what alternative venues are available in your local area.
It could be your local park, church hall, school hall, your house, a local cafe that isn't open in the evening. It could be somewhere you know through work that would give you a great discount or it could be an event venue that is included in your local sports club membership. Have a think about where you have connections!
You will know when you have found the right place for the number of guests you want to invite.
Anniversary Party Invitation Ideas on a Budget
We have some free printable party invitations you can use here
Or you can save money by emailing or messaging your party invitations, a facebook group set up for your event is also a free way to invite everyone that is on facebook and also keep track of all your replies too.
Don't forget to let everyone know the time and date, the venue and what the dress code is on the invitations, you may want to make lots of phone calls to let everyone know what your plans are. Plus it's a good way to find out who will be able to make your party and also who may be able to help with your plans.
Anniversary Party Food
You can also save money on your food, we have lots of food ideas on a budget here but you can also ask your guests to bring a dish instead of a gift. This works really well if you are having your party at home as some venues may not allow you to bring your own food.
If you are having your party at a more traditional venue look at holding your party away from main meal times. Lunch and Dinner will always be more expensive than an Afternoon Tea party or a BBQ or drinks and nibbles. Just make sure that if you are not planning on serving a main meal you let your guests know on their invitations.
You may also want to have a Wedding Cake to serve to your guests which you could also serve as the dessert for your meal. It doesn't have to be as fancy as your original wedding cake but instead a celebration cake from somewhere like Walmart or Costco could work well.
If your guest list is small you could look at serving one big dish that can be kept warm in a crock-pot, things like chilli, curries and pasta dishes work well.
Anniversary Party Decorations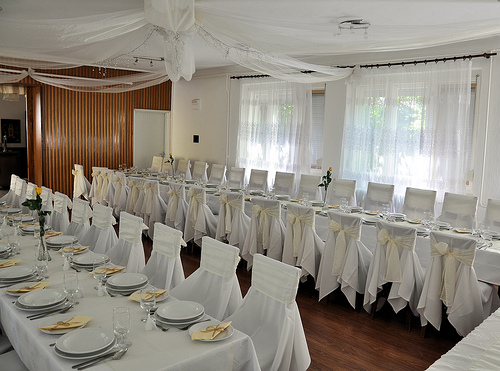 Anniversary Party decorations can be bought on places like amazon relatively cheaply; banners and balloons can instantly create a party atmosphere and you can also find these at the thrift store or dollar store.
We have a free Happy Anniversary banner for you to print here
You can also look at making centerpieces from old photos, wedding photos or by having a photo album from your wedding for everyone to look at.
You can also look at having an anniversary party theme which could be themed to the color for your wedding anniversaries.
If you are being super organized you can pick up lots of Holiday decorations which would fit with the colors for the main milestone anniversaries listed above. Think spakly lights, possible a gold or silver wreath and table decorations.
Your table decor can be kept quite simple as there are always lots more to go on the table and quite often the decorations can get a bit lost. You could instead have your favorite photo of the two of you framed on each table. Maybe a different year's photo for each table. starting with a photo when you were dating, your engagement, your wedding day and then milestone moments in your married life together.
You could add candles to your table with glass jars filled with flowers which looks beautiful. You can decorate the glass jars with lace and ribbon to fit with your color scheme.
White tablecloths are normally supplied by venues if you are hiring one so always check with the venue as to what decorations they will have in place already. Having worked as an event planner for many years you can see if the venue will coordinate their flower displays with your own color scheme. If you don't ask you will never know!
Larger venues will often have candelabaras and other table decorations that you will be able to use.
Also don't forget a guest book so your guests can write their words of wisdom to you!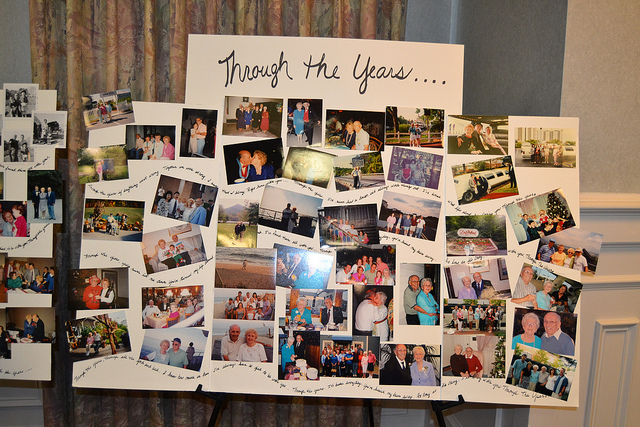 Vow Renewal on a Budget
Renewing your wedding vows is a lovely thing to do on your anniversary and a way of celebrating the love you have shared over your years of marriage.
The good thing is that it doesn't have to be expensive.
The main reason is that you can renew your wedding vows anywhere as it is not a legal ceremony, you can download a free printable wedding vow certificate here.
You could renew your wedding vows on your anniversary at the same place you were married, or you could stand together in a local park surrounded by your friends and say your vows.
If you are wanting a more traditional vow renewal plan it into your budget. If you chat to the place of worship and party venue you may find that there are savings if you plan to hold your party on a less popular day like a Thursday.
You could even ask them to roll out the red carpet to make it feel even more special.
Anniversary Party Entertainment
When it comes to entertainment the most important thing is you want your guests to have a good time.
If you all love dancing make sure there is space for a dance floor and you can save money on a DJ or live musician or live band by putting together a playlist of all your favorite songs and playing them on the sound system at the venue or using your own speakers.
If you all love fun games you could put together an Anniversary themed quiz about the happy couple or a his and her game. There are lots of games ideas here that would be good on a budget.
Question ideas to get you started
where did you go on your first date?
Where was your wedding reception?
where did you celebrate your first anniversary?
who wrote the most love letters?
who cooks the most?
Another fun activity is to create a scavenger hunt around the venue and have clues that will need lots of inter-generational help to find the answers. In other words it will get all of your guests talking.
Outdoor activities like a game of baseball or whatever your families favorite game is, work really well and it is a perfect time for some friendly competition and also provides good entertainment for those that would prefer to watch than take part.
With all this fun going on you will want to make sure you have lots of photographs to look back on. You could ask friends and family to send you any photos they take but they often end up having too much fun and forgetting. If you want professional photographs look at booking a professional.
An amazing anniversary party on a budget is all about careful planning, concentrate on what is important to your celebrations after all this is all about two people who fell in love and who want to share their happiness with their friends and family.
---
We deliver Anniversary Gifts to USA & UK, Europe, Australia

Contact Us | Shipping & Returns |Privacy Policy | Affiliate Disclosure|Anniversary Blog
Terms & Conditions | About | Site Map